Stocks To Trade:
Today, we are looking at an earnings trade in Capital One (NYSE:COF), longs in Starbucks (NASDAQ:SBUX) and Carnival (NYSE:CCL), and short in Research in Motion (RIMM).
For an earnings trade, we are looking at Capital One. The company is looking solid into its next earnings report with 45% increase in revenue and 100% increase in earnings. The company rallied strongly on its last earnings report from 57-61 before falling back. The company had strong support at $55 that has held for several months, and its 200-day MA is now above 55 as well. We believe that COF is a great choice for an earnings play as the company continues to see significant growth from its ING acquisition as well as development into new markets.
The company will benefit from a strong holiday shopping season, which Comscore has commented is up 13% year/year. Additionally, three major investment firms have rated COF as a Buy as of late. Janney Capital rated the company a Buy with a $67 price target two weeks ago. Guggenheim rated the company's shares a Buy, and Rochdale was upgraded from Hold to Buy. The strong growth, good technical support, and analyst support looks very solid. We like the company for a bull put spread at the $55 level.
Trade: COF, Jan19, 55/52.50 Bull Put Spread
Max Gain: 19%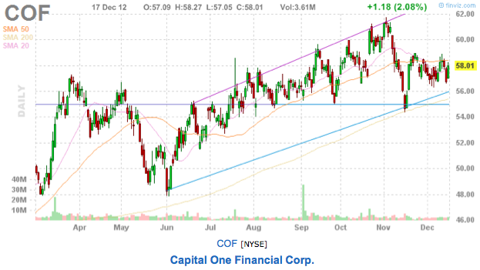 For longs, we like the looks of Starbucks and Carnival. Starbucks looks ready for a breakout higher, and Carnival looks solid for a bull put spread. SBUX is looking solid for a breakout on the back of Caribou's (NASDAQ:CBOU) buyout as well as Teavana (TEA) reaching a settlement with Starbucks. With the Teavana deal out of the way, SBUX looks ready to explode to the upside.
On top of the settlement of the deal, Starbucks looks great for the coming quarter with 15% growth in earnings and 12% growth in revenue. The stock has resistance right now at 54.60, which is the top of its bollinger band. We believe if the stock can get over that level and break a key mental resistance of $55, it will take off. The stock is building a solid off $53 with higher highs and higher lows and looks ready to go!
Carnival is also looking very solid right now, but looks better for a bull put spread. The reason we like Carnival for a bull put spread is that the company has formed a solid upward channel and has strong fundamentals right now. Last week, Deutsche Bank commented that CCL is very attractive at its current valuation as the company is going to have better pricing power ability as supply declines. The company currently sits at only a 15 future PE despite 20 PE due to strong expectations for 2012. The company's coming annual year is expected to showcase 7% growth in revenue in 2013 along with 30% growth in earnings as they rebound from the crash in Italy.
The company looks very attractive for a rebound in 2013 as travel purchases expand as unemployment drops and Europe bottoms. Further, Carnival has been looking very strong since its 0.50 special dividend on December 4th as well. The company's support levels at 36 looks solid, and it has support at 34 where it has its 200-day MA. The company's earnings on December 20 are not expected to be very positive, due to strong fuel prices and currency exchange issues. At this time, the market is fully expecting a drop in EPS year/year. We believe that the $34 level is a great place to start a bull put spread for the January expiration season.
Equity Trade: SBUX, Long
Breakout Point: Break of 54.60
Options Trade: CCL, Jan19, 35.50/34.50 Bull Put Spread
Max Gain: 13%
For shorts, we like the looks of Research in Motion. RIM has made quite a move in the last in the past month and a half with a 60%+ increase in price. The company still has made a lot of its move on a short squeeze rather than a fundamental catalyst. We believe, headed into the December 20th earnings report, the company will see some significant pullback as traders lock in gains. Further, we should see more shorts moving back into the stock into earnings.
Expectations are that the company will see earnings go from 1.27 to -0.35 along with a 49% decline in revenue. Those two drops are fairly large and should set off some profit taking into the report and could reinvigorate shares to the downside. We like shorting the stock into earnings and closing the majority before the report comes out. One main signal is from William Blair. The company noted that its latest checks show weakness beyond the weak expectations, and the company said that Blackberry continues to remain an afterthought in the market. We like shorting it at the start of Tuesday.
Stock Trade: RIMM, Short
Breakout point: Short on Tuesday's Open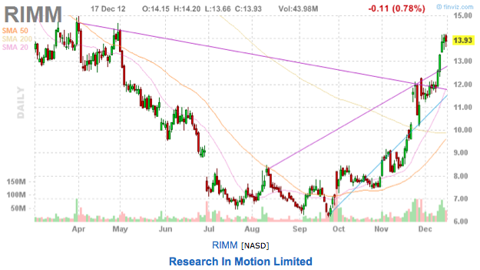 Tomorrow's Outlook:
The market looks very solid right now, bouncing higher on the prospect of a fiscal cliff deal being implemented. The Speaker of the House, John Boehner, commented that he was willing to raise taxes, which has been the key problem for getting a deal done. The market was very happy about the movement forward, but the rally on hope is not a great rally to believe in. If the deal does not happen quickly, the market could quickly revert...so be careful. For tomorrow, the market is looking like it will likely continue higher on the prospects, but we should also watch the NAHB Housing Market Index tomorrow to see how the housing market shaped up in November. Be careful of this market though, as it is completely moving on headlines for the fiscal cliff. Any move in either direction will spark a lot of movement for the market.
Chart courtesy of finviz.com.
Disclosure: I have no positions in any stocks mentioned, and no plans to initiate any positions within the next 72 hours.
Business relationship disclosure: The Oxen Group is a team of analysts. This article was written by David Ristau, one of our writers. We did not receive compensation for this article (other than from Seeking Alpha), and we have no business relationship with any company whose stock is mentioned in this article.