When we saw that Hewlett-Packard's (NYSE:HPQ) had to take an $8.85B write-down for its purchase of Autonomy PLC, we weren't surprised that Frank Quattrone was Autonomy's lead banker during its sales process. The deal was the second largest deal that Quattrone had advised on, behind only Motorola Mobility's $12.9B sale to Google (NASDAQ:GOOG). Oracle (NASDAQ:ORCL) claimed that Quattrone and Autonomy CEO Mike Lynch met with Oracle's President and HPQ's former CEO Mark Hurd in an attempt to sell Autonomy to Oracle. Oracle rejected the deal because it felt that Autonomy's $6B market price was too high and not content with merely rejecting the deal, it felt compelled to publish two slide presentations on Autonomy with logos from Quattrone's firm Qatalyst on its website. We're not surprised that Oracle's President Mark Hurd would cast a jaundiced eye at what Quattrone was peddling considering that Quattrone already sold him a bill of goods with Palm Inc when Hurd was H-P's CEO. Quattrone also sold 3PAR to H-P after Dell tried to buy it in August (deal closed in September) after Hurd was dismissed from H-P.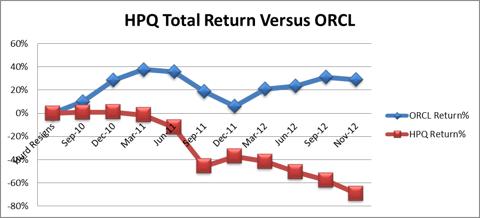 Source: Morningstar Direct
Considering Quattrone came under scrutiny for allegedly pressuring analysts to overvalue companies and for setting up about 300 brokerage accounts to give shares in hot IPOs to a privileged list of tech company executives and others, we're surprised that he was still in demand for I-Banking services. Quattrone's former employer Credit Suisse ended up settling with regulators investigating stock allocations by paying $100 million in 2002 and not having to admit or deny guilt. Although Quattrone was not personally personally charged with either offensive, he was charged with obstructing the government's probe. His first trial ended in a hung jury, but he was retried and convicted in May 2004 on two counts of obstruction of justice and one count of witness tampering. He faced a prison term of up to 18 months. In March 2006, a federal appeals court reversed the conviction and the Securities and Exchange Commission overturned a lifetime ban imposed by the National Association of Securities Dealers. In August 2006, a federal judge in Manhattan signed off on a deal that would dismiss obstruction-of-justice charges against Quattrone if he didn't break the law in the following 12 months.
James Chanos of Kynikos Associates had been shorting Autonomy PLC when it was an independent company. When H-P acquired Autonomy for $11.4B in cash in its Q4 2011 fiscal period, Chanos began shorting H-P. Chanos said that HPQ was willfully blind to Autonomy's aggressive accounting policies, HPQ didn't do any due diligence on the deal and was in a hurry to close the acquisition. Chanos also pointed out that Autonomy would engage in an acquisition anytime its deferred revenue/recognized revenue ratio dipped below 70%. We have to tip our hats to Chanos because when a number of well-respected value managers were long HPQ, Chanos was short. Dodge & Cox was HPQ's largest shareholder with 7.22% of its stock. Other notable value managers included GMO LLC (2.42%), Ralph Whitworth's Relational Investors LLC (1.76%), Franklin Mutual Advisers (1.06%) and Seth Klarman's Baupost (0.73%). Bill Ackman of Pershing Square declined the opportunity to invest in HPQ after touring the company's facilities. Carl Icahn was rumored to have recently taken a stake in HPQ.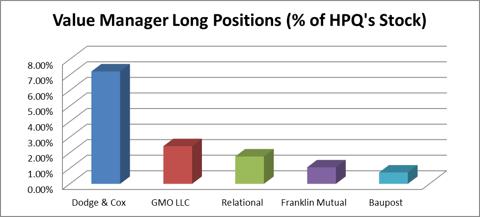 Source: Morningstar Direct
We have been carefully evaluating HPQ in order to see if it is a value, or a value trap. We like that the rapid deterioration in its stock price (off 76% from its April 2010 highs on a total return basis) has resulted in its forward PE ratio being less than 3.7X adjusted FY 2013 EPS. We also like that its free cash flow yield is near 30% of its market capitalization and it has a 4.2% dividend yield. We're interested in seeing if HPQ's incremental investments in research and development will pay off in revenue stabilization and growth. We also like that HPQ has replaced its management team over the last year and we like that it has solid institutional support, other than James Chanos and Bill Ackman.
We don't like that HPQ's revenue and EPS are steadily sagging. Although HPQ has $11.3B in cash and $13.85B in financing receivables, its outstanding indebtedness ($28.4B) has put it in a net debt position ($3B) unlike the majority of its technology peers. HPQ will have to pay or refinance $6.65B of its gross indebtedness during FY 2013. The good news for HPQ is that its IT Services division (HP Services) generates more revenue than its two most comparable competitors (Dell Services (NASDAQ:DELL) and Xerox Services (NYSE:XRX)). The bad news is that HP Services' revenue has been sagging since Mark Hurd's 2010 departure from HPQ while its competitors have had more favorable revenue trends. Although HPQ is a top 10 firm in terms of IT consulting, it trails market leader IBM (NYSE:IBM) by a wide margin. The good news is that H-P is the world's leading PC maker but the bad news is that Apple Inc (NASDAQ:AAPL) is eating H-P's lunch with its iPad tablet computing device products. We don't like that Hewlett-Packard has been without a mobile strategy since it shutdown Palm, even though Palm was an afterthought in the smartphone marketplace.
We don't like the quality of HPQ's earnings. We see the company has been seeing a recurring level of "non-recurring charges" and this is continuing in FY 2013. Although Hewlett-Packard is targeting $3.40-$3.60 in adjusted EPS for FY 2013, its GAAP EPS will only be $2.10-$2.30. HPQ's management is projecting $1.30/share in adjustments to EPS for the amortization of purchased intangible assets, restructuring charges and acquisition-related charges. HPQ took $22.2B in adjustments in FY 2012 primarily for goodwill/intangible asset impairments but also including restructuring charges and the amortization of acquisition related intangible assets. In FY 2011, HPQ took $2.5B in charges for its shutdown of Palm, asset impairments and restructuring charges in addition to $1.6B in amortization of acquisition related intangible assets. Even if we use the Alibi Ike method of adjusted earnings to evaluate HPQ, its FY 2013 EPS is expected to be down 28% relative to 2011 levels.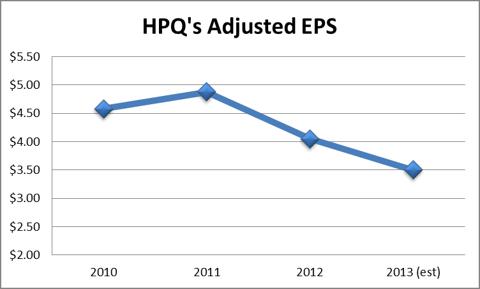 Source: Morningstar Direct and HPQ's Q4 2012 Earnings Release
CONCLUSION
In conclusion, we're not expecting the sudden collapse in revenues and profits from HPQ that we have seen in Nokia and Research in Motion. However, we can see why its share price has been slammed over the last three years. HPQ has been meandering in the muck and morass of mediocrity ever since Mark Hurd was unceremoniously fired in August 2010. Although Hurd's successor as H-P's CEO Léo Apotheker was a disaster, we believe that H-P's new management and board can't use Apotheker as a scapegoat for what ails the company now. HPQ's management needs to figure out how to stabilize its current mix of businesses as well as find the next great technology breakthrough if it wants to remain relevant for the 21st century. While we expect HPQ's hardware businesses to continually shrivel up and we don't expect much from HPQ's software business, we believe that there is some hope for HP Services. However it will need to figure out how to catch up to IBM in terms of high-end IT consulting work as well as fend off Dell Services and Xerox Services in the low-end BPO segment.
Disclosure: I am long AAPL. I wrote this article myself, and it expresses my own opinions. I am not receiving compensation for it (other than from Seeking Alpha). I have no business relationship with any company whose stock is mentioned in this article.
Additional disclosure: This article was written by an analyst at Saibus Research. Saibus Research has not received compensation directly or indirectly for expressing the recommendation in this article. We have no business relationship with any company whose stock is mentioned in this article. Under no circumstances must this report be considered an offer to buy, sell, subscribe for or trade securities or other instruments.