When a company's future hinges on a single binary event, investors need to minimize the risk while enabling benefit of strong appreciation in the event of success. This seems particularly true in Biotech, where FDA approval isn't certain and results from clinical trials don't always follow prior clinical trials closely.
Mannkind (NASDAQ:MNKD) is an interesting case. Its CEO has kept it alive through two failed attempts at FDA approval. He has invested his fortune following his vision of improving the ability of diabetics to manage their disease.
Let's just quickly review the pros and cons and then determine if there isn't a way to maximize potential gain while minimizing invested capital. Naturally, this assumes that we believe there is a good chance of strong success this summer in the current Phase III trials.
Pros:
Mannkind's AFREZZA as taken by diabetics 1: acts similarly in replacing the body's normal meal induced insulin function as seen among non-diabetics, 2: reduces hypoglycemia with reduced insulin tails compared to other insulin replacements, 3: doesn't cause weight gain and 4: doesn't require injections. One simply inhales AFREZZA (insulin encapsulated by Technosphere technology). In the future, MannKind should be able to show that 5: no carb counting will be required, that you may only have to 6: check your glucose around once a week, as opposed to several times a day and 7: use of AFREZZA may enable halting or reducing the progression of Type II diabetes which currently decreases a patient's lifespan by about a decade. Wow, what is not to like?
Cons:
Well, Pfizer's inhaled insulin product Exubera failed to achieve a viable market leading to a $2.8 Billion before tax write off. However, it wasn't easy to use and didn't mimic the body's insulin pharmacokinetics after a meal. Thus it didn't have most of AFEZZA's advantages, but it is a cautionary tale that due diligence may help us understand how Mannkind Corp is working to avoid.
Inhaled products raise the concern of reduced lung function. Mannkind's last approval failure notice from the FDA was because their application switched to a new inhaler (Dreamboat) without showing clinical equivalency. The prior inhaler caused an acceptable 2% reduction in lung capacity, but I feel that Mannkind wanted to improve on both the ease of use and risk of breathing problems by using Dreamboat.
Mannkind has failed twice now in attempting to get FDA approval. The last time, Mannkind wanted the FDA to approve the Dreamboat inhaler, even though it wasn't the inhaler used in the prior clinical trials. They felt it would be much better. The FDA said prove it. Thus we have the current Phase III trials.
Mannkind Corp also hasn't been able to sign up a partner to commercialize AFREZZA.
Investment Approach:
Basically, everything hinges on successful completion of the ongoing two Phase III trials sometime this summer. I believe they will prove successful, but am always concerned about risking my limited capital. Because of the size and growth of the rapid acting insulin market and Mannkind's depressed stock price, I believe the bounce, if any, will be significant -- thus worth some risk. I chose from the three possible ways to invest, as highlighted by the table below.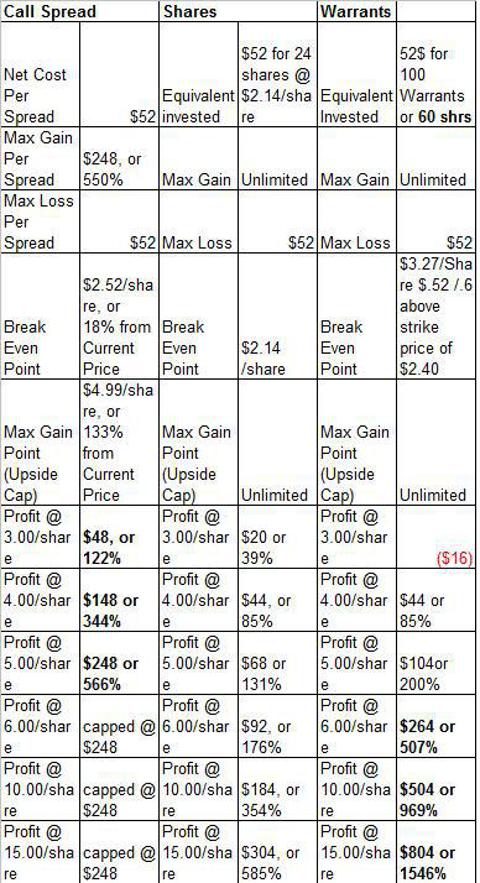 My thanks to Clayton Rulli for pointing out the potential of using this 2015 Bull Spread. The above analysis assumes the same funds in all three alternatives.
As you can see, the Bull spread minimizes risk and is a significantly better use of capital than stock, if the share price doubles. However, it caps the gain. I believe the warrants are the most efficient approach. If the trials fail, the warrants will be valueless, but essentially, so will the stock. Given a barely adequate showing, the warrants do better than the stock and almost as well as the bull spread. However, with significant benefits shown in the clinical trials, the warrants greatly outperform both stock purchase and bull spread alternatives.
Another binary biotech scenario is Northwest Biotherapeutics, Inc. (NASDAQ:NWBO). Their CEO Linda Powers similarly has kept this financially struggling biotech going with funding and unwavering vision and like their warrants (NWBOW) reduce capital exposure while enabling strong potential gains. (See my analysis here.)
Thus my due diligence leads me to believe that the results of Mannkind Corporation's clinical trials will be strongly positive and I have decided to invest now and hold at least through the announcements. I am long and (MNKDW) -- with strong emphasis on the warrants.
Disclosure: I am long MNKD. I wrote this article myself, and it expresses my own opinions. I am not receiving compensation for it (other than from Seeking Alpha). I have no business relationship with any company whose stock is mentioned in this article.
Additional disclosure: I am also long MNKDW, NWBO and NWBOW and am biased in favor of these stocks. There is inherent risk in investing in them, but I believe you will find it profitable and enjoyable as you research them.