Last week, shares of Clearwire (CLWR) spiked on the announcement that Sprint (NYSE:S) was looking to acquire the rest of Clearwire it didn't already own for $2.90 per share. Clearwire shares soared at the end of last week, closing Friday at $3.37. However, shares of Clearwire took a beating on Monday, down 46 cents, or 13.65%, to $2.91, as Sprint has announced a new offer of $2.97 per share. While this deal appeared to be likely after the announced deal with Sprint and Softbank, I believe that this announcement may have come too soon. Today, I'll look to breakdown the deal and see what this means for Sprint and the industry going forward.
The Clearwire offer:
Those that bought Clearwire late last week on the hopes that Sprint would pay a much higher price were clearly disappointed on Monday. Those expecting a deal at say $3.50 or maybe even $4.00 are left hoping that the deal price comes up further. But when it comes to this price, you have to remember a few key points. The first is that Clearwire shares were as low as $0.83 less than six months ago. A $2.97 price then would have looked like highway robbery for holders of Clearwire shares. Today, it is considered a disappointment. Here's what Sprint had to say about the offer price and associated premium:
Sprint today announced that it has entered into a definitive agreement to acquire the approximately 50 percent stake in Clearwire it does not currently own for $2.97 per share, equating to a total payment to Clearwire shareholders, other than Sprint, of $2.2 billion. This transaction results in a total Clearwire enterprise value of approximately $10 billion, including net debt and spectrum lease obligations of $5.5 billion.

The transaction consideration represents a 128 percent premium to Clearwire's closing share price the day before the Sprint-SoftBank discussions were first confirmed in the marketplace on October 11, with Clearwire speculated to be a part of that transaction; and, a 40 percent premium to the closing price the day before receipt of Sprint's initial $2.60 per share non-binding indication of interest on November 21.
Sprint is paying a nice premium here, as they say. A 128% premium to Clearwire's closing price before the Sprint-Softbank deal, and 40% premium to the day before Sprint's initial $2.60 non-binding indication of interest, isn't something to complain about. Those who speculated over the past day or two have lost, but they have to realize the huge rally Clearwire shares have seen.
For this deal to go through, Sprint needs to gain approval from a majority of those that hold the shares Sprint doesn't already own. That may be difficult if certain large shareholders believe that this deal undervalues Clearwire significantly. Mount Kellett and Crest Financial are arguing for a purchase price much higher, perhaps as much as $5 to $8 per share for Clearwire. But remember, Softbank won't approve a deal above $2.97. This could be a long, drawn out process between some of the larger Clearwire shareholders and smaller shareholders who are willing to accept the nice premium I mentioned above. There are those who believe that without a deal, Clearwire would need additional funding and probably would undergo a major restructuring. For those of that opinion, there is no better alternative for Clearwire.
Sprint and the debt situation:
While the $2.2 billion headline price seems rather small, the enterprise value of this transaction would be roughly $10 billion. As Sprint stated in the press release, it would be acquiring about $5.5 billion of net debt and spectrum leases from Clearwire.
The debt situation may be one issue investors are concerned about. One of the key takeaways from the Softbank deal was that it would provide a decent amount of capital that Sprint could use to pay back some of its existing debt. When Sprint reported third quarter results, the company had approximately $21 billion in long-term debt and another 300 million in short-term debt. A fair amount of that debt carried high interest rates, above 7%, with a few above 9%. Sprint is paying a fair amount of interest each year, and the elimination of some debt would definitely improve the company's loss situation.
Now since the third quarter results, Sprint did announce a new debt issue to repay back some of its existing debt. Sprint announced that it would repay the $2.28 billion of its Nextel Communications debt due in 2014 and 2015. This fits in line with the shut down of the old Nextel network Sprint is currently working on. In order for this repayment to take place, Sprint issued $2.28 billion of 6% notes due 2022 to match the old debt. Once the repayment was complete, Sprint would not have any more Nextel Communications debt outstanding. Additionally, Sprint was able to obtain a decent interest rate at 6%, given its large outstanding debt pile. Sprint investors can most likely thanks the Softbank deal for the lower rate, which probably would have been in the 8%-9% rate or higher had their not been a Softbank deal. There's a lot more confidence in Sprint thanks to the Softbank deal providing billions in funding to Sprint. The new lower rate debt will save Sprint roughly $15 million in interest expenses, pre-tax, on an annual basis. It doesn't sound like much, but every little bit helps. If Sprint can continue to get lower rates on debt, it will continue to refinance some of those higher rate issues.
If the Clearwire deal goes through, Sprint will be adding to its debt pile with debt at much higher rates. According to Clearwire's most recent 10-Q filing, the company had nearly $4.5 billion in long-term debt. Almost $500 million of that debt was actually notes due to Sprint. The key takeaway here is that a majority of Clearwire's debt carries 12% stated interest rates. Sprint's first priority should be to refinance those as soon as possible. Those interest rates are just way to high, especially for what Sprint appears to be able to get funding at right now. Another possibility is that Sprint could repay all of that debt should the Softbank deal be completed first.
Why Sprint wants Clearwire:
One of the questions always asked is why is Company A (Sprint) buying Company B (Clearwire). Well, Sprint provided the following justification for the deal in its press release.
Clearwire's spectrum, when combined with Sprint's, will provide Sprint with an enhanced spectrum portfolio that will strengthen its position and increase competitiveness in the U.S. wireless industry. Sprint's Network Vision architecture should allow for better strategic alignment and the full utilization and integration of Clearwire's complementary 2.5 GHz spectrum assets, while achieving operational efficiencies and improved service for customers as the spectrum and network is migrated to LTE standards.

Sprint CEO Dan Hesse said, "Today's transaction marks yet another significant step in Sprint's improved competitive position and ability to offer customers better products, more choices and better services. Sprint is uniquely positioned to maximize the value of Clearwire's spectrum and efficiently deploy it to increase Sprint's network capacity. We believe this transaction, particularly when leveraged with our SoftBank relationship, is further validation of our strategy and allows Sprint to control its network destiny."
Right now, Sprint is a distant third in the US wireless space, well behind established industry giants AT&T (NYSE:T) and Verizon (NYSE:VZ). Sprint is currently working to upgrade its network, which is still a fair bit behind AT&T's and Verizon's. Sprint's network is getting better and should see some substantial improvement during the first half of 2013.
Right now, the biggest war is for sales of Apple's (NASDAQ:AAPL) iPhone. Sprint has done fairly well with iPhone sales, given that its unlimited talk, text, and data plan is much cheaper than a similar plan using AT&T and Verizon. Sprint still has a long ways to go when it comes to iPhone sales though. The following table shows how Sprint has done when it comes to iPhone sales for Sprint's first year of selling the iPhone. Remember, they first started selling it in October of 2011. I also provided the percentage of iPhone sales to new customers.

Those four quarters total about 6.3 million iPhone sales, which in a year is decent for Sprint. I'm guessing Sprint will target about 2-2.5 million iPhones sold in Q4 this year with the new phone being released. That would put Sprint at about 6.5-7.0 million iPhones sold for calendar year 2012. But to put that in comparative terms, JP Morgan analysts think that AT&T will activate 8 million iPhones in the fourth quarter alone. AT&T could do more iPhone sales in the 4th quarter than Sprint does in the whole year. In the third quarter of this year, Verizon activated about 3.1 million iPhones, while AT&T was at 4.7 million. Both names will maintain a large lead on Sprint for at least another year or two at minimum.
Sprint has definitely been doing what it can to make sure it can sell every iPhone that Apple sends its way. Before Apple's iPhone 5 came out, Sprint ran a ton of promotions to get new customers. For now, Sprint will continue to use its unlimited plan as its best strategy to poach customers from AT&T and Verizon. The big question here is how many iPhones will Sprint actually get? Sprint faced supply constraints selling the new phones, with East Coast stores either sold out or having very low inventories of the new phone. It's one thing for Sprint to be able to poach customers or get current subscribers to upgrade. But if Apple isn't giving Sprint a ton of iPhones, there isn't much can do, other than just sell out of what it gets. Since the terms of last year's Sprint-Apple deal were never officially released, we don't know exactly how many phones Sprint will receive from Apple.
The other thing Apple does is charge a very high price. Sprint needed to get the iPhone, and it is paying a substantial amount to do so. As you can see from the chart below, Sprint's gross margins have come down quite a bit in recent years. The drop got even greater since the company got the iPhone, which AT&T and Verizon have admitted does lower gross margins.

Sprint's previous three quarters selling the iPhone saw similar declines in gross margins. The hope is that the shutdown of the Nextel network will provide some relief on that front, but the cost of the iPhone will burden Sprint's "cost of products" going forward. The more iPhones the company sells, the higher that expense will be. It will be interesting to see how margins look for this year's Q4, as that will be the first iPhone to iPhone comparable quarter for Sprint.
Final Thoughts:
The Sprint announcement on Monday that it intends to purchase the rest of Clearwire was a very interesting one. It certainly wasn't great news for those that purchased Clearwire late last week hoping for a huge buyout offer. However, for those that bought Clearwire before the Softbank deal, or earlier this year in general, they have been nicely rewarded at this point.
In my opinion, this deal could be a good long-term deal for Sprint at this current price. I don't know if I would feel the same way if the price was that $5 to $8 range some think Clearwire may be worth. At this point, Clearwire needs Sprint more than Sprint needs Clearwire, but I think the deal could definitely help over the long term. Sprint is trying to upgrade its network so that it can compete with AT&T and Verizon, especially when it comes to selling Apple's iPhone.
But investors should consider the following when thinking about this deal. First, what happens to this deal if the Softbank deal with Sprint doesn't go through? At that point, it could be possible that Sprint ditches a Clearwire deal because they just wouldn't have the financial flexibility to complete one. Perhaps Sprint's offer to Clearwire is a sign that Sprint believes the Softbank deal will go through.
The second issue is that there still is a lot of debt involved with both of these companies. The Softbank deal is expected to give Sprint some much needed capital, but adding Clearwire brings on additional debt for Sprint. Should Sprint's network upgrade not go so well, or financial results not turn around like many expect them to, this deal could easily blow up in Sprint's face. Don't forget, some were calling for Sprint and or Clearwire to go bankrupt within the last year or two. They aren't out of the woods just yet. I'm not calling for any bankruptcy here, but the debt issue is there.
As for Sprint's stock, you can see from the table below that the stock has done well over the short-term, with much of that rise coming in the last 6-9 months. Sprint isn't back to the $12 levels it traded for a number of years ago quite yet, and it is possible that it may not reach them for a while either.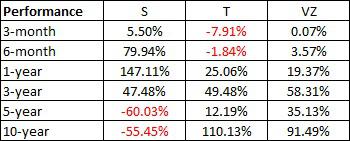 As for my personal recommendation on Sprint, I think the Clearwire deal adds a bit of complexity to the situation. As I mentioned in my last Sprint article, the Softbank deal was a very complicated one. Now Sprint is trying to buy Clearwire at the same time. At this point, they might have too much on their plate at once. Given the huge run up we've seen in Sprint in recent months, I don't know if it is the greatest idea to enter at these levels. In the last few days, Sprint has come down a couple of percent on the Clearwire deal news. I'm not sure investors like the deal, and it could take a higher price to actually go through. At this point, Sprint is most likely a hold until the Softbank and Clearwire deals become a bit more clearer. However, you may also wish to consider Sprint a short candidate here. This stock has had a huge run lately, and anyone that expects tax rates to jump might look to take profits on a stock that has more than doubled over the past year. I wouldn't be surprised if Sprint traded back down to the $5.00 to $5.25 range over the next couple of months as all this deal talk shakes out. Now, that doesn't provide a lot of reward for shorts considering how this stock could soar on any good news. That is why I'm not recommending a full short position here, but stating that Sprint appears to be a short candidate for those looking for a trade.
Disclosure: I have no positions in any stocks mentioned, and no plans to initiate any positions within the next 72 hours. I wrote this article myself, and it expresses my own opinions. I am not receiving compensation for it (other than from Seeking Alpha). I have no business relationship with any company whose stock is mentioned in this article.
Additional disclosure: Investors are always reminded that before making any investment, you should do your own proper due diligence on any name directly or indirectly mentioned in this article. Investors should also consider seeking advice from a broker or financial adviser before making any investment decisions. Any material in this article should be considered general information, and not relied on as a formal investment recommendation.