As a believer in the efficient market hypothesis, I try to avoid investing in individual stocks. I prefer to invest in stock indices and use leverage. To avoid the hassle of continuous monitoring and potential margin calls, I use leveraged ETFs instead.
One of the sectors I like is technology, so the ProShares UltraPro QQQ ETF (NASDAQ:TQQQ) makes a lot of sense. As per Seeking Alpha:
ProShares UltraPro QQQ seeks daily investment results, before fees and expenses, that correspond to triple (300%) the daily performance of the NASDAQ-100 Index®.
Trouble is, after watching the price movements last week, I came to realize that this strategy has virtually no difference with a straight investment in Apple (NASDAQ:AAPL) stock. This is how the two have behaved since the inception of TQQQ.
Click to enlarge images.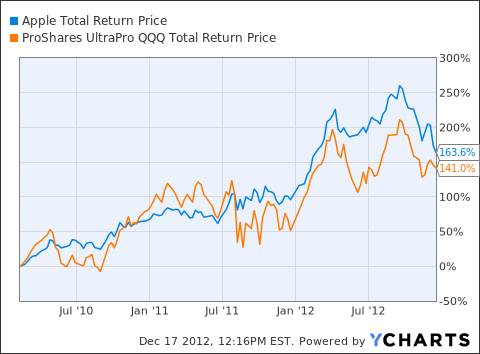 The chart shows a clear correlation between TQQQ and AAPL, but I didn't just want to eyeball it and come to a conclusion. First, I calculated the correlation coefficient between the two. It is a whopping 91%, confirming what eyeballing the chart indicated. Next came the regression analytics shown below.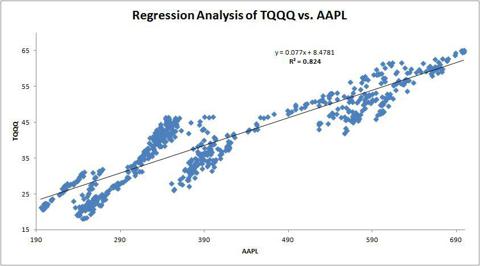 So, 82% of TQQQ's price movement is determined by Apple's price movement. Curious, I went to check what share of the ETF is comprised of Apple. Here are the top 10 holdings as of Dec. 14, 2012.
| Security Description | Weight |
| --- | --- |
| Apple (OTC:APPL) | 16.01% |
| Microsoft (NASDAQ:MSFT) | 7.54% |
| Google (NASDAQ:GOOG) | 6.17% |
| Oracle (NASDAQ:ORCL) | 5.24% |
| Amazon (NASDAQ:AMZN) | 3.78% |
| Cisco (NASDAQ:CSCO) | 3.57% |
| Intel (NASDAQ:INTL) | 3.45% |
| Qualcomm (NASDAQ:QCOM) | 3.42% |
| Comcast (NASDAQ:CMCSA) | 2.59% |
| Amgen (NASDAQ:AMGN) | 2.31% |
On the face of it, Apple shouldn't be influencing the ETF to the extent that it is. So what's going on here? My first suspicion was that leverage is somehow magnifying the influence Apple has on QQQ. So, I calculated the correlation coefficient between QQQ and Apple, and it is even larger at 94%. So the underlying index is the culprit and not the leverage.
So, why is Apple so influential in the QQQ? Here's the problem: Apple had the largest growth in this period.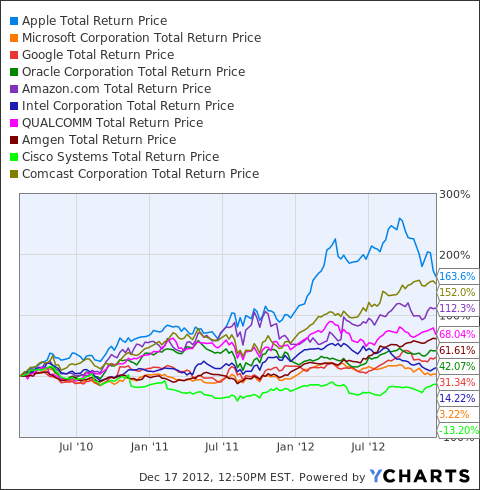 Out of the top 10, only three have a cumulative return greater than 100% -- Apple, Amazon, and Comcast. Amazon and Comcast together are one-third of the total Apple share of the index. The rest of the stocks, as an aggregate, showed hardly any growth. All the growth was coming from Apple, and with it Apple's share in the QQQ was growing larger and larger, so now even smaller gains would be amplified. The cycle feeds on itself.
To me, this is a problem. I invest in broad index funds to get diversity, and then I leverage to suit my risk profile. If I wanted to be overweight in Apple instead, I could have done that myself. In effect, I am losing all the benefits of an index fund (i.e., lower volatility and risk) and getting lower returns to boot. The Sharpe ratio for Apple is 0.73, while for QQQ it's 0.96 and for TQQQ it's -- drum roll please -- 0.73, exactly the same as Apple. As I suspected, leveraging an index overweight on one stock basically is the same as investing in the stock itself.
I'm not sure what my next steps should be here. I will try to find a more equally weighted technology index and see if I can leverage that. I will also run this analysis for the S&P 500 and see if the same issue crops up there. Finally, I will definitely get out of TQQQ. If I wanted the same Sharpe ratio and volatility as Apple, then I might as well invest in Apple stock.
Disclosure: I am long TQQQ. I wrote this article myself, and it expresses my own opinions. I am not receiving compensation for it (other than from Seeking Alpha). I have no business relationship with any company whose stock is mentioned in this article.