The world's biggest three breweries continue to have an insatiable thirst for empire expansion. In September Heineken bought the missing stake in Asia Pacific Breweries for $4.6 billion. It comes two years after it bought Femsa Cerveza, makers of Sol beer, in Mexico for $7.6 billion.
The Dutch brewer is not alone - last year rival SABMiller snapped up Foster's for $11.2 billion.
And in 2008 a $52 billion merger created the world's biggest brewer by putting together Anheuser-Busch and InBev - a mega-deal that united Budweiser, Beck's, Stella Artois and Hoegaarden.
Heineken's new-found taste for Asian and Mexican beer is not hard to understand. As people get richer in the emerging markets of Latin America, China, and Africa, the drinkers of Europe and North America become increasingly irrelevant to the global brewers.
The biggest cash cow, as in so many industries, could be in China, where the popularity of beer has increased rapidly alongside the traditional desire for spirits. The country already accounts for one in four beers sold worldwide, double that of the U.S., and could account for 40% of total worldwide sales by 2016.
Twenty years ago the Chinese barely touched beer, drinking an average of just 12 beers per person each year. By 2001 that consumption had nearly trebled to 32 beers; last year it was 63. By 2021 the number of beers consumer per head is expected to increase to 93.
Historically, China has had a strong "spirits culture," with consumption skewed toward the Chinese traditional spirit baijiu. Beer, as a proportion of total alcohol, increased from 21% in 1997, to 51% in 2011, with the beer category growing at the expense of local, cheap spirits.
AB InBev is expected to generate 6% of its group profits by 2021 from China, compared with just 1% last year, while SABMiller - which owns a 50% stake in China's most popular beer, Snow - will take 19% of its profits from the country. It currently takes 2%.
The Heineken deal for Asia Pacific Breweries was important enough to increase its initial offer to buy out its joint-venture partner Fraser and Neave (F&N), after ThaiBev's billionaire owner, Charoen Sirivadhanabhakdi, made a counter bid.
Heineken and F&N formed a partnership in 1931 and jointly control a majority stake in Singapore-based Asia Pacific.
The fact that Heineken was willing to pay a high premium shows how keen big brewers are to expand in emerging markets and how important it is for them.
Admittedly, the Chinese do have some catching up to do if they are to be anywhere near the same league for drinking compared with their European counterparts.
In terms of consumption per person, nine of the top 10 nations are in Europe - and the 10th is Australia.
Topping the list is the Czech Republic, where an unnerving 244 beers are drunk each year on average by individuals. Ireland comes second with 195, followed by Germany with 186 beers.
But drinking habits in Europe are changing. Consumers are becoming more discerning and want higher quality and craft beers. Big breweries are recognizing this and are likely to be looking at craft beers for expansion.
In the U.S., sales of craft beers brewed usually by independent breweries on very small scales, have had double-digit percentage increases, with Europe catching up.
However, it won't stop the likes of Heineken, SABMiller and Anheuser-Bush InBev continuing to reshape the beer-brewing landscape and with combined revenue of more than $80 billion a year don't expect them to stop spending any time soon.
Brewing market
Forecast five-year compound annual growth rate (OTCPK:CAGR) by region - 2012-16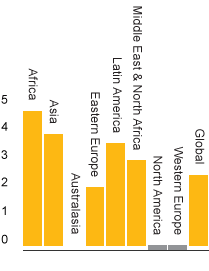 | Region - 2012-16 | Volume*% |
| --- | --- |
| Africa | 4.6 |
| Asia | 3.8 |
| Australia | 0.0 |
| Eastern Europe | 2.0 |
| Latin America | 3.5 |
| Middle East & North Africa | 2.9 |
| North America | -0.6 |
| Western Europe | -0.5 |
| Global | 2.4 |
Growth and development trends in the global beer market were generally unchanged last year. Emerging markets were still the principal source of volume growth while developed markets faced weak consumer demand as a result of difficult economic conditions and shifting consumer trends. The better-performing markets, regardless of their stage of development, continued to be those in which industry leaders used brand development, innovation and partnerships to capture latent opportunities and stay ahead of changing consumer trends. The biggest beer market, China, accounted for 43% of the world's volume growth and nearly 37% of the volume growth from emerging markets. China's top five brewers accounted for 63% of total industry volumes. However, beer pricing remains low in China and profit margins are thin. Consolidation of the fragmented Chinese beer industry remains an important long-term trend and one that will lead eventually to greater industry profitability. In contrast to China's high growth in volumes but low profitability, South America, impressively, saw growth in both volumes and profitability. In the continent's biggest market, Brazil, beer sales were resilient in the face of softer consumer trends and the development of premium brands remains an opportunity. Latin America as a whole continues to offer excellent growth and profitability opportunities from an already strong and profitable base.
Capturing the opportunity in both developed and emerging markets requires three key skills - brand development, innovation and the ability to forge successful partnerships in markets where joint ventures are necessary. Very few brewers excel at all three. Investors looking for long-term returns in the beer industry need to be able to distinguish those firms that are truly ahead of the field in these intangible, elusive and sophisticated disciplines.
The biggest three are masters of these disciplines, but are less likely to be interesting acquisition targets according to Euromonitor.
Heineken (HINKY.PK)
The share price performance of Heineken in the last few months was driven by the fierce battle to acquire Asia Pacific Breweries, which in the end was won by Heineken. On August 17, 2012, Heineken announced that it agreed to a final offer and signed definitive agreements with Fraser & Neave (F&N) to acquire its entire effective interest in Asia Pacific Breweries and the non-APB assets held by Asia Pacific Investment for a total consideration of EUR 3.5 billion.
The leverage ratio (net debt/EBITDA) was 2.2x at mid 2012, but this is expected to increase after the completion of the APB acquisition.
At the presentation of the interim results over 2012 the management said that Total Cost Management 2 delivered EUR 85 million pre-tax savings so far this year. The targeted FEMSA cost synergies of EUR 150 million were achieved earlier than planned.
The first-half-year results were below expectations. After the decline in 1H12, Heineken expects for the full-year 2012 flat earnings, on an organic basis.
Beer volume grew organically in the first nine months of 2012 by +2.6%. Western Europe was disappointing with an organic volume decline of 2.6%. On the other hand Central and Eastern Europe surprised positively with volume growth of 5.3%. Africa and the Middle East realized volume growth of 4.3%, in the Americas was 4.3% and 2.1% in Asia Pacific.
Also Heineken's third-quarter trading update was slightly disappointing, as volumes and revenue fell short of analyst's expectations. Volumes fell short in all regions (for 1% point caused by one less trading day) except for the Americas with strong growth in Mexico and in the United States. Western Europe was weak due to Portugal and because of a withdrawal from a tender at a discounter in Finland. In Africa, Nigeria was weaker than expected, but Heineken remains long-term positive on the continent. In Asia Pacific, volumes of the consolidated operations were weak, but the much bigger joint-venture volumes (Asia Pacific Breweries) developed strongly.
Heineken's exposure to Africa and the Middle East (one of the largest in the sector), the cost savings opportunity and the profit upside in Mexico and in the Asia/Pacific region are the growth drivers that will be beneficial for the company.
One of the biggest risks are the modest expectations regarding the mature western beer markets: 1) worsening consumer sentiment in Europe could accelerate on-trade volume declines, which could have a severe bottom line impact, as Heineken is more operationally leveraged than its peers in Europe, given the high fixed cost base of its wholesale business; 2) input cost inflation remains a threat and in some European markets it won't be easy to pass it on.
Anheuser-Bush Inbev (BUD)
The world's largest brewery, Anheuser-Busch InBev has a regionally well-balanced portfolio with emerging markets and developed markets each accounting for about 50% of sales. InBev's strong track record in cost savings and Anheuser-Busch's excellent experience in brand building promise high cost synergies and bright long-term prospects. ABI has dominant positions in key markets (70% in Brazil, 50% in the U.S., 80% in Argentina, 55% in Belgium and 36% in Ukraine).
In June 2012, the company agreed to buy the remaining 50% stake in Modelo it does not already own for a total amount of $20.1 billion. The transaction's EV/EBITDA multiple is 12.9x (after synergies of $600 million p.a.) is a bit rich. However, Modelo's promising business (the No. 1 in the steadily growing Mexican beer market with a 57% share) and the favourable outlook for crown jewel "Corona" to become a global brand justify the rich price. Following this deal, hopes for rising cash returns to shareholders have diminished and the much-speculated takeover of SABMIller by ABI is put off into a distant future.
ABI's strong brand portfolio, a balanced regional spread, and realized high synergies helped the company deliver strong results in the past years. EBITDA margin is approaching 40%, the highest among global peers.
Third-quarter results were weaker than expected at first sight: Sales +0.5% year-over-year to $10.27 billion and EBITDA +0.3% to $ 3.98 billion, 1.1% and 1.5% below consensus estimates, respectively. EBITDA margin -10 basis points year-over-year to 38.7% (consensus: 38.9%). EPS +7.7% to $1.17 (consensus: $1.20.)
But healthy underlying business: On an organic basis, Q3 sales +9.1% (consensus: +6.7%) with price/mix +9.4% and volume -0.3%. EBITDA +10.6% (consensus: +8.5%). Latin America (sales +18%, EBITDA +22%) and Western Europe (sales +4.1%, EBITDA +9.1%) exceeded expectations considerably.
North American saw market share -20 bps in the third quarter. But a positive mix effect (+2.0%) indicated more premium products were sold, which bodes well for future margins. Brazil incurred a market share loss of 110 bps, which is attributable to the company's earlier-than-peers price hike of 18.3% (in anticipation of an October beer tax increase). With the company normalizing its price level, the share trend is expected to reverse.
SABMiller (OTCPK:SBMRY)
As the world's 2rd-largest brewer by volume, SABMiller has major operations across the world. SAB's virtual monopoly in many key markets (such as South Africa, Columbia and Peru with market shares mainly north of 90%) promises high margin potentials.
In September 2011, SAB agreed to buy the Australian Foster's Group for AUD 12.66 billion. The price, at about 13x EV/EBITDA, is higher than the historical average of 11.5x paid for mature assets in the brewing sector. Foster's commands a 50% market share in Australia with an EBIT margin of 35%. Per capita beer consumption in Australia has declined 9% over the past 10 years, resulting in a sluggish volume trend. Like many beer companies in developed countries, Foster's relies strongly on price increases to boost earnings. Given that Foster's profitability is already very high, there seems little left for SABMiller to improve. Revenue synergies out of such a deal would also be limited owing to the lack of regional overlap.
With 70% of sales generated from emerging markets, SABMiller is a prominent emerging markets player. However, its valuation premium to peers should have reflected this point. Its low margin (only half the rate of AB Inbev's) indicates that SABMiller should have great scope to squeeze costs out of its system. To investors' disappointment, the company seems still somewhat reluctant to explore the huge cost savings opportunity.
1H13 beat expectations: sales +11.4% to $17.48 billion. EBITA +17.5% to $3.17bn (consensus: $3.15 billion) with margin +90 basis points to 18.2% (consensus: 17.6%). EPS +14.3% to $1.18 (consensus: $1.13).
H1 organic EBITA +9% (consensus: +7%), with Latin America (+14%) and Africa (+19%) driving the upside. Europe -5%. Asia (including Australia) +10% and North America +6%.
Outlook for FY13: No quantitative guidance available. Management highlighted a moderation of economic growth in some countries, but on balance the main emerging markets in which it operates remain strong. The company does not see any worsening of input cost pressure in 2H13 vs. 1H13. Selective price increases will continue
Final note
The main question that is still open:
Which of the three beer titans will make another successful acquisition in 2013?
The leading players are building their presence very smartly. There is sluggish growth in mature markets at the moment, so companies have to find growth prospects elsewhere.
Euromonitor's research showed that there are some attractive opportunities left for the big three, but which will be the first to react? For all three brewers emerging markets will be the key to achieving growth.
From an investment perspective all three are considered long-term buys, but for now I would wait until next year.
Disclosure: I have no positions in any stocks mentioned, and no plans to initiate any positions within the next 72 hours. I wrote this article myself, and it expresses my own opinions. I am not receiving compensation for it (other than from Seeking Alpha). I have no business relationship with any company whose stock is mentioned in this article.