On Monday, December 17, A U.S. judge denied Apple Inc.'s (NASDAQ:AAPL) request for a ban on the sale of some Samsung Electronics Co.'s (OTC:SSNLF) Android OS based products in the U.S. market. In a court ruling, Judge Lucy Koh stated that, "the fact that Apple may have lost customers and downstream sales to Samsung is not enough to justify an injunction," adding that "Apple must have lost these sales because Samsung infringed Apple's patents. Apple has simply not been able to make this showing." Judge Koh went on to explain that:
"Samsung may have cut into Apple's customer base somewhat, but there is no suggestion that Samsung will wipe out Apple's customer base, or force Apple out of the business of making smartphones. The present case involves lost sales - not a lost ability to be a viable market participant."
Judge Koh also denied Samsung's request to seek a new trial citing alleged juror misconduct. This summer, a jury found that Samsung infringed six Apple patents and awarded $1.05 billion in damages. See a copy of the jury's handwritten breakdown of damages per device: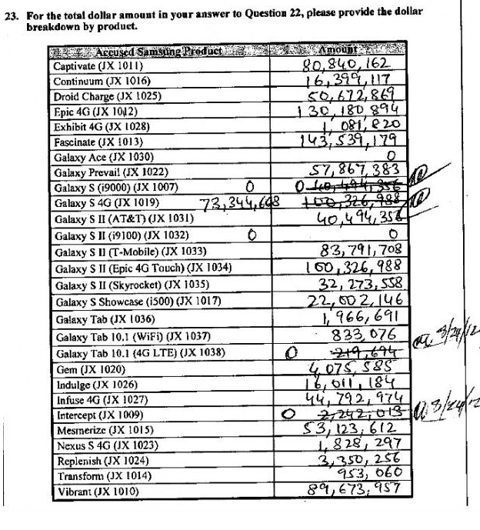 (Click to enlarge)
Apple subsequently asked the Court for a permanent U.S. sales ban on the infringing devices, while Samsung asked for the verdict to be set aside due to alleged juror misconduct. A hearing on these issues occurred on December 6, with Judge Koh denying both requests yesterday. Despite the seemingly substantial $1.05 billion award, the sum is rather minor compared to an outright ban. While both sides lost their requests, the avoidance of a ban is good news for Samsung and problematic for Apple as Android OS based smartphones and tablets continue to grow in market share, with Samsung leading the group.
According to IDC, a market-research firm, Samsung's share of the smartphone market grew to approximately 31% in the third quarter, from about 23% a year earlier, and had double Apple's market share of 15% in Q3, up from 14% a year earlier. It is likely that Apple's market share will grow slightly during Q4 and that its growth during Q3 was stalled due to consumers waiting for the release of the iPhone 5.
Apple's last leg up from $600 to $700 per share occurred following its summer victory over Samsung, though the company has since surrendered all of those gains, and then some. See a recent performance chart for Apple:
Meanwhile, another patent dispute is still stewing between the two technology powerhouses, before the U.S. District Court, Northern District of California (12-cv-00630). The parties have added the newest versions of their phones to this ongoing dispute, including Apple's iPhone 5, iPad Mini and fourth generation iPad, and Samsung's Galaxy Note 2, Galaxy S III, Galaxy Tab and Rugby Pro, all of which run versions of Android OS by Google (NASDAQ:GOOG). On November 15, the Court ruled that the iPhone 5 would be included.
Given the court's prior decisions, it is very likely that the parties will be able to add any new and related devices that were recently released by either company, as well as those that may be released in the first half of 2013. Discovery in the case is scheduled to continue into the summer of 2013, and is set to go to trial on March 31, 2014.
Disclosure: I have no positions in any stocks mentioned, and no plans to initiate any positions within the next 72 hours. I wrote this article myself, and it expresses my own opinions. I am not receiving compensation for it (other than from Seeking Alpha). I have no business relationship with any company whose stock is mentioned in this article.