Windstream (NASDAQ:WIN) has been on my radar since it declined sharply after it reported 3Q on Nov. 8. This is the second major decline in share price after earnings that Windstream has suffered this year. Any time a stock yields north of 10%, it is wise to pay it closer attention. A yield this high is often a red flag. I would like to see if the dividend for Windstream is currently sustainable.
Among the rural telecommunication companies (a sector with well above average dividends), Windstream currently offers the highest dividend yield.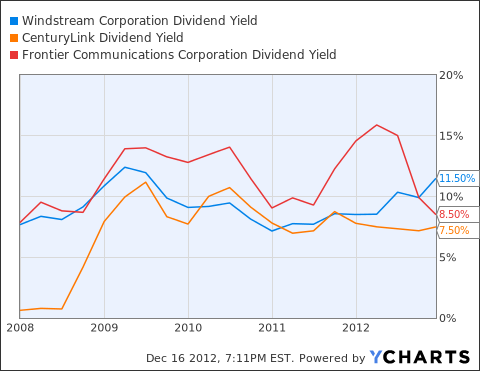 WIN Dividend Yield data by YCharts
We can see that for most of the last five years, Frontier (NYSE:FTR) had offered the highest dividend yield. However, Frontier reduced its dividend 47% to help with debt reduction and support capital expenditures. Meanwhile, CenturyLink (NYSE:CTL) has usually been the lowest yielder of the three, as it is seen as having the best growth prospects. Indeed, not since 2008 has Windstream found itself being the highest yielder in this sector.
The sharp decline in share price this year has caused the yield for Windstream to skyrocket. Windstream has maintained its current dividend of $0.25 per share since 2008. The share price for Windstream is currently near the lows of 2012.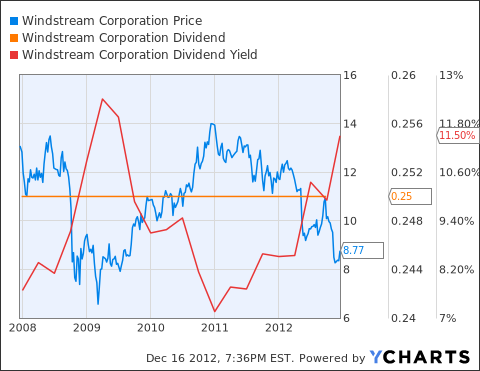 Obviously the market has soured on Windstream. The decline in the shares may be related to the acquisition Windstream completed on 12/01/2011 of PAETEC. Windstream issued about 73.4 million shares and assumed $1.4 billion in debt when it completed the acquisition. For Windstream, after this transaction, dividend payments per quarter increased by over $18 million to $147 million, while its interest expense increased by $15 million to $155 million. Below, we can see the increases in both metrics: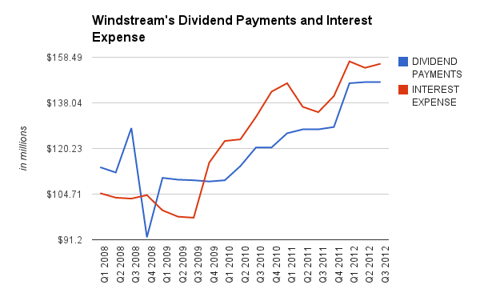 Net income for Windstream has rarely covered the dividend as shown below:
However, when looking at business with large non cash charges such as Windstream, it is best to use free cash flow ((NYSE:FCF)) to determine a dividend's safety. Remember that Windstream needs to spend money to make money. Cash spent on capital equipment and for fixed assets will be referred to as capital expenditures, or capex. Below is a chart of free cash flow and capex: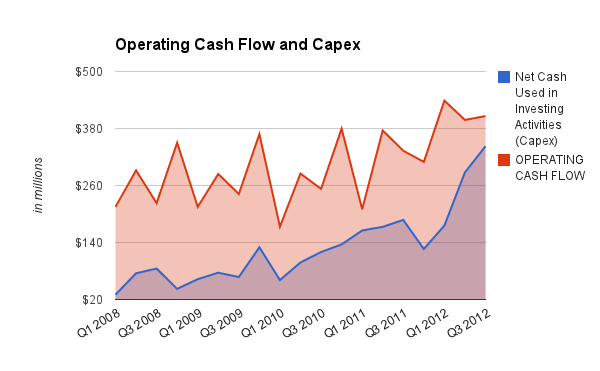 We can see that capex has been increasing at a faster pace than free cash flow. However, capex has rarely exceed free cash flow. Capex spending by Windstream should be seen as a good thing as this should lead to higher revenues in the future. Capex spending is expected to moderate as Windstream streamlines operations and finds synergies with its recent acquisitions.
Now that we know how much Windstream spends on capex, we can determine how much cash is left over, and see if it is enough to cover the current dividend payments. Below is a chart of dividend payments and free cash flow minus capex: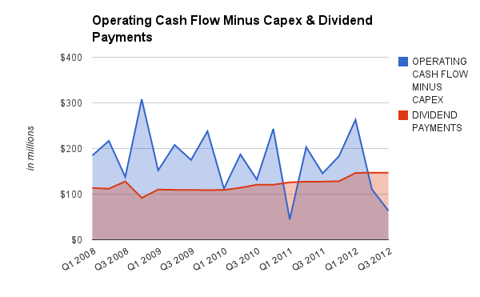 We can clearly see that Windstream has recently been paying more in dividends than it has in free cash flow minus capex. This is not a good sign for Windstream. At current levels of capex, the dividend payments are not sustainable. Free cash flow minus capex has only covered 60% of the dividend payments since Q2 2012.
One must also consider that Windstream also needs to generate cash to eventually pay off its debt. Below are Windstream's current debts and year of maturity:
It seems obvious, but bears repeating: it is of extreme importance for Windstream to have access to the capital markets in the future. With only $114 million in cash as of Q3, the company does not have enough cash on hand to pay 2013 debts. Windstream needs to maintain its credit rating, as a credit downgrade would hurt its ability to refinance its debt.
Conclusion
I believe I may now be able to answer my questions from earlier: Is the dividend sustainable? It seems not to be. Capex, interest expense, and dividend payments have all grown significantly since the PAETEC acquisition. Windstream needs to find cost synergies fast. Its current rate of capex and dividend payments are not currently sustainable. At current levels, I would not short Windstream stock, however I would not buy it either. I would steer clear of this stock until it manages to improve its cash flow figures.
Disclosure: I have no positions in any stocks mentioned, and no plans to initiate any positions within the next 72 hours. I wrote this article myself, and it expresses my own opinions. I am not receiving compensation for it (other than from Seeking Alpha). I have no business relationship with any company whose stock is mentioned in this article.