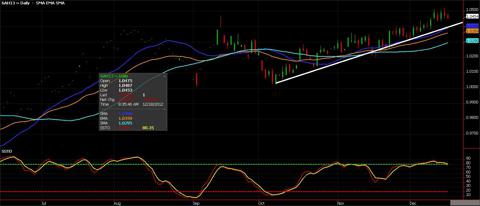 In the last 2 months the Australian dollar has danced the trend line as seen in the chart above. However in that time frame prices have appreciated 5%, lifting prices to multi month highs. My take is the party is almost over and prices are expected to trade lower from overbought levels…at least in my eyes. Confirmation would obviously be on a breach of the up sloping trend line and 20 day MA which come in roughly at the same level. In the March futures contract at just under $1.04. The most viable play for my risk appetite is getting short futures while simultaneously selling out of the money puts. Into Q1 I think we could see price approach par, which would represent a $4500 move in the futures market. Depending on the options sold and exact timing this should allow a window to make $1500-2500 per strategy. As for risk on a new high I would advise cutting losses or at a minimum managing the trade and adjusting your options hedge. A new high represents a $750 move in the futures market.
The logic outside of just the technical picture I think the Australian dollar could be vulnerable as uncertainty likely will persists as I see no quick fix for the fiscal cliff. An additional consideration if you ignore the short term noise is where are interest rates headed in 2013? The RBA is one of the Central banks that likely will participate in monetary easing lowering rates into next year in my opinion. The idea of "risk off" also supports easing in the Aussie ... as commodities go so do the commodity currencies.
Risk Disclaimer: The opinions contained herein are for general information only and not tailored to any specific investor's needs or investment goals. Any opinions expressed in this article are as of the date indicated. Trading futures, options, and Forex involves substantial risk of loss and is not suitable for all investors. Past performance is not necessarily indicative of future results.
Disclosure: I have no positions in any stocks mentioned, and no plans to initiate any positions within the next 72 hours. I wrote this article myself, and it expresses my own opinions. I am not receiving compensation for it. I have no business relationship with any company whose stock is mentioned in this article.