By Brendan Gilmartin
FedEx (FDX) is scheduled to report Q2 2013 earnings before the bell on Wednesday, December 19. The results are typically disseminated at 7:30 a.m. ET and will follow with a conference call at 8:30 a.m. Profits from FedEx are widely seen as a proxy for economic growth and tend to heavily influence the broader market gauges, including the equity index futures. While the company has already telegraphed its outlook for the Q2 period, the guidance for the full year could impact both the underlying shares and the broader market.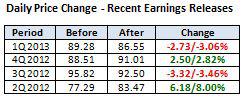 Key Measures
Earnings Per Share (Q2 2013): FedEx announced back in September that earnings for the Q2 are expected to be in the range of $1.30 to $1.45 per share. The revised Street estimate is toward the high end of that range at $1.41. (Source: Yahoo Finance.)
Earnings Per Share Guidance (Q3 2013): Note that FedEx tends to offer fairly conservative guidance. The current estimate is $1.45 for Q3 2013.
Earnings Per Share Guidance (FY 2013). Keep a close eye on earnings guidance for 2013. Back in September, FedEx said it projects earnings to be $6.20 to $6.60 per share for fiscal 2013. The current estimate is $6.39.
Recent News
12/17: According to a report on WSJ.com, FedEx has been facing weaker growth in its Overnight business and preference for the "Economy" shipments within its international routes. The company is reportedly seeing slower growth in Europe and softer economic conditions in Asia, cutting into demand for its higher-priced overnight delivery service. Finally, tomorrow's earnings release could shed light on progress of the restructuring updates announced back in October.
12/17: FedEx announced the online holiday shopping season is breaking records this year, with more than $29.3 billion in the 2012 holiday season to-date, up 13% year/year, citing data provided by comScore.
12/12: Raymond James downgraded FedEx from Strong Buy to Outperform, citing reduced earnings visibility and a cautious guidance outlook. The firm also lowered the price target from $106 to $100, according to a post on Minyanville.com.
11/30: FedEx announced it will increase shipping rates for FedEx Ground and FedEx Home Delivery by a net average of 4.9% effective January 7, 2013.
Technical Review
FedEx shares are up more than 7% from the mid-November low, pushing the shares back above the 200-day SMA (near $89.00) and 50-day (near $90.00), with latter cross back above the slower -- a sign that momentum is improving. The upward-sloping Relative Strength Index (RSI at 59 is below the 70-overbought level) and MACD are also testament to the recent strength. Near-term, there is resistance in the $93/$94 area in the event of a positive surprise, with support at the aforementioned moving averages ($89.00/$90.00). (Chart courtesy of StockCharts.com.)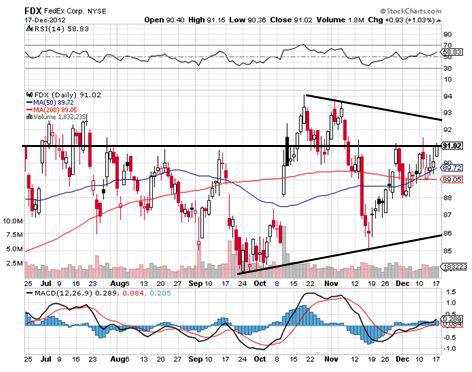 Summary
FedEx shares are trading a mere 5.7% below the 52-week high ($96.58) established last February amid evidence of an improving economic backdrop in North American and signs that the holiday shipping period is tracking better than expectations. The market is also betting that the restructuring efforts announced in October, which call for profitability improvement of $1.7 billion during the next three years, is also on track. At 14.2x trailing earnings, FedEx is also trading at a steep discount to rival United Parcel Service (NYSE:UPS) at 21.2x, while recent price hikes are seen bolstering margins heading into 2013. As usual, much of the focus will center on the outlook for the Q3 period and balance of fiscal 2013.
Disclosure: I have no positions in any stocks mentioned, and no plans to initiate any positions within the next 72 hours. I wrote this article myself, and it expresses my own opinions. I am not receiving compensation for it (other than from Seeking Alpha). I have no business relationship with any company whose stock is mentioned in this article.
Disclaimer: By using this report, you acknowledge that Selerity, Inc. is in no way liable for losses or gains arising out of commentary, analysis, and or data in this report. Your investment decisions and recommendations are made entirely at your discretion. Selerity does not own securities in companies that they write about, is not an investment adviser, and the content contained herein is not an endorsement to buy or sell any securities. No content published as part of this report constitutes a recommendation that any particular investment, security, portfolio of securities, transaction or investment strategy is suitable for any specific person.