Overview
While fertilizer Master Limited Partnerships, or MLPs, are less publicized than energy related MLPs, these MLPs offer investors real potential upside, as well as significant income opportunities from their distributions to unitholders. Many investors look to all types of MLPs to reduce tax burdens, as the distributions from these units receive special tax treatments. This overlooked segment of the market is poised to have a successful 2013. The companies listed here are Fertilizer MLPs with market capitalizations of at least $1.4 Billion and dividend yields of at least 7.76%. This list is meant as a base for further research.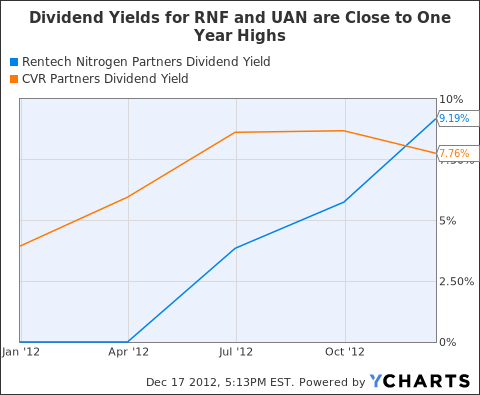 RNF Dividend Yield data by YCharts
Rentech Nitrogen Partners (NYSE:RNF)
Market Cap: $1.4 Billion
Dividend Yield: 9.19%
Rentech Nitrogen Partners is a public subsidiary of Rentech, which owns 61% of the former. The company operates two Nitrogen fertilizer facilities, one in Illinois and one in Texas. It began trading after its IPO in late 2011. The company plans to grow through both plant expansions and acquisitions. In November of this year, the company completed an acquisition of Agrifos, which owns an Ammonium Sulfate fertilizer plant in Texas. The company expects that the acquisition will be accretive to shareholder distributions beginning in 2013. Rentech Nitrogen Partners has benefited from low Natural Gas prices in recent years, as it is one of the primary feedstock resources used in its plant operations. The company should benefit in 2013 from its recent acquisition, and from other company growth plans.
CVR Partners (NYSE:UAN)
Market Cap: $1.85 Billion
Dividend Yield: 7.76%
CVR Partners is another major player in the Fertilizer MLP space. Its Nitrogen facility is located in Kansas. This plant is in close proximity to a Union Pacific (NYSE:UNP) rail line, which gives the company a benefit of lower transportation costs to its customers. In contrast to its competitors, CVR Partners uses a Petroleum Coke feedstock instead of a Natural Gas feedstock for its plant. The company purchases the vast majority of its Petroleum Coke from CVR Energy (NYSE:CVI), under a supply agreement, which ends in 2027 and can be renewed. While the company has not benefited from recent low Natural Gas prices, it benefits from a stable and secure feedstock supply. Additionally, the company is undertaking some steps to be able to increase sales and profitability. Over the past year, the stock is up by about 10%.
About MLPs
Companies organized as MLPs are required to pay out a very significant portion of their cash from operations to shareholder. When filing income taxes, investors often need to file additional forms in order to have MLP distributions correctly assigned.
Disclosure: I have no positions in any stocks mentioned, and no plans to initiate any positions within the next 72 hours. I wrote this article myself, and it expresses my own opinions. I am not receiving compensation for it (other than from Seeking Alpha). I have no business relationship with any company whose stock is mentioned in this article.