The patent wars appear to be far from over if the recent Apple (NASDAQ:AAPL) news is any indication. In fact, it looks as if we are about to enter another, more contentious phase with patent protection, and that is where Unwired Planet (UPIP) comes into focus. For over 15 years, Unwired Planet technology has enabled many industry firsts, including mobile browsing, mobile photo messaging, and the world's first wireless access protocol (WAP) deployment. The company has built a patent portfolio of approximately 200 issued U.S. and foreign patents and approximately 75 pending applications, many of which are considered foundational to mobile communications and span smart devices, cloud technologies, and unified messaging.
Unwired Planet states on their website that they are the inventor of the mobile Internet. A bold statement, but one that has merit given the 200 patents Unwired Planet holds. The once mobile messaging and software company has now morphed into a patent protection company, after selling its legacy businesses to focus on patent protection and licensing. This could be a lucrative field as the patent wars of 2012 have shown. We only need to look at Vringo (VRNG), which saw its stock price quadruple in 2012 as it sought to enforce its patents and successfully won a judgment against Google (NASDAQ:GOOG). Another small technology patent stock that saw its stock price soar in 2012 was Parkervision (NASDAQ:PRKR), up 200%.
With $70 million in cash on its balance sheet and no debt, Unwired Planet is nicely funded for its battle against those companies it believes is misusing its patents -- companies such as Apple, Research In Motion (RIMM), and potentially any other technology company with mobile applications. A sell-off in the stock price since October has given investors an opportunity to jump in at much lower prices. In October, the company chose to refile patent claims in Delaware court and terminated the ITC lawsuit, a decision that should help their case in the long run.
Click to enlarge image.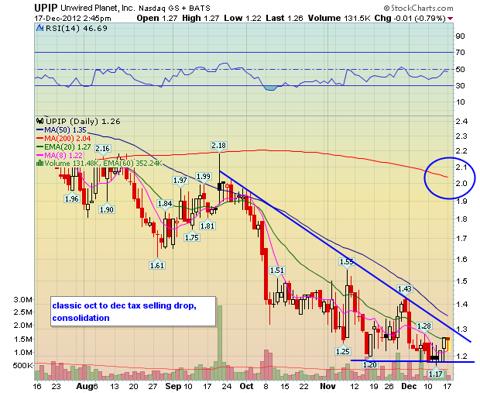 The Unwired Planet chart shows a stock that has seen a nice retrace in price over the last several weeks. The October news we previously mentioned appears to have started, and potentially exaggerated that drop. However, we now find a stock with a nice consolidation base in the $1.20s with a downtrend breakout at $1.30-$1.35. The 200-day moving average at $2.04 would be a target on the 50-day moving average break.
Unwired Planet, as per the most recent earnings report, is now in the litigation business. Unlike Vringo, when they started their patent fight with Google last year, Unwired Planet has a very nice cash hoard. If Unwired Planet is indeed proven to be the "inventor" of the mobile Internet as they claim, it is very hard not to see the stock trading substantially higher in 2013 given the stock price appreciation witnessed in stocks such as Vringo and Parkervision.
With the patent wars showing no signs of letting up, there are many things to like about Unwired Planet. The profit angle does not only center around litigation, but also in licensing deals. With more and more losses for large corporations in the patent wars recently, the incentive for these large technology companies to sign licensing deals or just outright buy patents is growing. Unwired Planet looks to be a very nice value play simply based on this as well as its large cash balance. Investors should watch this stock closely.
Disclosure: I am long UPIP. I wrote this article myself, and it expresses my own opinions. I am not receiving compensation for it (other than from Seeking Alpha). I have no business relationship with any company whose stock is mentioned in this article.