Since the gold price failed to advance after the Federal Reserve's latest stimulus measure last week, that is, the one where the central bank raised its open-ended money printing effort to a cool $1 trillion per year, an increasing number of calls have been heard with the same refrain - the secular gold bull market is over.
Earlier in the month, it was investment bank Goldman Sachs who said that prices may rise back up above $1,800 an ounce next year but that last year's high at just over $1,900 an ounce or a similar high next year will go down in the history books as the end of the long-running bull market.
Just today, Saxo Bank came out with a rather outrageous prediction for the New Year - not only might the oil price drop to $50 a barrel, but gold might tumble to as low as $1,200 an ounce.
This is troubling news for any gold investor since, just a few months ago, it seemed like prices over $2,000 an ounce were a done deal - if not this year, then next.
But, if the late-2011 peak of just over $1,920 an ounce proves to be the highest the price of the yellow metal will go for another 30 years or so, it certainly looks nothing like the prior secular peak. Long-term bull markets almost always end with a bang, not a whimper, and last year's price peak was clearly the latter as shown below.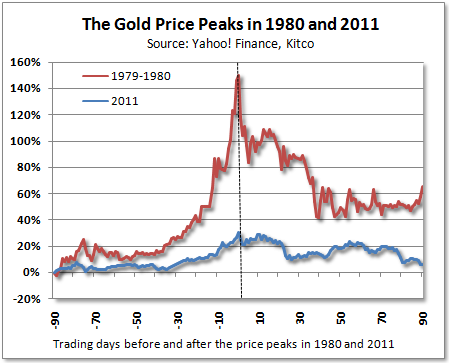 A 25 percent rise over a period of about two months last year was all that gold could muster in its end-of-cycle, blow-off top?
It should come as some comfort to gold owners that neither Goldman Sachs nor Saxo Bank have a particularly good track record in their predictions lately, though interest does seem to be waning in recent weeks for precious metals.
But, it's hard to imagine that the $1,920+ price for gold late last summer was it for this cycle, meaning that gold might have to wait until 2040 or so before it gets up over the $2,000 an ounce mark.
No, I think there's still some room to run for gold if for no other reason than that we haven't even come close to the "mania" stage that characterizes the end of long-term market moves and holders of the SPDR Gold Shares ETF (NYSEARCA:GLD) and similar products should probably hang on to their shares.
Real interest rates remain in negative territory, central banks continue to buy the metal in large quantities, and investors around the world continue to lose confidence in both paper money and the policymakers that control it.
There have probably been 12- or 13-year bull markets before that have ended like the blue curve in the graphic above, but I don't know of any. That's all the more reason to think that gold is still just getting warmed up for its main performance to come sometime in the next few years.
Disclosure: I am long GLD. I wrote this article myself, and it expresses my own opinions. I am not receiving compensation for it (other than from Seeking Alpha). I have no business relationship with any company whose stock is mentioned in this article.
Additional disclosure: I also own gold coins.