Today's release of the December NAHB Housing Sentiment Survey was in line with expectations (47), which was enough to send the index to its highest level in more than six-and-a-half years.
As shown in the table below, although future sales were down marginally, present sales rose above 50 for the first time since April 2006. It was also the first time since early 2006 that both present and future sales were above 50.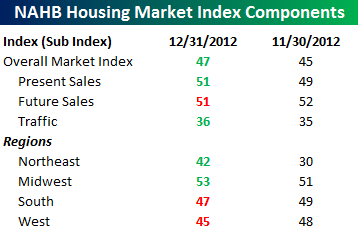 In terms of regions, the Northeast saw a big bounce back from last month's Sandy-depressed level of 30, but the region still remains the weakest in the country. The Midwest is still the only region where sentiment is above 50.
Click here for charts.