For several months now, I've been reading about the continued explosive growth in digitally stored data. I've written a few articles to describe ways that investors can play this trend. Some statistics I've cited previously from the CSC website summarize the magnitude of this growth:
By 2020, only eight short years away, globally stored data will grow by 4300% from 2009 levels.
In 2009, there existed 0.79 zetabytes of data. In 2010, this increased already to 1.2 ZB. In other words, in one year, the world's data grew by 50%. That's right; in one year, we created 50% of the data that we had created in all prior years combined!
By 2020, this will grow to 35 ZB in total.
Of course these figures are just the growth of raw data, not all of which will be stored. However, it's not too hard to fathom that the rate of growth in data centers is also increasing rapidly. Particularly interesting I believe is the growth in Cloud storage, as more and more enterprises are looking to Software as a Service and Infrastructure as a Service (SaaS and IaaS) solutions. The below graph from a Cisco whitepaper shows the expected CAGR in Cloud traffic in the coming few years by world region: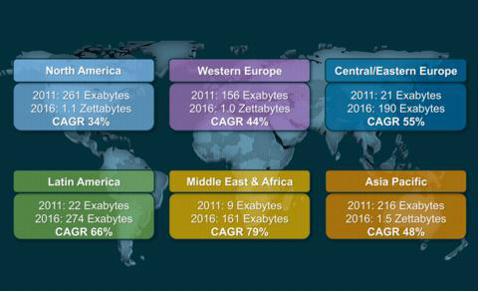 With CAGR growth rates between 34 and 79% around the world, the prospects are definitely strong for businesses in this industry.
21Vianet - a Hidden Gem
One company that I'd like to zoom in on more closely to play this trend is 21Vianet (NASDAQ:VNET). Vianet was founded in 1999 and is the largest carrier neutral hosting provider and data center operator in mainland China. The company provides hosting and related services to house servers and networking equipment in its data centers. Its data centers are connected through a data transmission network. Vianet also has a sizable managed network services business and utilizes its proprietary BroadEx smart routing optimization platform to route customers' data traffic efficiently and reliably. The company offers its customers 99.99% guaranteed uptime for power and 99.9% for network connectivity.
As stated in the most recent conference call, in September 2012, the company had 11,600 cabinets housed in all data centers. Self-built cabinets now account for 53% of the total. The rest are partnered with China Telecom (NYSE:CHA) and China Unicom (NYSE:CHU). Over time, the company has been building more of its own data centers and slowly reducing the dependency on the major telecom providers. This has a positive impact on margins as well as reducing the obvious risks of relying on the telecom operators who also can offer similar competing services to Vianet. The company predicts by the end of 2012 it will increase the percentage of self-built cabinets to 55%.
Vianet has a market cap just under $500m and has grown very fast in the past five years. The company is relatively new to U.S. markets, having gone through an IPO in 2011. According to the latest 20-F annual report, revenue has increased from 240 million RMB in 2008 to 1.02 billion RMB in 2011. This is a CAGR of over 60%. The company, however, is seemingly unloved by investors, and the stock price has trended lower recently. At time of writing, the stock is priced at $8.86/share, which is just above the 52-week low. The forward P/E and EV/EBITDA are both below 12, which is quite a low valuation for a company that has growth estimates around 20% per annum over the coming five years. Seven out of eight Wall Street analysts who follow the company have a buy rating on the stock with an average target price of $15.
Below I have outlined several current and potential catalysts as to why I believe this underloved company is a great pick for 2013.
Catalysts for 2013
1. Partnership with Microsoft -
Vianet has recently announced a new partnership with Microsoft (NASDAQ:MSFT). The company will in effect be the operational entity for Microsoft in China, which will license to Vianet the exclusive right to host Office 365 and Windows Azure in the country. The company is hiring 200-300 software engineers who will be responsible for the design and technical support of the platform, which is expected to launch in mid-2013.
I think this deal could end up being a major catalyst for the company going forward. So far, however, the markets have hardly taken notice. In fact the stock price has trended lower, from about $10/share to the current $8.62 since the announcement. Meanwhile, the company has generally met estimates the past two quarters and has given an outlook for 2013 that is also reasonably in line with analyst expectations. The analyst recommendation trend has remained unchanged in three months with seven out of eight still giving a buy recommendation. Let's take a few moments to examine some numbers on this deal in more detail to see why it is more significant than the market is giving credit for.
Growth of Office 365 and Azure services is expected to be very strong for Microsoft in the coming years. Extrapolating hard numbers is a bit of a challenge, as Microsoft doesn't publicly disclose revenue and earnings breakdowns for its cloud services. However, using various sources, you can piece together some rough estimates. This report from a small technology research firm states that the worldwide revenue of cloud-based productivity suites was $1.6B in 2012, and this will increase to about $5.9B in 2016. At a CAGR of 38%, this seems to make sense as it is very much in line with the growth of cloud traffic forecast from the Cisco paper cited earlier in this article. The report also states that Office 365 will have about 47% market share by 2016, and will therefore generate revenue of approximately $2.77B. Of course this is worldwide revenue. In China specifically, it's hard to know exactly what dollar amount this translates to. Vianet has given us some good clues though in its recent conference call. The company stated it expects to receive 30%-40% of customer revenue, with the rest being paid to Microsoft as a royalty payment. In six months of 2013, this revenue for Vianet will amount to about $18m, the company estimates. That means Office 365 revenue is expected to be about $51m in total for those six months. Using the CAGR of 38% stated above, this would imply about $270m for a full year by 2016, which would be about 10% of the worldwide revenue. This seems reasonable, judging by the size and growth of China and, if anything, could be conservative. With an average of 35% going to Vianet, that implies the company can expect to receive upward of $94m in revenue by 2016 from this deal. With current yearly revenue at $227m, this would be about 40% of current revenue. Better yet, margins are expected to be significantly higher than the existing business so the impact on the bottom line is even more - close to a 50% increase.
2. Recent acquisition of FastWeb -
Vianet acquired FastWeb in September 2012. This company specialized in content delivery networks (CDN) and cloud platform enabling technologies. It has 150 points of presences (POP) around China in its CDN network. Although not a major catalyst, this shows a continued focus by Vianet not just on hosting solutions but on the higher value cloud solutions and is in line with the company's strategy of strengthening its infrastructure and services to attract higher value customers.
3. Potential Further Partnerships with Western Companies -
The Partnership with Microsoft could just be the start for Vianet. A lot of the big IT software firms will be looking to expand their cloud offerings in China. To do this, they will need to depend on reliable network and data center infrastructure that can provide coverage across all of mainland China. Due to the difficulties for many of these companies to operate freely in China they must rely on local partners with established infrastructure to deliver their cloud services. Several already have done so. An example is SAP AG (NYSE:SAP), which has partnered with China Telecom for some SaaS services. Although the national telecom providers will scoop up some of this business, it would seem logical that the carrier neutral status of Vianet will give it some advantages to expand its cloud business. Being the largest provider with this status, the company is well positioned. Who else can offer as much coverage and reliability as Vianet?
One intangible I like here also about Vianet is that the management team has significant experience with western business. The CFO, Shang Hsiaso, lived and worked for many years in the U.S. receiving a law degree in the process. The rest of the senior management team speaks English and seems to interact well with Wall Street analysts on conference calls. With the recent acquisition of FastWeb, the company has added Liu Zaide as Chief Software Officer. He also lived and worked for many years in the U.S. and was previously the business development director at Akamai (NASDAQ:AKAM). Zhonghe Tai was also added as an independent director to the board in October. He is a prominent businessman in Taiwan who was one of the founders of the Acer group in 1976. With a strong management team that has demonstrated worldwide experience, Vianet certainly should not be grouped with the typical Chinese small cap in the reverse merger space for example, where there is often a lot of communication and cultural challenges with Wall Street.
4. Margins are Quietly Continuing to Increase -
Margins for Vianet are currently not that impressive. TTM Gross Margin was about 28%, and operating and net margins only 7.8 and 1%, respectively. However, the company has been doing a good job taking steps to steadily increase this. For several years, it has been making a gradual shift from having fewer partnered data center cabinets to more self-built ones. In addition, on the most recent conference call, management indicated it expects the revenue generated from the Microsoft deal will eventually have gross margins close to 50% once up and running. Granted this will take some time and won't have a big impact in 2013, as the company only expects about 5% of total revenue to come from this partnership next year. In addition, the FastWeb company that was recently acquired also had gross margins around 35% according to Vianet CFO Shang Hsiao in the conference call. Combining these positive impacts all together, gross margin should increase throughout 2013 and is expected to be about 33%. This is an increase of 500 basis points from recent levels. The growth of the Microsoft partnership in the following years combined with more self-built data centers and cabinets will only increase margins further.
Balance Sheet Remains Strong
With high rates of growth, Vianet must spend a lot on CapEx in order to keep its infrastructure state of the art and able to handle exponentially increasing traffic. For 2012, the company will spend about RMB537 million ($86m) to expand out its data centers and improve network infrastructure. The company has plans to increase network service capacity from 518 gigabit to 1,000 by the end of 2013, and this will also cost a substantial amount. Despite these expenses, however, the balance sheet remains strong and overall debt levels are very reasonable.
| | |
| --- | --- |
| Total Cash | $114m |
| Total Cash per Share | 1.97 |
| Total Debt | $65m |
| Total Debt / Equity | 0.234 |
| Current Ratio | 1.47 |
Valuation - What is Vianet Worth?
DCF Analysis
As with all high-growth companies, predicting the future is difficult. With projected growth rates of 20% or higher, there is too much uncertainty to make accurate predictions, especially when looking in the technology sector. I therefore prefer to only use a five-year earnings growth time horizon in my model. With this in mind, I have run a few scenarios below.
Optimistic Scenario
Likely Scenario
Pessimistic Scenario
Current EPS FY12*
$0.48
$0.48
$0.48
Earnings Growth Rate Next 5 years
30%
20%
10%
Terminal Growth Rate
3%
3%
0%
Years of Terminal Growth
10
10
10
Discount Rate
6%
6%
6%
Intrinsic Value
$16.02
$11.18
$6.94
Probability of Occurrence
20%
60%
20%

Weighted Average

Intrinsic Value

$11.30
*Results for the current quarter have not been announced yet, but I have used the results of the first 3 quarters plus analyst estimates to arrive at the full year EPS.
With a current market price of $8.86, this would imply a margin of safety of a little more than 20%. This doesn't seem that high, although the fact we have only used a five-year growth horizon is quite conservative, and I think this shows that even with the uncertainty variable of technological innovation and change, this company is still undervalued. If I had used the same inputs as above but simply changed the growth timeframe from five to 10 years, the intrinsic value would have been significantly higher - $26.62 for an impressive upside potential of 300%.
I think it is quite clear, however, that the company is trading at attractive levels given the growth prospects, especially if you consider the almost $2/share in cash on the balance sheet. This significantly increases the margin of safety.
Relative Valuation
Vianet does not have a lot of direct peers to compare against. Probably the most similar global company is Equinix, Inc. (NASDAQ:EQIX). This is an American data center operator much larger than Vianet with a market cap over $9.6B. However, the business is very similar, and the growth drivers and CAGR going forward should be based on similar factors such as cloud computing adoption. Equinix has a forward P/E over 60 and an EV/EBITDA over 15. On the basis of the latter, Vianet is priced more than 20% cheaper. Even China Telecom and Unicom, which the company competes with partially for data hosting services, have forward P/E ratios higher than Vianet (15 and 21, respectively).
Valuation Conclusion
At a minimum, Vianet appears to be undervalued by 20%, and including the cash on the balance sheet, this increases to about 35%. I am confident that this is a very conservative estimate, especially if you factor in my insights on the Microsoft deal, which appear to show earnings growth of about 50% in four years' time (CAGR about 10%). This makes the pessimistic scenario above exceedingly unlikely, unless growth in data center cabinets falls off a cliff. However, with the general exponential growth of data and cloud storage showing no signs of slowing, I don't see this happening.
Risks to Consider
As with any investment, there are always risks to consider. For Vianet a few of the key points:
Hiccup in Expansion Plans
Much of Vianet's ability to attract new high-profile customers and continue to offer high-quality services will depend on how quickly and successfully the company can roll out upgraded network infrastructure. There is also always the risk of challenges with Chinese government and bureaucracy, which could slow the plans of data center expansion. Along with this, the company must manage CapEx budgets carefully in order to maintain and expand margins. Costs for sales and marketing, general and administrative expenses, and R&D increased between 50%-100% in 2011. The company must watch carefully to keep these costs in check, especially with relatively thin margins as it is.
Dependence of China Telecom and Unicom
The two major telecom providers still own more than 40% of the data center cabinets deployed by Vianet. This over reliance could be a risk to the business. The company is, however, consciously trying to mitigate the risk. As described above, for the past few years the company is slowly building out more of its own data centers and reducing reliance on the telecom providers. Also with the new Microsoft deal, I think this risk will become much less critical in a few years as the revenue attached to partnered data centers will become a much smaller part of the overall pie.
Another important factor to realize here is that each contract for China Telecom or Unicom in each city of operation is negotiated separately with local officials. This makes it also exceedingly unlikely there could be a general dispute between Vianet and the parent telecom companies, as they do not operate under one large contract with each.
Macroeconomic factors
Continued slower rates of growth in China and other parts of the world could weigh on tech growth stocks such as Vianet. In times of recession, enterprises will cut innovative IT budgets, which is likely to include Cloud adoption initiatives. One or two years of broad economic slowdown could negatively impact the earnings of Vianet. The good news here is that even as overall growth in China has slowed in 2012 from previous years, Vianet seems to continue on track with its expansion plans, and analysts are holding firm to estimates as of late, which shows the consistency and good execution by the Vianet management.
Conclusion
I believe 21Vianet is a hidden gem that has slipped under the radar of many investors. I think the Microsoft deal will turn out to be much more positive in terms of revenue and earnings accrual than the market is giving credit for. With a good management team, strong balance sheet, attractive valuation, and great growth prospects, I think this is an all around great pick heading into 2013 and beyond.
Disclosure: I am long VNET, MSFT. I wrote this article myself, and it expresses my own opinions. I am not receiving compensation for it (other than from Seeking Alpha). I have no business relationship with any company whose stock is mentioned in this article.