Recently, JP Morgan Chase & Co (NYSE:JPM) provided coverage on the housing market and released projections in regards to where home prices are headed over the next year. JPM provided two scenarios that are both favorable considering how the bearish scenario would probably satisfy the vast majority of homeowners in the US. JPM's bullish scenario projected home prices could spike as high as 9.7% in 2013, while the bearish scenario suggests a 3.4% increase. In addition to JPM's projection, Freddie Mac seems have similar expectations:
"Expect property values to continue to strengthen with most U.S. house price indexes likely rising by 2 to 3 percent in 2013."

"Household formation should step up further to a net 1.20 to 1.25 million household increase in 2013 with housing starts up around the 1 million annualized pace by the fourth quarter."
Analysts are not the only individuals anticipating an influx in home prices. The expected increased in home prices is also reflected through the new issuance and the augmented volume of new mortgage bonds. As a result of this new activity in the financial market place, it is highly probable the issuance of new mortgage bonds could boost the issuance of private labeled bonds this year as high as $30 billion. In light of this, I decided to investigate various investment opportunities that would be positively affected by an increase in the price of U.S. homes. Three of these six investment opportunities are going to include companies that are going increase profit margins from higher demand in the following areas such as construction, renovation, and home improvements. The other three companies that will be discussed are three U.S. home builders. This article provides a brief overview to all six of these companies.
Eagle Materials, Inc (NYSE:EXP) is a company that will excel heavily if there is a significant number of new homes being built as well as renovated. EXP operations revolve around the manufacturing and distribution of gypsum wallboard and cement. EXP targets five regional markets including northern Nevada, California, the greater Chicago area, the Rocky Mountains region, as well as Texas. As last reported, EXP operates four cement plants, four gysum wallboard plants, one recycled paperboard plan, nine concrete batching plants, and two aggregate facilities. EXP provides an excellent growth opportune on the basis for increases in demand for wall board through the construction industry. EXP is a feasible investment opportunity for an expected housing market recovery. EXP's YTD performance is illustrated below in figure 1.
Figure 1: EXP's YTD Price Graph from FinViz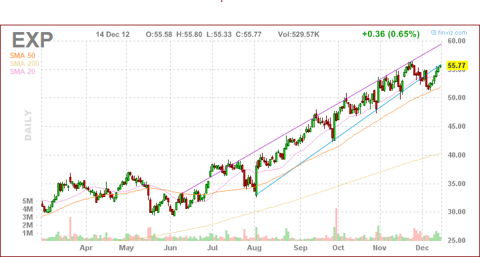 (Click to enlarge)
EXP has exhibited excellent growth from YTD and is currently trading between $55-$56 per share. EXP is a company that is largely dominated with institutional investors who own nearly 85.92% of all EXP's common equity outstanding. In terms of profitability, EXP has experienced a 25.4% growth this year in earnings per share and continues to maintain a strong return on assets as well as return on equity, which equate to 4.46% and 9.10%, respectively. EXP provides an excellent growth opportune on the basis for increases in demand for wall board through the construction industry. EXP is a feasible investment for an expected housing market recovery.
H&E Equipment (NASDAQ:HEES) is an integrated equipment services company that serves as a major supplier for heavy construction and industrial equipment. HEES provides its customers with the ability to either rent or purchase equipment. HEES primarily caters to four main categories of equipment including hi-lift or arial work platform equipment, cranes, earthmoving equipment, and industrial lift trucks. HEES operations are diversified across five different segments including equipment rentals, new equipment sakes, used equipment sales, parts sales, and last repair and maintenance services. In today's market, equipment rentals are becoming increasingly more attractive and this appears to be HEES's primary advantage over its peers. Figure 2 below illustrates HEES's YTD performance.
Figure 2: HEES's YTD Price Graph from FinViz
As you will see above, HEES is trading between $14-$15 per share. Given HEES currently has 35.1 million shares outstanding, this makes its market capitalization approximately $518.4 million, which by definition classifies HESS as a small capitalization company. HEES is one of the top four companies in the industrial equipment and components industry to have the highest return on assets. HEES's return on assets and return on equity are 3.10% and 17.72%, respectively. As for risk metrics, HEES's holding period returns reveal a firm-specific beta of 2.1, which makes HEES slightly riskier than the market which has a beta of only 1. Institutional investors own nearly 72.8% of HEES's common equity. Several analysts that cover the stock have a median price target of $19 per share.
Lumber Liquidators (NYSE:LL) is a retailer of hardwood flooring and hardwood flooring enhancement and accessories. LL provides it customers with a wide variety of different wood floors including pre-finished domestic and exotic hardwoods, engineered hardwoods, unfinished hardwoods, bamboo, cork, laminates, and resilient flooring. LL offers a total of 350 different flooring products. As of February 2012, LL operates 266 stores located in 46 U.S. states and Canada. Figure 3 below illustrates LL's YTD performance.
Figure 3: LL's YTD Price Graph from FinViz
As you will see above, LL is currently trading right around $50.50 per share. Right now there is 27.1 millions shares outstanding, which implies LL's market capitalization is roughly $1.4 billion. However, LL's P/E ratio is a little steep at 32.98x. Using LL's monthly holding period returns for the past two years, I computed a firm-specific beta value of 1.4. This indicates LL is only of slightly higher risk than the market.
Toll Brothers (TOL) is a well known U.S. home builder that designs, markets, and orchestrates financing options for single family homes in up scaled residential communities. TOL operates its own land development, architectural, engineering, mortgage, title, landscaping, lumber distribution, housing component assembly, as well as manufacturing operations. TOL is currently trading right about $32 per share after having increased nearly 5% in the open of the market today after a press release release stating the Toll Brothers Execs recognition in the Institutional Investor magazine's 2013 All-American Executive Team. Figure 4 below illustrates TOL's YTD performance.
Figure 4: TOL's YTD Price Graph from FinViz
DR Horton (NYSE:DHI) is another company in the U.S. home building sectors. DHI provides construction services as well as financing for homes throughout 25 states and 73 different metropolitan areas. In addition, DHI provides mortgage financing and title agency services to home buyers through its subsidiary, DHI Mortgage. DHI is primarily owned by institutions with total holdings amount to 88.17% of its common equity. DHI compensates investors with a steady dividend yield of 0.80%. Figure 5 below illustrates DHI's YTD performance.
Figure 5: DHI's YTD Price Graph from FinViz
As you will see above in figure 5, DHI is currently trading between $19 and $20 per share. DHI is slightly bigger than a few of the earlier companies I covered, its market capitalization is about $6.5 billion making it a mid-cap market sized company.
Beazer Homes USA (NYSE:BZH) is a highly diversified home builder with its operations scattered across 16 different states. BZH specializes the design, construction, and sale of single- and multi-family homes. BZH is a smaller company than DHI in terms of its market capitalization, which I feel is primarily a result of its target market. BZH markets its services to a significant smaller market in contrast to DHI. As you will see below in figure 6, BZH is trading roughly between $14 and $15 per share.
Figure 6: BZH's YTD Price Graph from FinViz
One aspect I envy about BZH is that its institutional ownership is significantly lower than some of its peers. BZH's total institutional investment amounts to only 73%. This is significantly lower in contrast to Meritage Homes (NYSE:MTH), which is 97% owned by institutional investors. Personally, I steer away from companies with significant institutional holdings due to the ability for them to serve as major market makers in terms of large transactions affecting its market value per share. However, when it comes to the U.S. home building industry high levels of institutional investment is hard to avoid, but 97% is too high for comfort. This is the primary reason I choose to discuss the following U.S. home builders above as opposed to BZH.
Conclusion
In conclusion, given analysts predictions for the housing market next year and the current activity of mortgage backed bonds in the capital markets there is a high probability that we will see a positive turn around in the housing market next year. With that being said, it is time to invest your capital in companies that are going to generate large sums of free cash flow from advancements in the sale of construction materials, equipment as well as companies in the business for constructing homes. The housing market spiked in 2006 and we have yet to see similar prices since. The next four years are crucial. I feel there is a strong case for investing in companies that serve as play on the housing market. It is a fact that there is approximately four years until 2016, but it is my opinion that 2016 will be the next peak in home prices.
Sources: The Wall Street Journal, FinViz, Google Finance, and TD Ameritrade.
Disclosure: I have no positions in any stocks mentioned, and no plans to initiate any positions within the next 72 hours. I wrote this article myself, and it expresses my own opinions. I am not receiving compensation for it (other than from Seeking Alpha). I have no business relationship with any company whose stock is mentioned in this article.