One of the core holdings of the Team Alpha portfolio is Realty Income (NYSE:O). Every month a dividend check is sent to all investors and it becomes more apparent that holding this stock for the very long term is almost as good as it gets.
There has been plenty of noise surrounding dividend investing and dividend stocks with the fiscal cliff just around the corner. Being that O is a REIT, the dividends paid to investors are already counted as regular income. That means it is not going to be affected as much as qualified dividends.
It might be a good idea to look at a very simple chart that will put everything into perspective, come January 1st 2013, if no "deal" has been agreed to.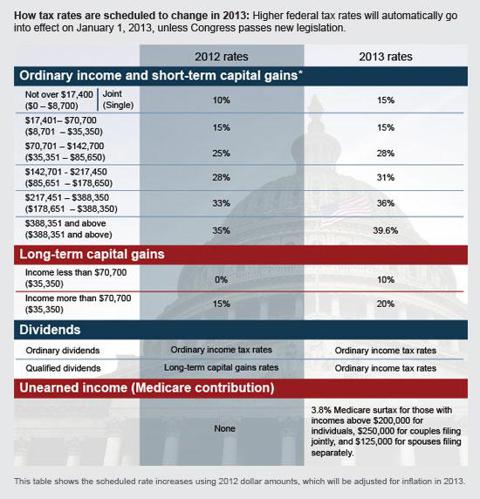 Notice the change in qualified dividends. They will no longer be taxed at the long term capital gains rate. Since Realty Income pays their dividends as ordinary dividends, the only potential change will be on the tax rate increase of ordinary income.
Obviously this is not the only reason to love Realty Income.
O-The Gift That Keeps On Giving
When an income seeking investor can find a solid company with a track record of not just paying dividends constantly, but also increasing them regularly, we can just about count on the cash.
From the Realty Income website;
508 dividends paid
68 dividend increases
60 consecutive quarterly increases
Dividend growth of 101.9% since 1994
Average annual dividend return of 7.6% since 1994 (through 12/31/11)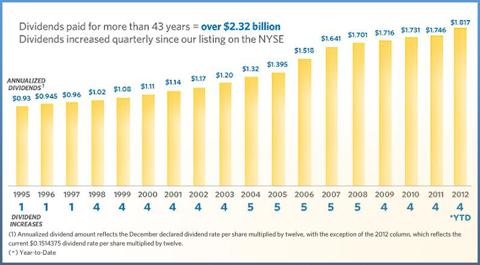 A 43 year track record of paying monthly checks to shareholders is something just about any investor can appreciate. Not only that, but the company has returned solid capital appreciation as well.
Since mid 2009 the share price has almost tripled. The total return is a thing of beauty when the dividends are added in.
Where Is Realty Income Headed In 2013?
The major event for 2013 is the acquisition of American Realty Capital (NASDAQ:ARCT), as discussed in this press release. Shareholders of ARCT are not thrilled with the agreed upon deal because they feel that their shares are worth more than what O is paying for them. I believe that Realty Income did get a very good deal, and both ARCT and O shareholders will be rewarded. It is also my belief that Realty Income shareholders will be greatly rewarded in 2013 and beyond.
From the acquisition presentation, there will be an immediate accretion to the value of Realty Income shares. I urge all investors who are interested to visit the website as well as reading the public documents about this acquisition.
To me, it supports not only my original decision to own O shares, but to contemplate adding to that position as we move into 2013.
My Opinion
I believe that current shareholders might want to consider adding to their positions for 2013 based on their current allocations of funds, and others might want to open a new position. Team Alpha currently has a 6-7% allocation in O and that level is sufficient.
With a current dividend yield of 4.50%, and the potential for capital appreciation from current levels, I believe dividend seeking investors could be well rewarded in 2013.
Please do your own research prior to buying or selling any security and do not rely on any article to make your decisions.
Disclosure: I am long O. I wrote this article myself, and it expresses my own opinions. I am not receiving compensation for it (other than from Seeking Alpha). I have no business relationship with any company whose stock is mentioned in this article.