Today, GMO, the asset manager headed by Jeremy Grantham, released its 7-year asset class return forecasts. Consistent with prior forecasts, they are gloomy on bonds, very positive on timber, and mixed on stocks.
They see non-US and emerging market stocks outperforming US stocks in general, but they see "high quality" US stocks outperforming "international" stocks. They see emerging stocks outperforming US high quality stocks by 1.3%, but with a much wider +/- range.
For US high quality stocks, they see a 7 year annualized "real" return of 4.9% (compared to 0.2% for US large-cap, and -0.4% for US small-cap on a broad market basis).
They see a +/- 6% range for US high quality stocks, which on a real return basis would be +10.9% to -1.1%. Because they see a mean reversion for inflation over 7 years back to 2.2%, that means their nominal return assumption might be as high as +13.9 to +1.1%.
If high quality stocks are to be the leaders, who are they?
As investors who favor dividend paying stocks over non-dividend paying stocks as a general proposition, and assuming that many high quality stocks are also dividend payers, we searched today for a prospect list of high quality dividend stocks.
We identified 7 US stocks that might be worth looking at further (not a trick to relate to the GMO 7-year forecast - the number just happened to be 7 stocks that passed our particular filter criteria).
First we created two suspect lists, one based on Standard & Poor's data (24 stocks), and another based on Value Line data (52) stocks.
We then cross referenced those two suspect lists to create a prospect list that numbered 7 stocks, as follows:
| | |
| --- | --- |
| NAME | SYMBOL |
| GENERAL DYNAMICS CORP | GD |
| MEDTRONIC INC | MDT |
| MICROSOFT CORP | MSFT |
| TARGET CORP | TGT |
| V.F. CORP | VFC |
| WALGREEN CO | WAG |
| WAL-MART STORES INC | WMT |
Standard & Poor's Suspect List Criteria
Earnings and Dividend Quality A- or better
Fair Value rating 4 or 5 out of 5 (higher better)
Current yield 2% or more
5-Year dividend growth rate > 0%
1-year dividend growth rate >= 0%
The Fair value factor had the most severe impact reducing the list.
There were 317 companies with an A- or better, 1814 with a yield of 2% or more, and 736 with a Fair Value of 4 or 5.
However, when you require both an A- or better Quality and a Fair Value of 4 or 5, the list is reduced to 72 companies.
When you require both an A- or better Quality and a current yield of 2% or more, the list is reduced to 183.
With all five criteria listed above, the list drops to 24.
Filtering Dilemma
This is one of the dilemmas of filtering. You can have anything you want, but not everything you want. The more criteria or the stricter the individual criteria, the shorter the list.
It is emotionally difficult sometimes, because stocks you "want" to pass the test, because you "want" to own them, often fail. That doesn't mean you should not own those stocks, but it does raise two questions: "Are my criteria reasonable?" and "What is it about the stocks I want to own that keep them out of the filtered list?"
Value Line Suspect List Criteria
Financial Strength A or better (on their 9 level scale)
Safety Rank of 1 or 2 on their 5 point scale (lower better)*
Earnings Predictability in the upper 1/3
Current yield 2% or more
5-Year dividend growth rate > 0%
1-year dividend growth rate >= 0%
* The Safety Rank is based on a combination of the Price Stability and Financial Strength rating.
What Do Other Services Think Of This List
Let's see what ThomsonReuters StarMine ("TR SM") and Wright Investor's Service ("Wright") think.
StarMine averages the recommendations from those analyst they determine to have been most accurate for the sector. They use a 10 point scale, where a score above 7 is bullish. There is no particular method for the underlying analyst recommendations, some of which are quantitatively or qualitatively fundamental and some of which are technical, or a combination.
Wright uses a purely quantitative method to provide a four element score for first liquidity, then financial strength, then profitability, and then growth. The first three elements are scored with a "school grade" alpha scale, and the fourth element (growth) is scored numerically from 1-20.
| | | | |
| --- | --- | --- | --- |
| Symbol | TR SM | | Wright |
| GD | 8.9 | | AAA10 |
| MDT | 8.6 | | ABA9 |
| MSFT | 8.5 | | AAA15 |
| TGT | 8.3 | | ABA10 |
| VFC | 6.0 | | AAB9 |
| WAG | 4.3 | | AAB11 |
| WMT | 8.0 | | ABA11 |
Price, Earnings and Dividend Charts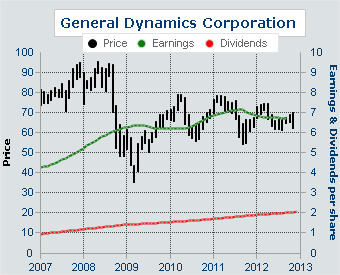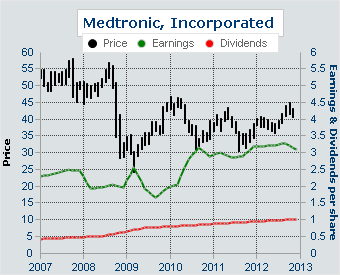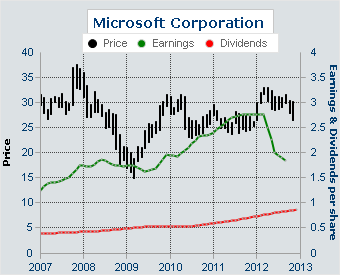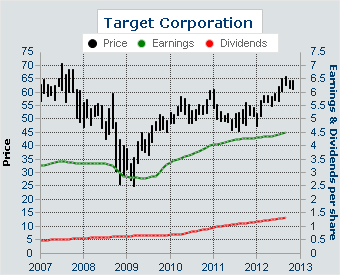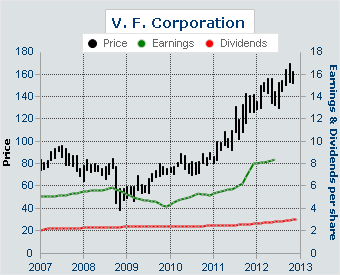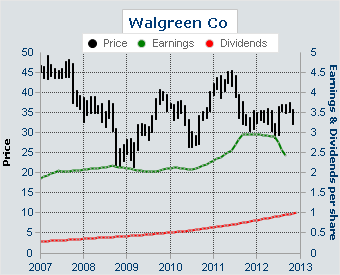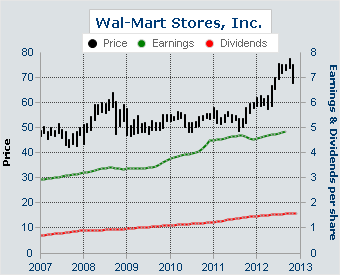 Tired of the Same Old Names?
We have noticed in comment threads that some readers say they are sick and tired of hearing about the same old names. They want fresh meat. We understand that at one level, but at another we think that is unreasonable.
The best are the best.
Are we sick and tired of hearing about the same best basketball players or golfers? Are we sick and tired of hearing that Pavaratti was the best living male opera singer? Are we sick an tired of being told that Harvard, Stanford and a few others are the best business schools?
The best are the best, and the best of anything tend not to change a lot over short-term and often long-term periods. We won't reject the best, simply because we are bored with hearing their names.
We will keep looking for new "bests," but for each investor's set of criteria (which may differ radically from our own), the list they come up with will be remarkably similar from period to period.
Where valuation, including yield, is a factor, changing prices will cause names to drift in and out and back again into quantitatively filtered prospect lists. Operating data, such as revenue and earnings growth, and debt related issues, will also change the lists, but on a less frequent basis than price related changes. Management and product changes, litigation, natural disasters, political and other macro issues are interspersed at irregular intervals.
Bottom line for us, is that we take a certain level of comfort that the "best" choice names don't vary widely from period to period, but that's just us.
Note: This is not to say that the 7 stocks here are THE "best" in any universal sense. In fact, we don't prefer all of those names for our own purposes, and they may not be interesting to GMO either, but they pass the high quality dividend stock filter as defined here.
They are also in that set of "same old names" that some readers say they are just tired of seeing.
Disclosure: QVM has positions in MSFT as of the creation date of this article (December 18, 2012). We certify that except as cited herein, this is our work product. We received no compensation or other inducement from any party to produce this article, but are compensated retroactively by Seeking Alpha based on readership of this specific article.
General Disclaimer: This article provides opinions and information, but does not contain recommendations or personal investment advice to any specific person for any particular purpose. Do your own research or obtain suitable personal advice. You are responsible for your own investment decisions. This article is presented subject to our full disclaimer found on the QVM site available here.