Applied Materials, Inc (NASDAQ:AMAT) is a backstage player in one of the hottest industries right now in the semiconductor industry. Integrated circuits or "chips" have become one of the necessary components for our world to operate. They are everywhere, inside phones, cars, computers, home appliances, electronic devices, clothes, people through medical implants, weapons and every other device you can think that has electronic components.
Applied Materials is the company that makes all these possible through the manufacturing equipment it provides to chip manufacturers all around the world. It has more than 33,000 systems installed (including its display and solar panel segments), and the firm's engineers are in nearly every chip-manufacturing facility in the world.
Some Basic Facts
From AMAT's corporate website:

"Applied Materials is the global leader in providing manufacturing solutions for the semiconductor, flat panel display and solar photovoltaic industries. Our technologies help make innovations like smartphones, flat screen TVs and solar panels more affordable and accessible to consumers and businesses around the world."
Applied Materials is a $13.5 billion company and offers a $0.36 annual dividend. At yesterday's closing price of $11.11, this is a 3.24% dividend yield. Furthermore, AMAT is an aggressive buyer of its own stock. It has reduced its shares outstanding by 30% the last 9 years, from 1,722 million in 2004 to just 1,197 million as of October 30, 2012.
The company has four reportable segments:
Silicon Systems Group provides manufacturing solution to the semiconductor industry.
Applied Global Services provides services to all Applied's customers, helping them with maintenance, optimization and improvements to their manufacturing facilities.
Display provides manufacturing

solutions

to OEMs for creating TFT-LCDs, OLEDs and other screens for TVs, PCs, smartphones, tablets and more.
Energy and Enviromental Solutions provides manufacturing solutions for OEMs in the solar photovoltaic industry.
The Silicon Systems Group along with Applied Global Services accounted for 90% of AMAT's revenue in 2012 and as you can see this segment's revenue has been pretty stable during the last 3 years.
That isn't the case though, with the other two segments. Display is steadily in decline because of the lack of growth for the TV industry worldwide. As for the energy segment, overcapacity in this industry led to a crash in investments in 2012, deeply affecting Applied's sales in that field.
(click to enlarge)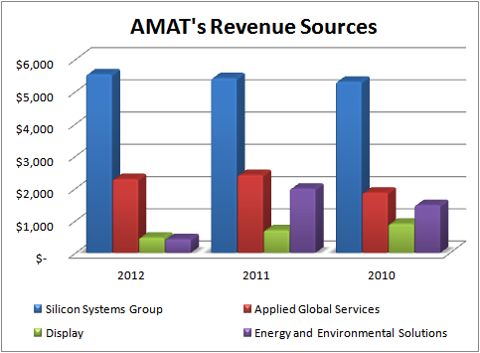 (Data from Applied Materials's SEC Filings)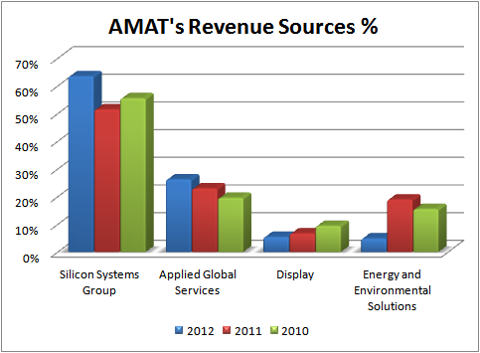 (Data from Applied Materials's SEC Filings)
Financial Strength
Applied Materials has a very robust balance sheet. It has little debt, ample cash and is high on liquidity. Specifically, its debt is less than one third of its equity and it's easily serviceable because EBIT are more than 4 times its interest payments. Additionally Applied's debt maturity dates stretch from 2016 to 2041, with 70% of the debt being due on 2021 and 2041 as you can see below.
(click to enlarge)

(Data from Applied Materials's 2012 10-K)
The company's balance sheet is also healthily liquid as it is shown by its 2.25 current ratio. Applied Materials has $1.4 billion in cash which is approximately $1.16 per share and $550 million in short-term investments. Those two together are almost enough to cover Applied's total debt.
What makes AMAT special
The semiconductor industry is a highly competitive industry that is in an ever-continuous state of change. Investing in new technologies, being ahead in research and having strong cash flows to support all that are the key elements a company must have to succeed.
Applied Materials is one of the few companies in this demanding industry that has managed to carve a strong moat around its business and protect it from existing or potential competitors. However before I go into more detail, I believe you should read the following excerpts in order to have a better understanding of Applied's business:
From AMAT's Maydan Technology Center website:

"Chip fabrication is perhaps the most complex manufacturing environment in existence. It takes several hundred steps to make a chip, and each different chip type will have its own unique sequence. For chip manufacturers, understanding and characterizing the interactions between different steps is critical to rapidly achieving high production yields."
In order to understand how complex this manufacturing environment is I urge you to watch the following short educational videos from AMAT's website: Chip creation, transistor creation, cleanliness levels in fabs, solar panel manufacturing, MEMS devices manufacturing.
From Applied's 2012 10-K, page 12 (emphasis mine):

"Applied's long-term growth strategy requires continued development of new products. The Company's significant investment in research, development and engineering (RD&E) has generally enabled it to deliver new products and technologies before the emergence of strong demand, thus allowing customers to incorporate these products into their manufacturing plans at an early stage in the technology selection cycle. Applied works closely with its global customers to design systems and processes that meet their planned technical and production requirements."
Manufacturers need a reliable and trustworthy partner to cooperate with, ensuring that production is as error-free and as fast as possible. Once they have established a working relationship with an equipment supplier such as AMAT, the possibility of severing this relationship and moving to another supplier are miniscule at best.
That is because the switching costs involved are huge. The OEMs that want to change suppliers will have to retrain their stuff all over again on the new equipment and will also have to disrupt their manufacturing process while the transition is underway.
One other thing manufacturers need is to be able to move their latest designs into production immediately. For example, if Intel has designed a 20nm chip their supplier must have already designed the appropriate equipment. The speed of introducing a product into the market is a crucial element for its success. Applied Materials is able to consistently serve this need in two ways. It has maintained a huge $1 billion R&D program for the last several years, and uses the relationships it forges with its clients to direct its research correctly and ahead of demand. You can take a taste of how close Applied is with its customers just by looking atthe awards they give it every year.
In short, Applied Materials has managed to become a vital part of its clients' internal processes. Every day that goes by that relationship gets stronger, increasing client loyalty and AMAT's pricing power over them.
Applied's growth potential
There are multiple secular technology trends that AMAT stands to benefit from. The first one is the introduction of smartphones and tablet-PCs whose sales grow rapidly all around the world. AMAT provides tools for manufacturing the necessary chips and screens of those devices. A result of this trend is that chip manufacturers are in a constant "technology race" to reduce chip energy consumption, and simultaneously increase their performance. This requires continuous innovation on production processes and techniques. Applied Materials is in the best position there is to benefit from those capital expenditures. It has the biggest R&D program working on this subject and through its Maydan Technology Center OEMs have the ability to test effectively the equipment AMAT designs for them and provide feedback for necessary adjustments. This makes sure that Applied's customers only receive top-quality manufacturing equipment that is perfectly optimized for their specific needs.
The second growth opportunity for Applied comes from the solar panel manufacturing industry. Despite problems of overcapacity that plagued the industry in 2012 and their various drawbacks, solar panels are here to stay. This market grows in double digits and their efficiency is constantly increasing. And when a way to store the energy they create is found, this industry will grow exponentially.
Below you can read Applied management's take on the company's growth prospects.
From Applied Material's Q4 earnings call:
Gary E. Dickerson - President:

" [...] Now let me briefly outline the opportunities for each of our businesses. In Semiconductor, the mobility trend is driving customers to deliver high-performance, low-power processors and affordable solid-state storage in a small form factor. This translates to major inflections in lower leakage transistors, low-resistance interconnects, advanced patterning, wafer-level packaging and 3D NAND flash technology. These inflections create spending shifts that are favorable to Applied, as well as high-value device performance and yield challenges that we can address with our technology.

As foundries transition to 20 nanometer, they will fully adopt high-k gate-last transistor technology. This moves right into the sweet spot of Applied's leadership areas, and we expect a greater-than-30% increase in our available market. [...]"


"[...] Turning now to Display. The transition to new technologies, specifically metal oxide transistors and low-temperature polysilicon for organic LED and high-resolution LCD, is challenging for our customers. To address these inflections, we recently introduced a new PVD tool that enables the formation of higher-stability metal oxide transistors and a suite of CVD tools that address customers' requirements for advanced film. We expect the next generation of factories for high-definition televisions and mobile displays to ramp with technologies that increase Applied's market for our CVD and PVD products by at least 30%. [...]"


"[...] In Solar, we remain confident in this market as an attractive long-term growth driver for the company. Our current product portfolio, as well as new technology and development, is focused on enabling higher cell efficiency and driving much lower cost per watt. With this portfolio, we believe we can capture approximately $100 million of revenue for each gigawatt of new capacity the industry adds. The combination of our strong field team and product leadership puts us in a great position when customer investment resumes. However, as long as the current market conditions exist, we will significantly scale back our investment in this business. [...]"
AMAT's fair value calculation
Applied Materials' revenue was pretty stable for the last 10 years and it was around $8 billion. The average free cash flow for that period was $1,369 million which is approximately $1.14 per share (based on shares outstanding as of 28 Oct 2012).
Given that the growth prospects ahead of the company are solid, I believe a 12 to 15 Price/FCF ratio is appropriate for calculating the fair value of its stock. As a result the fair value of AMAT's stock is between $13.68 and $17.1.
This means that from current levels the stock has an upside potential of 20% to 50%. Furthermore, if we adjust for its surplus cash (around $0.75 per share) the deal becomes even better. The stock's fair value range becomes $14.43 - $17.85 and its upside potential increases to 30% to 60%.
Conclusion
Applied Materials is a company that:
Has almost zero net debt (cash and short term investments minus total debt),
A full funded 3.25% cash dividend,
Is reducing constantly its shares outstanding,
Has great growth prospects ahead of it,
And the fair value of its stock is 30% to 60% higher.
All these considered, I believe AMAT is an immediate buy at its current price levels.
Disclosure: I have no positions in any stocks mentioned, but may initiate a long position in AMAT over the next 72 hours. I wrote this article myself, and it expresses my own opinions. I am not receiving compensation for it (other than from Seeking Alpha). I have no business relationship with any company whose stock is mentioned in this article.