For many investors the mere mention of Japan elicits one thought, that of the proverbial "Lost Decade", or more appropriately "Lost Decades".
But Japan, as a regional stock market and as an ETF, has been experiencing somewhat of a resurgence. A potentially game changing event in Japan may be the catalyst to propel the Japanese stock market much higher than current levels.
Key to this outlook is the election of the new Prime Minister of Japan (for the second time) Shinzo Abe, a member of the Liberal Democratic Party. Mr. Abe is committed to a policy not dissimilar to the United State's never ending QE initiative. This is critical for what is being referred to as a "Great Reflation".
Japan has been stuck in an economic holding pattern for more than two decades. It was during the Financial Crisis of 2008 - 2009 where opportunity may have been but Japan was handcuffed from making any gains as the rest of the world struggled. Other countries cut interest rates in order to stir economic activity, thereby debasing their currencies. Japan could not lower rates any further and in effect became less competitive in the process. This inability to adjust as other countries goods became cheaper because of the stagnant yen prevented Japan from gaining any economic advantage.
But the election of Mr. Abe could be a watershed moment. He is committed to debasing the yen in order to make Japan more competitive. If he is successful this would throw gasoline on what I consider to be the smoldering embers of a stealth recovery in Japanese stocks.
Mr. Abe's election may also be a benefit to gold investors as the yen's devaluation could intensify the "currency wars" (see my recent article on the SPDR Gold Trust ETF (NYSE: GLD). The US is committed to QE-infinity and many other nations are continuing different versions of quantitative easing. This mutual race to the bottom will push gold prices higher in each respective currency.
For Japan, like what has been the experience in the US, a policy of currency debasement can also lead to a rising stock market. After considering the election of Mr. Abe and his proposed policies I took a look at EWJ, the iShares MSCI Japan Index ETF (NYSE: EWJ), as a proxy for the Nikkei Stock Index. Upon examining its charts I recently rekindled my interest in Japanese stocks.
EWJ has track record that goes back approximately 17 years. The chart can be seen below.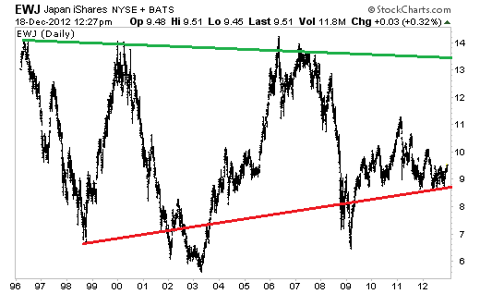 At first blush it looks like EWJ is in an extremely prolonged consolidation period. This does fit in well with the storyline for Japan over the past decade and a half. Armed with the information contained in this chart alone I would conclude that EWJ will trend higher from where it is today.
But the next version of the same chart provides a somewhat different perspective.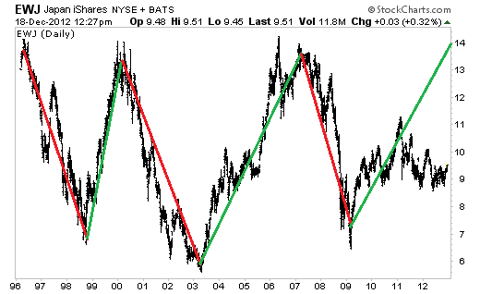 Here I see an inverse head and shoulders formation, which is bullish, that failed to complete. The final bullish leg, the second shoulder, began to form in earlier 2009. But it was abandoned at the beginning of 2011 and the price of EWJ has been meandering sideways ever since.
This brings a little doubt to my previous conclusion since a consolidation like this can break out in either direction.
But as we shorten up the time frame the different information contained in the charts begins to coalesce. Below is the 10 year chart for EWJ.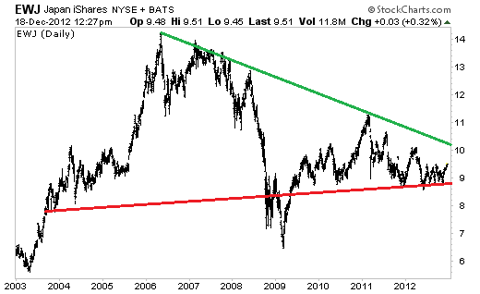 In this chart we see the abandoned shoulder close up and the period of price consolidation which brings us up to today. I think a floor has been defined and that the downside risk is limited to between $8.50 - $9.00 per share. Based on this chart I expect the ETF to trade back up to the top of the range between $10.00 and $10.50 per share.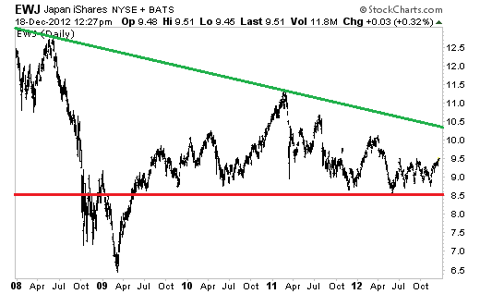 The 5 year chart provides further confirmation and detail. The floor is in, here better defined as $8.50 per share. The resistance is confirmed and will be found in the previously noted $10.00 - $10.50 per share.
Finally the 1 year chart. For short term traders there is a distinct and clear opportunity.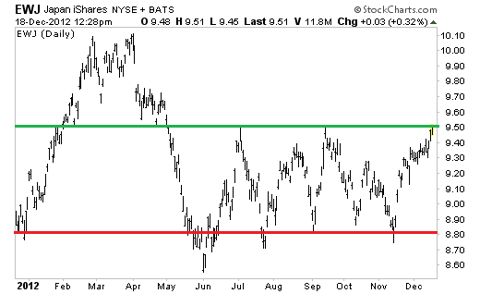 Based on this chart the ETF could be breaking out while you read this. The short term range is defined in this chart as between $8.80 and $9.50 per share. EWJ is trading near the top of that range today. A push through that level should propel the ETF to between the previously noted $10.00 to $10.50 range. This gives short term traders the opportunity for a 5% to 10% profit in what should prove to be the very near term.
It is critical that technical observations correspond to fundamental analysis. One might consider the long period of stagnation in the US as a point of comparison, the 1966 - 1982 period where US stocks went nowhere. Technically the Japanese stock market appears poised to break out. Coupled with the election of Shinzo Abe and looking forward to a successful implementation of his aggressive initiative to improve Japanese competitiveness, investors and Japanese citizens alike have reason for optimism. It would be wise for investors to begin to deploy some capital in the direction of the Land of the Rising Sun.
Disclosure: I have no positions in any stocks mentioned, and no plans to initiate any positions within the next 72 hours. I wrote this article myself, and it expresses my own opinions. I am not receiving compensation for it (other than from Seeking Alpha). I have no business relationship with any company whose stock is mentioned in this article.