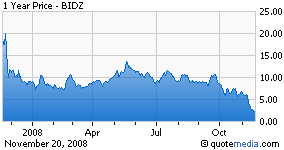 Tim Boyd, an analyst at American Technology Research, thinks he has a solution for what ails shares of Bidz.com (NASDAQ:BIDZ): a company-engineered short squeeze.
Boyd notes that through yesterday the stock was down more than 60% since the company posted Q3 financial results, which included weaker-than-expected Q4 guidance. He figures the decline reflects a combination of "longs bailing and shorts piling on." Boyd notes that the short interest in the stock was 2.5 million shares at October 31, but that the number has likely "jumped materially" over the last two weeks.
Boyd notes that the stock at Wednesday's closing level was trading at just 1.5x book, and just 1.3x cash. He blames the low valuation on a combination of "capitulation selling by longs into an extremely illiquid market" as well as "a relentless and coordinated assault" by the shorts.
In any case, Boyd says that with about 10 million shares in the float, and 4 million of those held by what he considers to be long-term investors, the "real float" is more like 6 million shares. At around $2.20 a share, he notes, management could effectively buy up the whole float for $13.2 million. He notes that the company has $8 million left on its existing stock repurchase plan, and could easily get more. He notes also that the company has $44 million in cash and a $20 million "largely untapped" credit line with Bank of America. He says the company could buy back all 6 million shares, and "effectively force the entire short base to buy in," leading to "one heck of a shot squeeze."
The market seems to like his idea: BIDZ today is up 34 cents, or 15.8%, to $2.58.