This article is the second of a series on meeting your investment goals.
The first article, Build On Your Dividend Growth Portfolio's Core To Meet Current Retirement Goals, is linked here.
The Importance of the Dividend Growth Rate
This article will demonstrate how important the Dividend Growth Rate of a stock is to the future outcome. By adding High DGR stocks to your portfolio, the long-term results are dramatically better. A list of stocks with DGRs of over 10% is included, with a brief description of each. Graphics present the results over 20 years. Reading this, you will be equipped to act to increase your future returns.
You have freedom to choose exactly the companies in which you would assume an ownership position. You, more than anyone else, understand your financial needs. You can make informed choices, selecting the right mix of stocks to meet present and future needs. This article describes a holding of 20 core stocks and a satellite holding of 10 additional stocks, which have a high potential for dividend growth. Rather than put the emphasis on immediate income, which we did in the first article, we describe a plan herein, which paves the way for a rich future.
The Core of Your Portfolio
You elect to share in the ownership, and the benefits of ownership, in some of the most powerful corporations in the world. These are Blue Chip companies with large market caps and long histories of profitability. In addition, they are companies that value the stockholder and pay out an ever-increasing dividend. Many dominate their markets and have economic moats, which fend off competitors. They are global in their outlook, and often in their marketing. These are quintessential long-term holdings.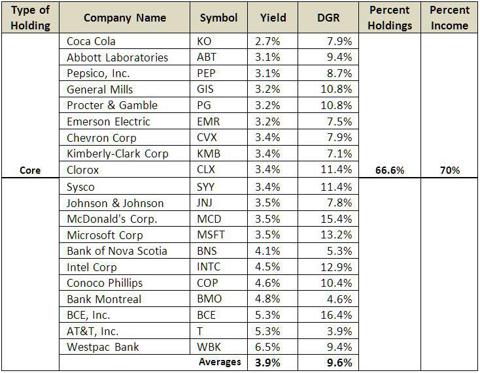 The above is a Dividend Growth Portfolio, which would suit the needs of many. Next, we augment that core with satellite holdings. These meet the needs of the younger investor or any investor who is building wealth for a time 10 years or more years in the future.
High Dividend Growth Rate (DGR) Satellite Portfolio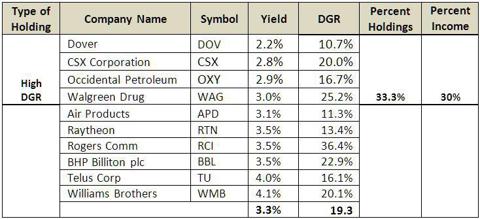 Satellite Holdings
These companies should have good intermediate-term and long-term futures. They are solid firms, with established customer bases; they will build on past successes. A primary characteristic of these stocks is that they have high dividend growth rates, all over 10% and averaging 19.6%.
Dover (NYSE:DOV) is a diversified manufacturer with a suite of about 40 companies. They make the speakers, which go in iPhones; they have 8 different companies that make products for oil and gas companies; they are leaders in engineered systems in the fields of refrigeration and fluids. Six different firms address the specialized printing needs of manufacturing and distribution. They are a Dividend Champion with a 50-year record.
CSX (NYSE:CSX) derives its name from a predecessor firm, Chessie Systems, a railroad known for its orange boxcars with the Cheshire cat reclining on them. It is the nation's largest railroad. It is currently undervalued and it is not as dependent on coal transport as its competitors are. See the article by J F Investing here.
Occidental Petroleum (NYSE:OXY) is an integrated oil company with a market cap of $62 billion. They are the largest oil producer in the Permian Basin and the largest natural gas producer in California. They have significant midstream assets and a chemical division, OxyChem.
Walgreen (WAG) is the nation's largest drug retailer with 7,900 stores and 170,000 full time employees and another 70,000 part time employees. This $35 billion company is well positioned for continued slow growth with a narrow moat in a competitive environment.
Air Products (NYSE:APD) produces industrial gases, notably it is the world's largest producer of hydrogen and helium, used in many types of manufacturing. ADP operates in 40 countries and derives 60% of its revenue overseas. It will be a beneficiary of economic recovery.
Raytheon (NYSE:RTN) A large share of this company's business is defense contracting and it has highly sophisticated hardware and software embedded in many essential systems. This reduces the threat of budget cuts.
Rogers Communications (NYSE:RCI) is the #2 phone company in Canada. This article gives an overview of Canadian Telecoms. They are quite different from US Telecoms in the scope of their activities. Rogers Communications owns 37% of Maple Leaf Sports and Entertainment. Rogers also owns the Toronto Blue Jays (MLB) and the Skydome where they play.
Telus (NYSE:TU) follows #1 BCE and #2 Rogers as the third largest Canadian telecom. TELUS is the incumbent landline operator for Western Canada. It competes in wireless, internet and Television, as do the others. However, it is unique that it also has a focus on healthcare and the management and transmission of medical records. "A Passion for Growth" was the name they gave their most recent annual report.
BHP Billiton (NYSE:BBL)(NYSE:BHP) is the world's largest publicly held mining company. Their future looks good. I have a number of articles about BHP online, and this one gives a good overview of the company and its strategy. They have a progressive dividend policy and plan to increase dividends annually.
Williams Brothers (WMB) This company holds 75% of MLP Williams Partners (NYSE:WPZ), and the firm has spun off their exploration component, Williams Exploration (NYSE:WPX). They are well-positioned midstream gas operators.
Results
The above 10 stocks make up 1/3 of the portfolio. They have an average Dividend Growth Rate of 19.3, and produce an average yield of 3.3%. This High DGR collection positions the younger or longer-term investor well. The below Chart A illustrates the differences in returns of the portfolio components, the Core and the High DGR, over time. Wealthtrace calculator linked here.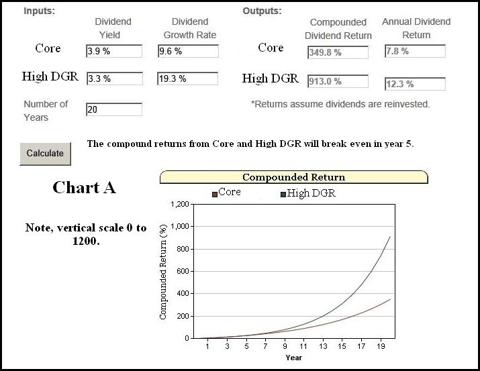 The below Chart B illustrates the difference in return of the total portfolio constructed with 2/3 Core and 1/3 High DGR, compared to a portfolio made up of only the Core stocks.
Conclusions
A difference in dividend growth rates can cause a great difference in total returns over time. Therefore, the dividend growth rate is an important consideration when selecting long-term holdings. To serve an individual's needs, portfolio construction involves using combinations of yield and dividend growth rates.
One way of focusing on your specific needs is to construct a strategic core portfolio and then supplement it with a tactical portfolio, in this case a High DGR portfolio. The tactical is that part which is more specific to your particular needs and longer-term goals. Good luck!
I wish you a Merry Christmas and successful investing in the New Year.
Disclosure: I am long ABT, PEP, GIS, PG, JNJ, CVX, MCD, MSFT, BNS, INTC, COP, BMO, BCE, T, WBK, RCI, BBL, TU. I wrote this article myself, and it expresses my own opinions. I am not receiving compensation for it (other than from Seeking Alpha). I have no business relationship with any company whose stock is mentioned in this article.