In an article that was published on the 18th of June, 2012, we presented a bullish case for Nokia Corporation (NYSE:NOK) and offered a simple strategy that could be put into play. The strategy provided investors with the ability to significantly leverage their position in the company without taking on too much risk at a relatively low cost. The strategy has paid off as it is already showing gains in excess of 130% since the article was published. We sold puts and used the funds from the sale of the puts to buy calls. Our advice at the time was to sell the Jan 2014, 2.50 puts for $0.90 and to purchase the Jan 2013, 3.50 calls. Technically, the leveraged part of the play was free as no new funds were used to purchase the calls.
The stock was far from liked at the time the article was published, and so it was not easy to paint a bullish outlook for the stock. We are going to examine this play in detail today, but we would like to start off by listing reasons we provided at the time for individuals to consider this stock.
Some reasons to be bullish on Nokia
It has a good long-term debt to equity ratio of 0.36.
Projected year over year growth rate for 2013 is 146%
Though sales have dropped they have not dropped that much on a percentage basis. In 2009 sales stood at $57.6 billion compared to $50 billion in 2011.
It has a decent current and quick ratio of 1.46 and 1.33 respectively.
It has a yield of 7.10%
It is trading over $1.21 below book
It earns over 500 million euros a year from its patent royalties and if it licenses out more of its patents it could generate an additional several hundred million euros each year. If it sold these patents it could generate several billion in revenues.
It is aggressively going after companies that infringe on its patents. It sued HTC and Viewsonic for infringing on its mobile technology and software patents. There is a very good chance that it will target other companies using the Android platform. Amazon.

com,

the maker of the

Kindle,

could be the next

target

as well as top Chinese and Indian

vendors

in the mobile sector. Going after patent infringment

could prove to be lucrative. After its battle with Apple (2009-2011), it now receives royalties from each

iPhone

sold.
It has lost over 80% of its value so most of the negative news could be priced in.
It has a very strong levered free cash flow of $2.27

billion.
In the same article we also noted the following:
The stock is extremely oversold, and attempting to put in a bottom. It is essentially looking for any reason to mount a rally.

The first real indication of how well the Lumia 900 is doing should be out by the end of the second quarter. If the numbers are great or even better than expectations, the stock could take off. If the numbers are terrible, then the stock will most likely take a beating.
The response to the Lumia 920 was much better than expected. In fact, most naysayer's were surprised at how well this phone performed when it went on sale.
The Lumia 920 sold out in Italy and demand in France was comparable to that of the iPhone. The Finnish retailer DNA states that demand for the Lumia 920 was higher than it has ever been for any other phone from Nokia in the past 10 years. In Germany, most stores are sold out and demand in the U.S. is also robust with most stores reporting that they are out of stock. Sales should be very strong in China, especially as Nokia signed a deal with China Mobile, the world's largest carrier to sell the Lumia 920T. Huge demand in Germany has forced T-Mobile in Germany to carry the Lumia 920. Instead of being the final nail in the coffin, the Lumia 920 might end up being the device that helped breathe new life into the company.
After dropping below $1.80, the stock has soared off and is now trading well over 100% above its September lows. Investors had many chances to put the stated strategy into action as the stock traded as low as $1.73 before bottoming out. On the day the article was published the stock was trading in the $2.50 ranges.
Charts and Data of interest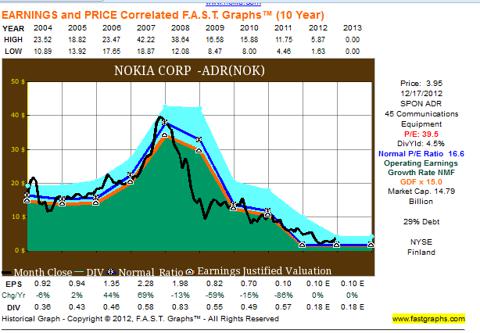 Click to enlarge
The orange line represents the valuation growth rate line. When a stock is trading below this line and in the shaded green area, it represents a good long-term entry point. Nokia is trading slightly above this line and so from a long-term perspective it still makes sense to get into the stock. We would however wait for a test of the $3.40-$3.50 ranges before committing new money to this play.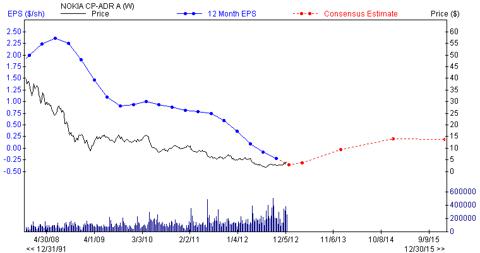 Click to enlarge
A stock tends to perform significantly better when it's trading above its EPS consensus line. Nokia is on the verge of trading above the EPS consensus line. The EPS consensus line is already trending upwards so this is a positive development. From a long-term perspective, it would make sense to use strong pull backs to open up new positions or add to your current position.
What are the options doing today?
We are going to provide two option tables. One table will list the prices on the day this article was published and the second table will provide the current prices for the stated options.

Click to enlarge

Click to enlarge
The Jan 2014, 2.50 puts were sold at $0.90. The puts traded north of $1.50 at one point, when the stock dipped below $1.80. These puts are trading at $0.35 today or 61% lower than the price they were sold at. If you only sold the puts and purchased them back today, you would walk away with a gain of 22%.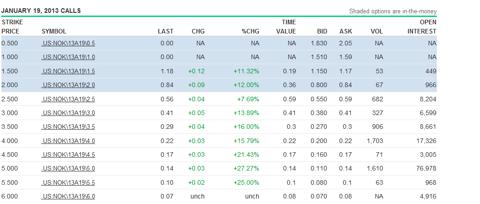 Click to enlarge

Click to enlarge
For the second part, we used the money from the sale of the puts to purchase calls. We purchased the Jan 2013, 3.50 calls at in the $0.27-$0.30 ranges. We will assume a final price of $0.30 to simplify things. For each put sold, you could have purchased up to three calls. These calls are currently trading in the $0.70-$0.73 ranges and could easily be sold at $0.71 or better. The calls have really taken off and showing gains in excess of 130%. Those who took the risk were well rewarded with this play.
Suggested strategy going forward
The best strategy would be to bank these gains and start your vacation early.
If you are willing to take on more risk, put the following strategy into play:
Sell half your position now. This way you are covered if anything should go wrong.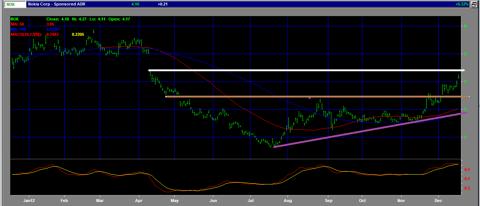 Click to enlarge
Source marketbrowser.com
The stock is in a strong uptrend now and a daily close above $4.20 should put it in a position to test the $4.90-$5.10 ranges. It also has a strong level of support in the $3.40-$3.50 ranges. A failure to close above $4.20 could initially push it back to these levels. If you are willing to take on some risk, you could purchase a few more calls on a test of the $3.40-$3.50 ranges. If the stock trades to the suggested ranges the options should tack on at least another $0.30.
Conclusion
The stock is still in a strong uptrend and the initial response to the Lumia 920 has been very positive. However, as these options are running out of time and are showing huge gains, the prudent thing to do would be to bank your profits and take an early vacation. If you are willing to take on more risk, then sell half your position now and wait for the stock to test the $4.90-$5.10 ranges before closing the second half of the position. As a precaution consider placing a stop at $3.00. If the stock closes at $3.00 or below, then close the entire position out.
One other alternative for aggressive players is to sell half their positions now and wait for a possible test of the $3.40-$3.50 ranges. If this zone is tested then use the proceeds from the profits to purchase calls with more time on them.
Options tables sourced from money.msn.com and yahoofinance.com. EPS consensus chart sourced from zacks.com.
Disclaimer
It is imperative that you do your due diligence and then determine if the above strategy meets with your risk tolerance levels. The Latin maxim caveat emptor applies - let the buyer beware.
Disclosure: I have no positions in any stocks mentioned, and no plans to initiate any positions within the next 72 hours.
Business relationship disclosure: This article was prepared for Tactical Investor by one of our analysts. We have not received any compensation for expressing the recommendations in this article. We have no business relationships with any of the companies mentioned in this article.