Intuitive Surgical, Inc. (NASDAQ:ISRG) designs, manufactures and markets da Vinci Surgical systems and related instruments and accessories. The da Vinci system allows a surgeon to control up to three endoscopic instruments from a remote console while a dual camera provides a 3-D view of the operation. The Company has placed more than 2,000 da Vinci systems in hospitals internationally. Through its wide installed base and first-mover advantages, ISRG has developed a wide economic moat in the niche of robotics-assisted minimally invasive surgery market.
The da Vinci system offers patients truly significant benefits like quicker recovery times and fewer complications. The switching cost of adopting a new platform is high, giving ISRG a sticky customer base and a strong competitive edge. ISRG is able to earn continuous, recurring revenue by servicing machines and selling surgical instruments. ISRG is a growth stock, and its revenue had increased from 72 million in 2002 to 2,066 million, ttm. The operating margin had been increasing continuously since 2006, from 28.8%, to 39.5% in 2011. ISRG continued to generate increasing free cash flow from 30 million in 2004 to 678 million in 2011. Despite the slowing revenue growth, the company is still achieving 20% plus annual revenue growth with its $2B plus revenue.
Analysts' Calls and Earnings Estimates
On Dec. 4, analysts at Cantor Fitzgerald upped their target price on ISRG from $475.00 to $525.00 with a "hold" rating. Stifel Nicolaus initiated on ISRG with a hold rating on Nov. 21. As stated by Stifel Nicolaus' analyst,
"We are initiating coverage of Intuitive Surgical, Inc. shares with a Hold rating on the shares. After a decade of impressive growth, market penetration, and share price appreciation, we view ISRG, the dominant global robotic surgery franchise, as still in the relatively early days of its growth curve. But at 30x our current $17.80 2013 EPS estimate and with significantly positive sentiment on the shares, we are inclined to await a better risk/reward entry point, given the stock's historical volatility and now declining dVP procedures."
The Company released its last earnings on Oct. 16 with an EPS of $4.46, beating the analysts' consensus estimate of $3.51 by $0.95. ISRG's revenue was up 20.4% compared to the same quarter last year. ISRG will be releasing its Q4, 2012 earnings on January 22, 2013.
Analysts are expecting $2.15B revenue for the current year with an EPS of $14.86 for the current fiscal year. For 2013, analysts are expecting revenue of $2.52B, 17.21% increase from 2012, and an EPS of $17.70, as seen from the table below.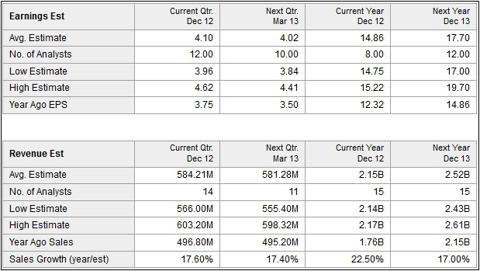 Click to enlarge
Source: Yahoo! Finance
Key Stats and Valuation
By using the data obtained from Morningstar, ISRG's key stats will be compared to its peers in the industry of medical instruments & supplies. ISRG has higher revenue and EPS growth (3-year average) of 26.2 and 34.00, comparing to the industrial averages of 6.4 and 3.4. ISRG also achieved higher operating margin of 40.1%, ttm, and higher net margin of 30.6%, ttm, as compared to the averages of 16.7% and 11.9%, ttm, respectively. ISRG is generating stronger ROE of 22.4, ttm, comparing to the average of 14.4, ttm. ISRG has a zero debt-to-equity ratio with $1.14B total cash as of Sep 30, 2012. ISRG is generating an operating cash flow of 810.70M, ttm, with a levered free cash flow of 625.04M, ttm.
ISRG has a higher P/E of 34.5, P/B of 6.4, P/S of 10.5, comparing to the industry averages of 21.8, 3.1, and 2.6. ISRG's current averages are lower than its 5-year averages of 45.6 P/E, 7.4 P/B, and 11.2 P/S. ISRG has a forward price/earnings ratio of 29.9 and a PEG ratio of 1.4. ISRG's higher valuation is supported by its growth.
Technical Analysis
ISRG closed at $551.00 with 3.36% gain on Monday. ISRG had been trading in the range of $426.56-$594.89 in the past 52 weeks. ISRG has a beta of 1.59. The MACD (12, 26, 9) indicator is showing a bullish sign. The momentum indicator, RSI (14), is showing an increasing buying momentum at 62.53. ISRG is currently trading above its 50-day MA of $529.80 and 200-day MA of $527.62. ISRG had cleared its R1 resistance of $546.67 on Monday, and the next resistance will be $564.33, the R2 pivot point, as seen from the chart below. ISRG is bullish in the short-term, technically.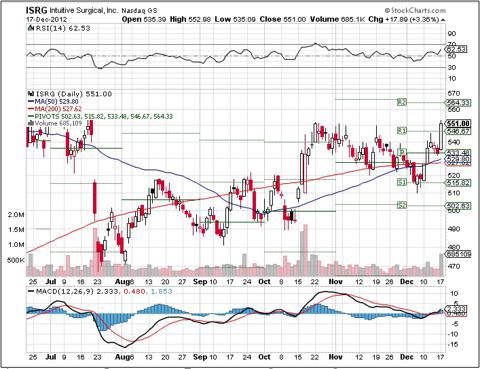 Click to enlarge
Source: StockCharts.com
Options Play
The long-term outlook for ISRG remains solid even with the slowing revenue growth. ISRG's strong competitive edge, solid cash flow growth, and consistent profit margin make it an attractive growth investment still. A credit put spread will be reviewed for investors who would like to acquire ISRG at a lower price while gaining some upside potential.
Short 1x April 20, 2013 put at the strike price of $480.00 for the credit of $16.00.
Buy 1x April 20, 2013 put at the strike price of $460.00 for the cost of $12.00.
The maximum profit is $4.00, and the maximum risk/margin requirement is $16.00. If ISRG closes above $480 on April 20, 2013, 25% return on margin will be gained. If ISRG falls below $480.00, ISRG stock will be acquired at $476, which is 13.61% lower than the current price of $551.00.
Note: All the prices are quoted from the closing of December 17, 2012 and all calculations are before fees and expenses. Investors and traders are recommended to do their own due diligence and research before making any trading/investing decisions.
Disclosure: I have no positions in any stocks mentioned, and no plans to initiate any positions within the next 72 hours. I wrote this article myself, and it expresses my own opinions. I am not receiving compensation for it (other than from Seeking Alpha). I have no business relationship with any company whose stock is mentioned in this article.