Frontier (NYSE:FTR) is a communications company with almost 5 million phone line and 1.8 million high-speed internet access customers across 27 states. Currently it is trying to turn around its business which keeps shrinking. It pays out a $0.40 annual dividend which is a 8.7% yield at current price levels. In 2010 the company tripled in size as it acquired, mostly with stock, a large chunk of Verizon's assets. Since this acquisitio, that expanded its territory and its customer base, Frontier has cut its dividend twice.
The first cut reduced the dividend from $0.25 quarterly to $0.1875, and it was announced along with the acquisition of Verizon's assets. It became effective in Q3, 2010. The second cut reduced the dividend from $0.1875 to $0.10 per quarter and became effective in Q1, 2012. Below we will try to figure out whether this dividend will remain intact or suffer a third cut.
Frontier is rapidly losing customers to competitors. From 9/30/2011 to 9/30/2012 the company lost 431,337 access lines, a decline of 8%. And although the decline pace may have slowed a little bit it is still quite fast.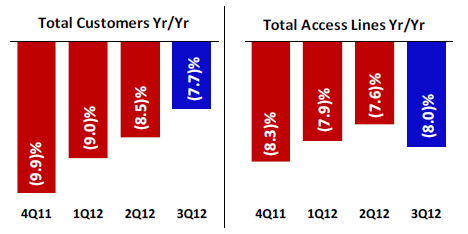 (Data from Frontier's Q3 2011 corporate presantation)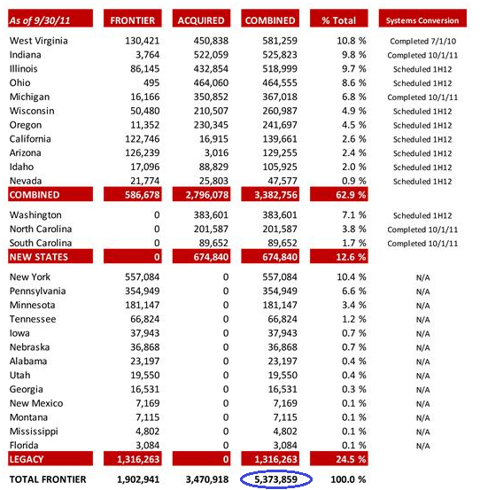 Click to enlarge(Data from Frontier's Q3 2011 corporate presantation)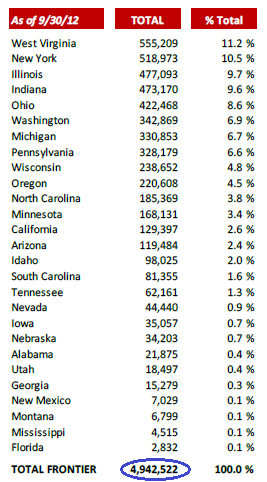 (Data from Frontier's latest corporate presantation)
Furthermore its financial position continues to deteriorate. Its total debt increased by $670 million and its equity was reduced by $470 million. That means that debt has increased from 1.72 times equity to 2.06 times equity. This will further increase Frontier's difficulty to fund itself. The average interest rate on its debt is a high 7.88% (see screen shot at the end of the article) and if Frontier continues to increase debt and lose business it can only change for the worse.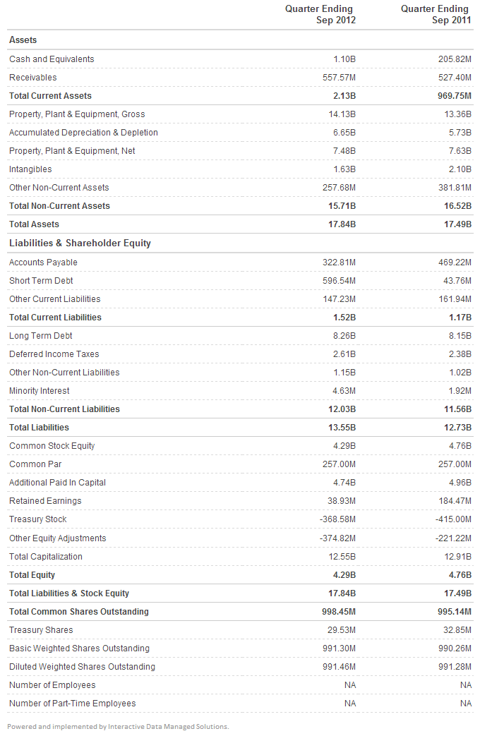 Click to enlarge
However if we look at Frontier's cash flow statement things seem a lot better. At first sight Frontier seems to have ample free cash flow to support its current dividend, which is 53% of the company's estimated free cash flow for 2012. However, in January 15th 2013 Frontier must make a principal payment in order to repay $500 million worth of Senior Notes. With dividends paid, its remaining free cash flow is barely enough to cover for this.
(click to enlarge)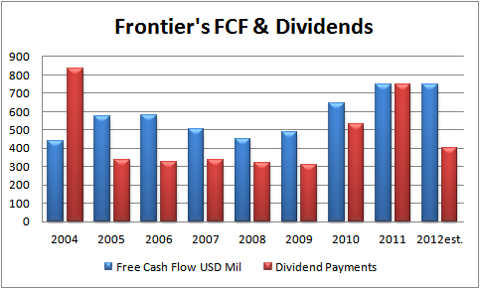 Click to enlarge(Data from Morningstar, Graph and 2012 estimate by the Author)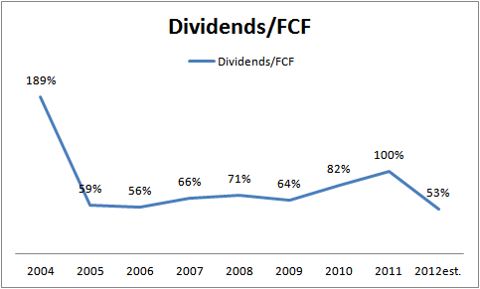 Click to enlarge(Data from Morningstar, Graph and 2012 estimate by the Author)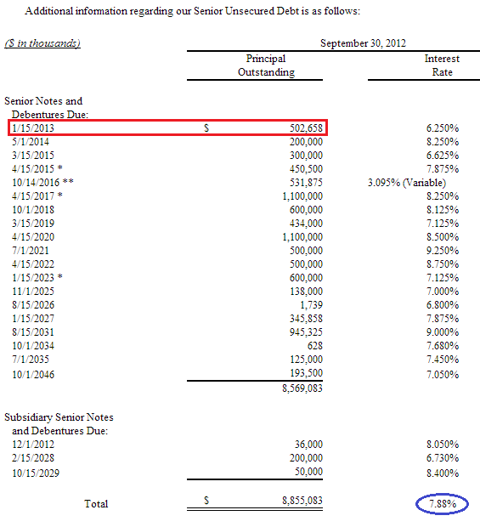 Click to enlarge(Source: Frontier's 10-Q SEC filling for Q3, 2012)
But here are some good news for dividend holders. The company managed to borrow $700 million this year and it currently has $1.1 billion in cash. That will cover easily the $500 million principal payment and allow Frontier to function normally during 2013. Fortunately Frontier has only $200 million of payments to make during 2014 so the dividend should be safe that year also.
That doesn't mean though that this 9% dividend is risk-free. If Frontier's customer decline accelerates or Frontier decides to increase investments substantially, there is the possibility of further reducing (or even eliminating) the dividend.
Conclusion
Frontier is in big trouble. Its customer base is constantly shrinking and management seems unable to stop it. However, Frontier's massive free cash flow generation and its cash cushion seem to secure its dividend payments at least for the next two years. Unless Frontier's customer decline accelerates or large investments are made as an attempt to reverse the trend.
Unless for short-term speculation, I believe this stock should be avoided, no matter how full-funded its 9% dividend looks right now.
Disclosure: I have no positions in any stocks mentioned, and no plans to initiate any positions within the next 72 hours. I wrote this article myself, and it expresses my own opinions. I am not receiving compensation for it (other than from Seeking Alpha). I have no business relationship with any company whose stock is mentioned in this article.