By Dave Goodboy
I fondly remember watching the TV series "Dallas" with my grandparents back in the early 1980s. The show featured a wheeler-dealer, oil tycoon character named J.R. Ewing. He was a man everybody loved to hate, but secretly respected for his business acumen.
Interestingly, J.R. Ewing has a real life twin. This man is either vilified or considered a hero, depending on who you ask. He strikes fear into the hearts of corporate board members who could lose their cushy jobs if their company becomes the victim of his next takeover. Others admire him for challenging big corporations and setting them on the path to shareholder profits.
If you haven't guessed, I am talking about the famous corporate raider and oil tycoon, T. Boone Pickens. Best known as a value-hunting fiend, the founder of Mesa Petroleum has accomplished many stunning achievements. Among his most famous deals is the 1981 takeover of Hugoton Production, an oil company that was 30 times larger than Mesa. Through many other headline-grabbing energy takeovers, Pickens has become a billionaire. Today, he chairs a $100 million hedge fund, BP Capital.
More recently, the insatiable value-seeker has been an advocate of renewable energy. His 2008 energy policy proposal -- the "Pickens Plan" -- calls for a radical reduction in U.S. dependency on foreign oil. And although critics of the plan say this proposal is biased because Pickens is a heavy investor in wind and solar power, one thing is for certain: the man knows energy.
So when his hedge fund reports any transaction, a huge following of energy and value investors take note. In the last quarter, Pickens reported three new buys and 10 sells in BP Capital's stock portfolio.
Two of his recent transactions have caught my special attention. At their current valuation, they could easily provide investors with nice returns of at least 30% in the next year or so. Here they are:
Halliburton (NYSE:HAL)
Pickens bought more than 157,000 shares of Halliburton in the third quarter. Believe it or not, Pickens only recently added this Texas-based energy provider to his portfolio. Provided the size, reputation and market share, I would have expected Pickens to have owned the second-largest oil field provider in the U.S. for years. However, being the value-oriented investor he is, it makes perfect sense that he would wait until last quarter to buy into Halliburton. The stock had been pressured lower from its summer 2011 highs of $57 a share, because of slow drilling activity and a weak U.S. market, as you can see in the chart below.
But recent upticks in natural gas prices, increasing U.S. oil production and renewed interest in Gulf of Mexico deepwater oil exploration have all contributed to Halliburton's recent bounce from its lows. In addition, the potential for international shale gas extraction is staggering, and Halliburton is perfectly poised to profit as this gas extraction technique spreads worldwide. As a result, the stock has bounced from its mid-November lows in the $30 range to just above $34. But the uptrend may be stalling because of declining volume, making the breakout strategy a wise tactic right now. A daily close above $35 a share will trigger a long entry with a 12-month target of $41.
(click images to enlarge)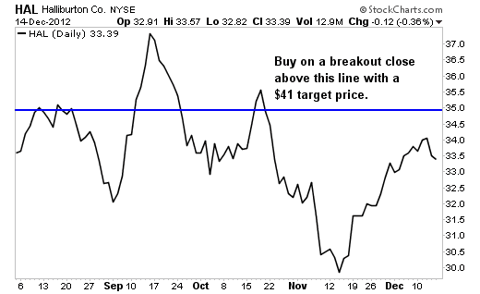 Freeport-McMoRan Copper and Gold (NYSE:FCX)
Pickens dumped more than 50% of his position in McMoRan Exploration (NYSE:MMR) last quarter, and now holds roughly 345,000 shares of the stock. The stock plunged from about $13 a share in late November to roughly $7 in December. The sell-off was primarily caused by a mechanical failure at the company's Davy Jones Well. However, just to show that even the most knowledgeable insider investors don't know everything, the former parent company of McMoRan Exploration, Freeport-McMoRan Copper and Gold made an offer to buy the company back at a 74% premium from the December 4 closing price of $8.46 a share. McMoRan Exploration trades now at almost double that, roughly $15.50.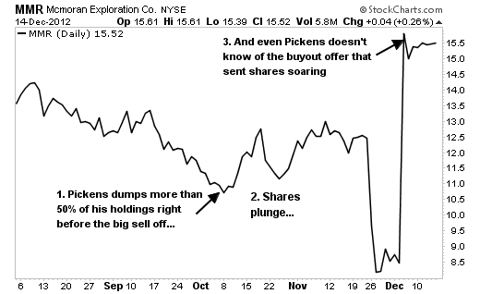 Clearly, Freeport-McMoRan believes there is value in its former exploration company. This repurchase partially resulted in shares of Freeport-McMoRan plunging to technical support just above the $30 range, forming a triple bottom on the weekly chart. The stock has started to bounce higher and is presently in the mid-$32 range, setting up another classic breakout trade. This recent sell-off has created an investment opportunity in Freeport-McMoRan. As the global economy continues to improve, this acquisition-seeking miner will likely see strong upside. My strategy would be to buy Freeport-McMoRan on the first daily close above $34 with a six-month target price of $41.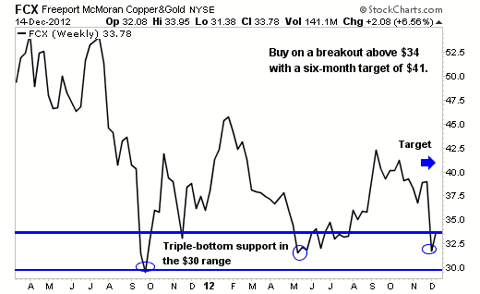 Risks to Consider: The fact that Pickens was selling his shares in McMoRan Exploration prior to the buyback offer is a clear lesson that even the most sophisticated insiders don't always know what the future holds. While I firmly think that following the big funds and insiders is a smart way to invest, it certainly isn't fool-proof. In addition, Halliburton and Freeport-McMoRan are highly dependent on the world's economy for their success. Investment in either stock boils down to a macro play on the continued improvement of the world's economic situation. It's critical to keep this in mind prior to investing.
I am a global macro bull going into 2013, therefore, I am bullish on both stocks. While it's likely too late to capitalize on the McMoRan Exploration deal directly, I like the parent company, Freeport-McMoRan, and Haliburton as stocks with good potential for at least a 30% increase next year. Remember to always use stops and position size correctly based on your risk tolerance whenever investing in the stock market.
Disclosure: I have no positions in any stocks mentioned, and no plans to initiate any positions within the next 72 hours. I wrote this article myself, and it expresses my own opinions. I am not receiving compensation for it. I have no business relationship with any company whose stock is mentioned in this article.
Additional disclosure: StreetAuthority LLC owns shares of FCX, MMR in one or more of its "real money" portfolios.