Market participants often perceive companies operating within the oil and gas industry to present relatively more risk, or, as some would denote it, an investment class to consider for less risk adverse individuals. Contrary to popular belief, many companies operating within the oil and gas industry do not actually present the risk that investors think. Firm-specific risk and pertinent business risks, of course, exist yet in a different manner than the corresponding inherent market risk. But in the end, all that matters are solid fundamentals complemented with an ideal entry point to establish a position and initiate your investment.
Cimarex Energy Co. (NYSE:XEC) presents this opportunity in a realistic manner and, in my opinion, is perfectly positioned for exceptional growth over the next six to nine months. This article outlines XEC's fundamentals, relative performance, comparative valuation as well as risk metrics, and then concludes with four reasons why XEC is a buy at current valuation.
Overview
XEC is an energy production company operating within the oil and gas industry. XEC's primary locations for exploration and development are the Mid-Continental region and the Permian Basin. The Permian Basin is one of the most valuable prospects for XEC's exploration segment of operations because it is highly credible among competitors in the oil and gas industry and covers an extensive amount of square footage. For companies operating in this basin, historical price influxes resulted in what has prevailed to be a typical business cycle with a few additional troughs. However, taking into account the strong, yet consistent demand for oil accompanied by large increases in operating efficiency by significant increases of throughput rates for the number of oil barrels produced per day, one would assume this basin in a prime location. And they are correct! The number of rigs utilizing the Permian Basin peaked in midsummer and is continuing to climb.
Relative Performance
XEC is currently trading at roughly $56.50 per share and compensates investor with an annual dividend yield of 0.81%. While XEC's firm specific beta value remain 1.6, it is obvious institutional investors have eliminated this as an issue, considering institutional investors are currently holding 90.03% of XEC's shares outstanding. Figure 1 below illustrates XEC's YTD performance.
Figure 1: XEC's YTD Price Performance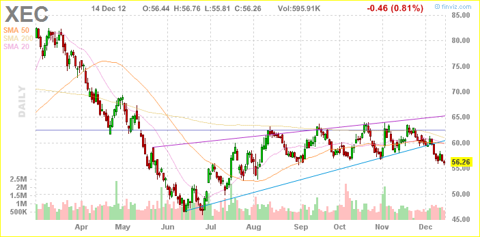 In practice, I tend to focus on fundamentals and steer clear of devoting too much attention on rapidly changing technicals, however XEC's YTD chart makes this hard to avoid. Over the past four months, XEC reveals technical attributes that are highly favorable for a potential upside. Notice above in figure 1, XEC formed a strong four-month support line with a steady $5 deviation in price.
Figure 2: XEC's Relative Performance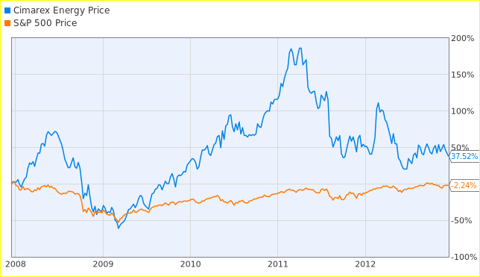 Peer Comparison
I made an attempt to concentrate this article strictly around the XEC's fundamentals; however, I felt it was only appropriate to provide a brief comparative analysis of XEC's competitors. Below you will see figure 3, which represents a graph I constructed using YCharts to illustrate the performance for five of XEC's peers over the past five years. These competitors include Tesoro (NYSE:TSO), Chesapeake Energy (NYSE:CHK), Valero Energy (NYSE:VLO), Chevron (NYSE:CVX), and Exxon Mobil (NYSE:XOM). Over this five-year period the only corporation to clearly outperform the S&P on a consistent basis was CVX. VLO and TSO lagged behind significantly during this period.
Figure 3: XEC's Peers' Performance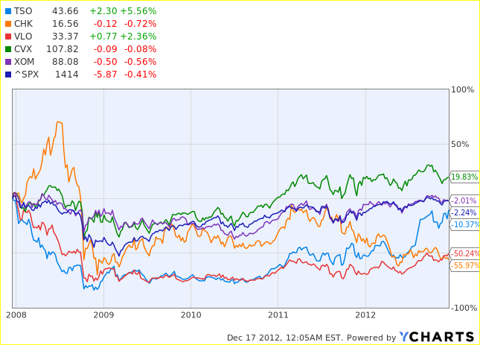 I decided to conclude this peer analysis by contrasting comparative metrics such as valuation, risk, and ownership attributes that will help highlight key differences between XEC and its peers. As you will notice, I have provided these metrics below in figure 4. For a more accurate comparison, I choose to include one more competing firm that I depicted above because it helps distinguish the variation in ownership structure from XEC, which illustrates a key point I will touch on later. First, the figure begins with XEC and continues in ascending order based on the value of the firm's market capitalization. As you will see, XEC has the smallest market capitalization of all the firms provided below. Also note an asterisk was inserted next to BP indicating that BP is an American Depositary Receipt (ADR). In order to provide a comparable risk metric that is unbiased and efficient, I used monthly holding period returns with distributions for the past four years for each firm relative to the S&P in order to compute the respective beta values.
Figure 4: Market Capitalization Comparison

There is a potential concern I would like to address to investors in regards to XEC's ownership structure. Value investors have been long advocates for associating significantly large institutional ownership with the abominable outcomes in securities with this ownership structure. A great quote by Warren Buffet, "Never has so much been managed by so few that care so much about what happens tomorrow." Decades ago volatility was not largely induced by an individual investor, market makers nowadays can make major changes in liquidity ultimately impacting the volatility of markets. XEC's excessive institutional ownership is the primary area of concern in my mind and it is important investors are aware of this. Notice BP's significantly low institutional ownership of only 10.68%.
Four Reasons Why XEC Is A Strong Buy:
XEC has a strong foothold in the natural gas segment of the energy sector. Its operations are heavily geared towards becoming a major supplier of natural gas and nearly half of its current output is natural gas.
XEC has a portion of operations is a niche location, the Permian Basin. The area is massive and is widely recognized by competitors in the industry. With the combination of an increasing demand for oil and production increases, having rigs established in this location has the potential to be a ticket to success within the oil and gas industry.
XEC has historically shown a wide variance between cash flows displayed on its balance sheet and operating cash flows, but what is worth noting is XEC's strong increase in operating cash flows over the past several years. Based on XEC's current market value, XEC is trading at a severe discount; nearly 6 times below operating cash flows.
Ten different analysts that cover XEC have initiated buy ratings with a mean price target of approximately $76 per share. This implies nearly a 35% upside from its current market valuation.
Sources: TD Ameritrade, YCharts, Google Finance, & The Wall Street Journal.
Disclosure: I am long XEC. I wrote this article myself, and it expresses my own opinions. I am not receiving compensation for it (other than from Seeking Alpha). I have no business relationship with any company whose stock is mentioned in this article.