Now that the Fiscal Cliff Deal is quickly coming into focus, we need to be prepared for the consequences. This is going to be the first anti-stimulus bill passed since the crisis in 2008. Let's quickly recap all major bills since the 2008 financial crisis (government stimulus/tax cut amount in parentheses):
- 2008 TARP Bill (+700B)
- 2009 ARRA Stimulus Bill (+800B)
- 2010 AHCA Healthcare Bill
- 2010 Dodd-Frank Financial Bill
- 2010 and 2011 Payroll Tax Cut (+100B combined)
We are looking at a combined 1.6 trillion in economic subsidies for the government in the last 5 years. Not coincidentally, the Obama Administration is asking for 1.6 trillion in revenue back now that the economy is on solid ground. Clearly this is going to take a big chunk of money out of the economy (negative short term) and fill the deficit (positive long-term). I generally have a bearish view on the DIA and SPY for Q1 2013 once the Christmas Rally is over, but I am still undecided where they will be at 2013 year end. That will depend on the magnitude of the economic contraction in the first half of 2013.
Tax Regime Change
Since I am getting ready for the long/short trade of the decade, I wanted to take a look at where I can make the most money while the market is falling in Q1. Clearly a big change in the Fiscal Cliff Deal will be the tax regime and that is going to have important sector consequences. The latest news on the corporate tax front is that the Obama Administration wants to institute a flat 28% corporate rate (cut from 35%) and eliminate special-interest deductions. This is a strong pro-growth supply-side measure that is exactly what Republicans have been wanting in any corporate tax reform bill. In addition, it looks like dividends will lose their preferential 15% rate and be taxed at the income tax rate and let's not forget the new 3.8% Health Care investment income surtax. Earnings in some industries are going to clearly suffer and others are going to clearly benefit. Investors in some industries are going to clearly suffer and investors in other industries are going to clearly benefit. Let's look at the tax rate paid by industry: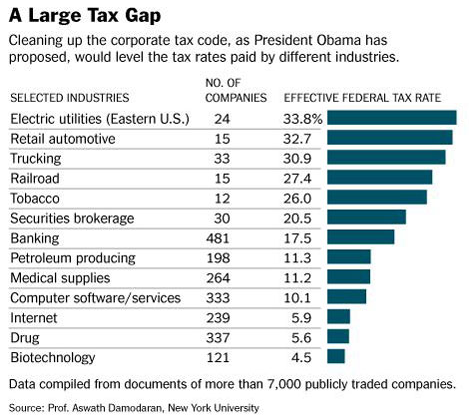 One industry not mentioned is Retail Staples and Retail Discretionary which are generally in the high end of the effective tax rate scale. Wal-Mart has a tax rate of 32.4% for example.
Sector Trades
So it looks like Transportation (NYSEARCA:IYT), Retail Staples (NYSEARCA:XLP), Retail Discretionary (NYSEARCA:XLY), Utilities (NYSEARCA:XLU) will be the biggest beneficiaries. Tax rates will go down as much as 7% percentage points which all flows right back into earnings. On the other hand Technology (NYSEARCA:XLK) and Energy (NYSEARCA:XLE) and to a lesser extent Financials (NYSEARCA:XLF) and Industrials (NYSEARCA:XLI) are going to suffer and tax rates there may go up more than 10% for some companies in those industries. Earnings will be clearly affected.
There are already some signs that the market is already adjusting to the upcoming tax regime. Tech stock Apple (NASDAQ:AAPL) has been in a freefall despite record sales here and abroad. Material stock Freeport McMoRan (NYSE:FCX) got clobbered for diversifying into energy. Retail giants like Macy's (NYSE:M) have stayed unexpectedly strong in the face of weak revenues.
Let's look at the charts for some of these sector ETFs and decide on a course of action: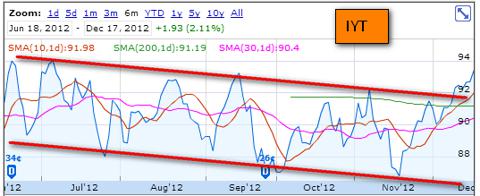 Transportation is breaking out of six-month range. There looks to be a strong upturn in the cards since the consolidation phase lasted 6 months. Clear long, buy on any dip, if you get a dip.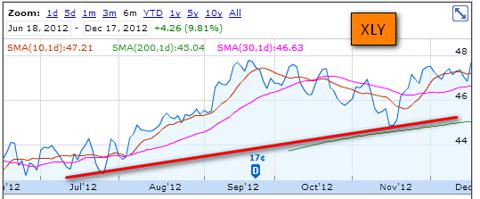 Consumer Discretionary hasn't missed a beat. Combined with commodity deflation, this the strongest buy of them all. Buy on any dip. Again, if you get a dip.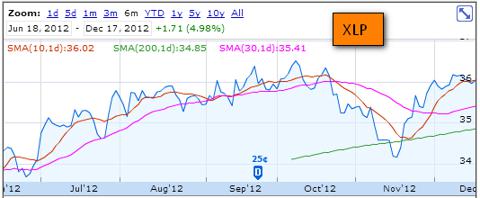 The bullish case is less strong for Consumer Stapes since they pay high dividends, but it's a bullish case nonetheless. Since growth here is slowest, this should be the last buy on your list.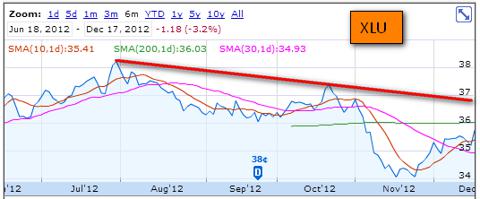 Dividend kings Utilities are clearly suffering. Lowering the tax rate would help earnings, but high dividend taxes will reduce return on dividends by up to 30%. No small change and changes the IRR of the investment. People will likely look elsewhere for return in a potentially strong growing economy after Q2 of 2013. Short on any bounce.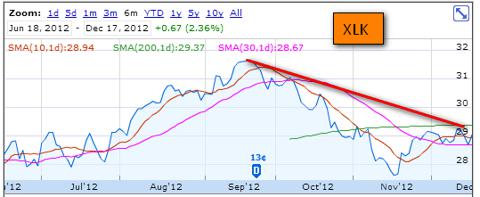 Technology has clearly peaked. They will have to pay higher taxes and may be moving production to the US, which means the end of cost deflation achieved via outsourcing. Short on any bounce.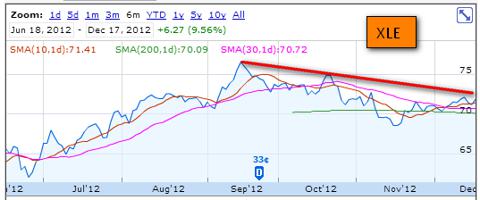 Energy is in a classic bubble-pop pattern. Parabolic increase followed by consolidation at lower levels. The drop comes slowly at first and then suddenly falls off a cliff. Combined with removal of special loopholes and oversupply of oil, this is a clear short.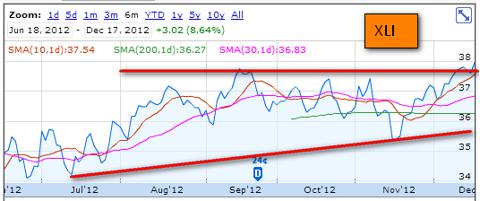 Industrials seem to be breaking out of a triangle. Tax regime changes will not affect them dramatically. What will affect them more is the return of business investment. If that happens, the long case is clear cut. Buy on any dip.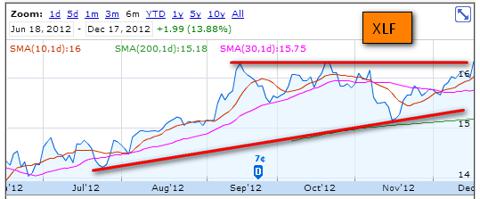 And finally Financials - one of the strongest performers year to date. Look for the magic to continue. Regulatory and balance sheet issues are behind them, a growing housing sector will overwhelm any tax increase related earnings issues. Buy on any dip.
Disclosure: I have no positions in any stocks mentioned, and no plans to initiate any positions within the next 72 hours. I wrote this article myself, and it expresses my own opinions. I am not receiving compensation for it (other than from Seeking Alpha). I have no business relationship with any company whose stock is mentioned in this article.