Yesterday we had no idea why NuVasive (NASDAQ:NUVA) was being pummeled and threw out a guess that it had to do with the DOJ investigation into Medtronic's spine product, Infuse.

Yesterday Medtronic (NYSE:MDT) had a disappointing report but they only compete in the spine area - there is a news report that the feds are investigating off label use of a Medtronic spinal implant - I don't know about this product in relation to NuVasive's product line to know if this is the cause... I'd be curious to hear the analyst community's take on this one. So this could be guilt by association or in this market, a hedge fund liquidating, but we've seen NuVasive drop off a cliff the past few sessions ($42 to $32 out of the blue), highlighting once again why owning individual stocks in this market is Russian Roulette.

This appears to have been the cause, indeed.
Shares of spinal product maker NuVasive Inc. dropped to an annual low Wednesday, after a rival reported disappointing quarterly results and said the federal government was investigating its sales practices for a spinal graft.
Piper Jaffray analyst Piper Jaffray analyst Matt Miksic attributed the move to news from Medtronic Inc. In its third-quarter results, he said, Medtronic posted "spine (revenue) growth significantly below the market and below our expectations." The company also disclosed it had been served with a subpoena by the Department of Justice, connected to "off-label" marketing of its Infuse spinal graft. But

he believes the subpoena is more focused on Infuse, and the issue of off-label marketing, and not the spinal industry as a whole.
In a telephone interview, Chief Financial Officer Kevin O'Boyle said the company is complying with Food and Drug Administration marketing rules, and the notion that the company may be investigated is "pure rumors." "The DOJ has not contacted Nuvasive nor do we anticipate them contacting NuVasive," he said.
Miksic maintained a "Buy" rating and a price target of $63 per share on the San Diego-based company.
We said yesterday...

But, technically, as we now approach March 2008 lows, we'd be interested if the stock can hold $32 level which was the nadir earlier this year. Currently it trades just below it; if that doesn't hold the next real support is $26-27 area but the hopes of a bullish double bottom formation would be gone.

The stock fell as low as $30 intraday but is up 3-5% to hold $31-$32 (close enough considering the abject fear in this market). The market is horrid, but I'm going to begin to rebuild this position, and hope this technical "double bottom" is good. We'll up this from a 0.8% stake to 2.3%, with purchases in the $31s.
Unfortunately what was an excellent chart just two weeks ago (above all key moving averages) has now been destroyed in this casino - in a snap of a finger. If it drops below $30 again, we'll take the short term hit, cut back, and head for the hills - but considering the circumstances, this appears to be a classic overreaction. Aside from the few companies we own whose main (or only) customer is the federal government, these niche medical companies, while carrying product risk, still appear to me to be the one area that should be relatively recession proof - if you have the need for spine surgery - well you are going to need to get it, Great Depression or not. Otherwise, how would you be able to walk to the soup lines?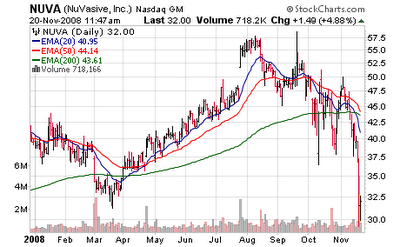 We still have a ton of cash and if the market breaks down will reverse course and apply it back on the short side. I just have such little individual equity long exposure I want to be more neutral in exposure now that the market has taken such a hit and so many people are now running away. We're buying equities down 30,40,50% in a few weeks (days!) and have remained patient - not buying any individual names on the long side in quite a while.
At the rate we're going, the market will be zero by spring, so we're going to need to rebound here or there at some point... the question of the day of course is "from where?" I'm no bull, just less of a bear the lower we go - the market action still strikes me as putrid so I would not be surprised to see bad action ahead. Or one of our typical 10% in 5 hour moves - hah. This is all we are buying for now... I see other names of high interest down 15-20%+ today alone, but I'm not willing to put more allocation on the long side until the market puts in a real turn.

S&P 770 will now replace S&P 840 as the level all eyes are at. Feels like the same story week in, week out - just different (lower) price levels ... November might be shaping up to be as historically bad as October - amazing to have two of the worst months ever back to back, and in a normal year September would of been considered horrible. Citigroup (NYSE:C) is down another 20% despite our old friend from Saudi Arabia trying to rekindle memories of the early 90s when he saved them the last time around. This name really rules the market right now.
Citi shares tumbled again Thursday despite news that Saudi Prince Alwaleed bin Talal plans to increase his stake in the company to 5 percent from less than 4 percent. The prince said the bank's shares were "dramatically undervalued" and voiced support for the current board and CEO Vikram Pandit.
Honestly below S&P 770 we could have yet another crash on top of the existing crash... quite amazing times that we'll all remember forever, and younger generations will look back on and ask about. I still don't rule out if things devolve they close the markets... putting the cherry on top of our Banana Republic status.... I wonder if they are preparing the rooms for the Sunday night meeting to take Citigroup over?
Disclosure: Long NuVasive in fund; no personal position