Although American Capital Agency's (NASDAQ:AGNC) salad days have passed it by, this isn't due to anything that could be laid at the feet of the company's management. We believe that American Capital Agency's CEO Malon Wilkus has created one of the finest income-oriented investment vehicles with his American Capital Ltd (NASDAQ:ACAS) company, as well as its two most well-known mortgage real estate investment trust vehicles AGNC and American Capital Mortgage (NASDAQ:MTGE). American Capital Agency was founded in 2008 and in less than five years, it has become the second largest mREIT in the industry with $102.2B in assets as of Q3 2012. Although we can't expect it to generate the 20% annualized yields and capital appreciation that it enjoyed in 2010, we see that it is a better-run organization than Annaly Capital Management (NYSE:NLY). That probably explains why it will be able to maintain its lofty $1.25/share dividend (16.2% annualized yield) unlike Annaly, which once again cut its dividend by 10% and now has a 12.6% yield.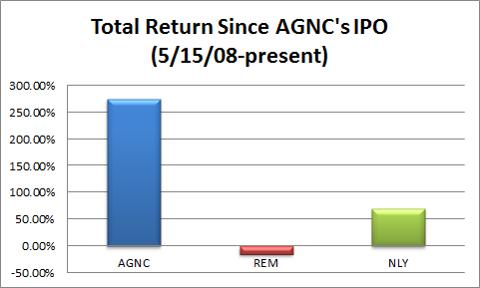 Source: Morningstar Direct
It is time for mREITs to announce the quarterly dividends that will be bestowed upon investors. We were not surprised that Annaly Capital Management had announced that it would be cutting its dividend by 10%. Annaly's quarterly dividend peaked in Q4 2009 at $.75/share and it has been steadily sagging since. Annaly's recent dividend cut represented the fifth time in the last six quarters that it cut its dividends per share. While we understand that mREIT investors are not likely to find increases in their per-share dividend payments, and while we understand that the Federal Reserve's money printing mania known as Quantitative Easing is narrowing the spreads investors can achieve on mREITs, we believe that Annaly's financial performance has been uninspiring and pedestrian relative to American Capital Agency. In our November 16th report comparing AGNC against Annaly, we could see that AGNC outperformed Annaly on five key metrics, while Annaly only outperformed AGNC with regards to average gross interest yield.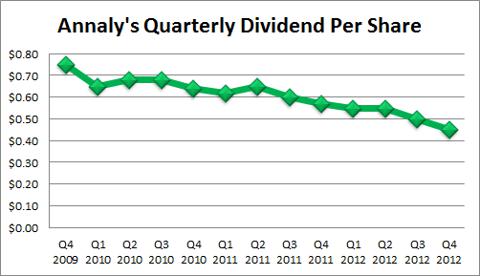 Source: Annaly's Investor Relations Website
While we share the same tendency that Annaly's late CEO Mike O'Farrell to criticize the Federal Reserve for its insane monetary management policies, we differ from O'Farrell in that we are willing to grit our teeth and approach the macroeconomic environment as it is, rather than as it should be. We can always count on Annaly for a humorous anecdote with regard to the economy on its quarterly investor conference calls, but we find that AGNC's CIO Gary Kain and his team have a more workmanlike and professional approach to their conference calls. We believe that AGNC has made more effort to manage prepayment risk over the last couple of years than Annaly and it shows, because AGNC has a higher net interest margin than Annaly and a sharply lower CPR prepayment rate on its portfolio versus Annaly.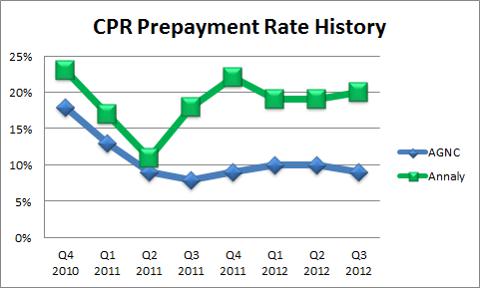 Source: Our Most Recent Report Comparing American Capital Agency and Annaly
American Capital Agency's dividend yield of 16.2% is 360bp higher than Annaly's 12.6%. Both companies have seen their dividends decline from their peak in Q4 2009, however, American Capital Agency has only had one dividend cut during this period. Annaly has cut its dividend eight times in the last three years, including five times in the last six quarters. Annaly's per share dividends have declined by 40% in this time period versus 10.7% for American Capital Agency. Considering that American Capital Agency is still performing better than Annaly with regard to key operating metrics, even though it surpassed the $50B asset level last year and the $100B asset level this year, Annaly's stakeholders can't really make the case that Annaly's weak performance is due to its massive size because AGNC is not that much smaller than Annaly anymore. We like that both firms have announced share repurchase programs in an attempt to shore up their respective stock prices in this challenging macroeconomic environment. Annaly authorized a $1.5B share repurchase program, and AGNC authorized a $500M share repurchase program. Annaly's repurchase in nominal terms and percentage of market capitalization (10.8%) is one of the few areas in which it exceeds American Capital Agency (4.7%).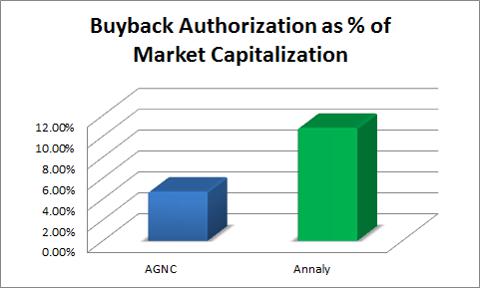 Source: Morningstar Direct
In conclusion, while we don't have any more mREITs ourselves, we can see why we like American Capital Agency much better than Annaly. While Annaly may be the mREIT industry's bellwether firm, American Capital Agency's performance has been ringing Annaly's bell. We think that is why AGNC has only cut its dividend by 7% in the last three years, while Annaly has cut its dividend by 40% during this time period. While Annaly portrays itself as the mREIT industry's conservative, risk-management-oriented firm, we think that Annaly is nothing more than the crotchety, grumpy-old-man of the business that is jealous of the performance of its younger competitor, AGNC. The last reason why we believe that AGNC has been better at preserving per share dividend payments for investors than Annaly is because while Annaly's management is great at making glib commentary about macroeconomic events, we find that American Capital's Gary Kain is better at managing the macroeconomic environment than the late Mike Farrell and his successor Wellington Denahan-Norris at Annaly.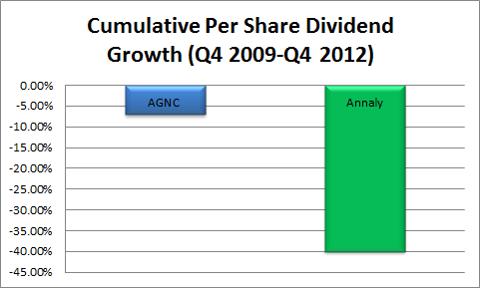 Source: Morningstar Direct
Disclosure: I have no positions in any stocks mentioned, and no plans to initiate any positions within the next 72 hours. I wrote this article myself, and it expresses my own opinions. I am not receiving compensation for it (other than from Seeking Alpha). I have no business relationship with any company whose stock is mentioned in this article.
Additional disclosure: This article was written by an analyst at Saibus Research. Saibus Research has not received compensation directly or indirectly for expressing the article's recommendation. We have no business relationship with any company whose stock is mentioned in this article. Under no circumstances must this report be considered an offer to buy, sell, subscribe for or trade securities or other instruments.