Nokia Corporation (NYSE:NOK) released its Lumia 920 and Lumia 820 smartphone devices on November 2nd, and the good news about this was that it was only six weeks after Apple (NASDAQ:AAPL) released its iPhone 5 smartphone device on September 21st. Unlike Apple, we didn't see anyone camping out in front of AT&T (NYSE:T) in order to get their hands on Nokia's new devices. Nokia's Lumia 920 and 820 run on Microsoft's (NASDAQ:MSFT) Windows Phone 8 operating system and are exclusive to AT&T in the US, Rogers Wireless in Canada, China Mobile (NYSE:CHL) in China, and EE Limited in the United Kingdom. Nokia will see multiple carriers (Vodafone, T-Mobile, O2 and E-Plus) offer the Windows Phone 8 devices. Although Nokia's featured flagship Lumia 920 smartphone device is exclusively available at AT&T in the US, it made a special Lumia 822 device for Verizon Wireless (NYSE:VZ) and Verizon released the Lumia 822 before Thanksgiving.
Nokia will need the Windows Phone 8 devices to perform much better than the Windows Phone 7 devices if it hopes to catch up to Apple and Samsung. Nokia used to be the world's most dominant mobile communications handset vendor, but a series of missteps along the way have turned it into the Sick Old Man of the smartphone industry. Nokia's decline was exacerbated by the arrival of Stephen Elop from Microsoft in 2010. Elop was the first non-European CEO of Nokia and he basically torched the company's short-term performance capabilities with his infamous Burning Platform memo. Elop's performance at Microsoft was mediocre and pedestrian as he was in charge of the Microsoft Business division and the division saw its revenues and profits flatline while he was running the show. We also remembered Elop's tenure as the CIO of Boston Chicken from 1992 to 1998, before it went bankrupt. We think that Nokia's willingness to hire Stephen Elop as CEO and to pay him a $6M signing bonus to join Nokia even though he had three years of mediocre performance as the head of Microsoft Business was a poor decision on its part. We're surprised that Nokia's quarterly revenue has only declined by 30% under Elop's watch even though he has made many mistakes as CEO.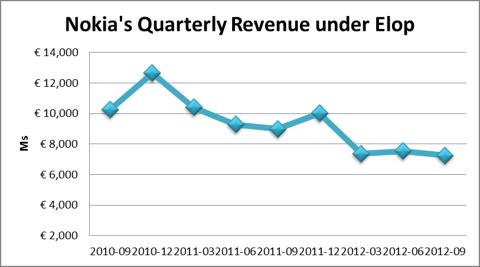 Source: Morningstar Direct
Nokia's Lumia 822 device for Verizon Wireless received a "Gentleman's C" rating from Engadget. Verizon Wireless has been pushing Android devices to its customers even though Apple's iPhone 5 has 4G-LTE capabilities, but despite VZW's best efforts, Apple's iPhone still accounts for 45.5% of its smartphone activations in Q3 2012 (3.1M iPhones activated out of 6.8M smartphones). Furthermore, Apple's iPhone 5 with 4G-LTE capabilities accounted for 21% of VZW's Q3 2012 activations, despite only being available for 10 days in the quarter. We're not expecting much sales performance out of the Lumia 822 despite the fact that Verizon Wireless has cut the two-year contract price of the device by 50%. We find it amusing that the subsidy of the high-quality Apple iPhone devices is $450 for customers who take the two-year contract versus $400 for customers who buy the Nokia Lumia 822 with a two-year contract.
Nokia's recent deal with China Mobile is a bit of good news and bad news. The good news is that China Mobile has agreed to carry Nokia's flagship Lumia 920 Windows Phone and Apple does not have a deal with China Mobile yet. The bad news is that the Nokia Lumia 920 will be sold at RMB 4,599 and will not have a subsidy for contract customers. Considering that the per capita GDP for China was $8,400 on a purchasing power parity basis and $5,300 on a market exchange basis, we think that Nokia Nation may be suffering from irrational exuberance based on this deal. Despite the fact that China Unicom (NYSE:CHU) and China Telecom (NYSE:CHA) have less customers than China Mobile, Apple sold 2 million iPhone 5 devices during its Chinese launch weekend last week.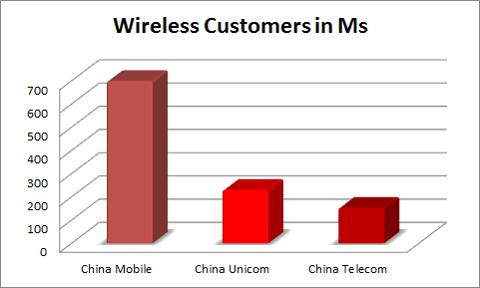 Source: MRQ Reports for China Mobile, China Unicom and China Telecom
Nokia's Lumia 920 has been the most hyped smartphone since the Lumia 900. The advertising slogan for the Lumia 920 is "The world's most innovative smartphone" but we think that Nokia is the one spreading that rumor. The good news is that it has fewer problems than the Lumia 900 predecessor. The bad news is that it is one of the heaviest smartphones out there, and the worse news is that it doesn't have as many apps as Apple's iPhone devices nor Android-powered devices.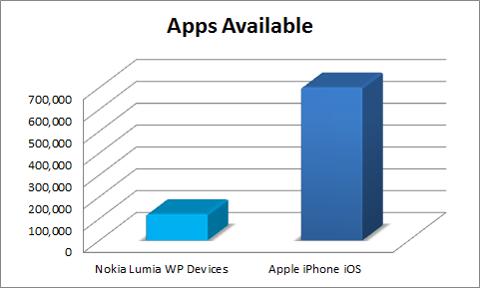 Source: All Things D's Review of Nokia Lumia 920
The hopes and dreams of Nokia's stakeholders helped the ADR price double from $1.69 in July to $3.39 in late August, before settling down at $2.45 on September 6th in the wake of Nokia's Windows Phone 8 launch. Despite Nokia's weak financial performance for Q3 2012, Nokia's share price has climbed to $4/share on hopes that Nokia's new Windows Phone devices will offset weakness from its Symbian and other smartphone devices. We think that the brave, intrepid investors that got into Nokia when it was trading at $2/share or less during the summer should consider taking some of their profits now while they still can because we believe that Nokia has been overbought based on hope and hype over the WP8 devices.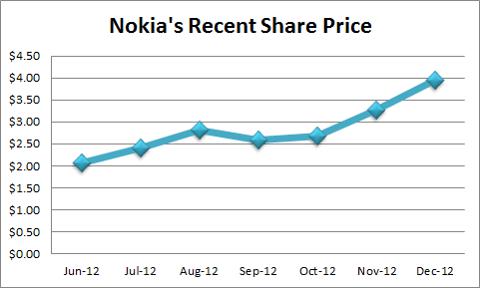 Source: Morningstar Direct
According to Deutsche Bank analyst Kai Korschelt, recent press reports on Nokia Lumia stock-outs are misleading. The firm's retail and industry research indicates these initial stock-outs are caused by limited device supply, rather than overwhelming demand. "Anecdotal evidence suggests that many stores have only received 5-20 devices/store with wider carrier distribution delayed in some countries such as Germany & UK." It has been speculated that Nokia was managing the supply in order to "create buzz due to a 'scarce supply'." Liberum Capital is more optimistic about Lumia performance for Q4; that firm is expecting 3M Lumia 920 devices to be sold and 2M units sold for Lumia's lower end devices. Even if Apple's October-December 2012 quarterly sales of its iPhone devices only matches the 37M devices that it sold in October-December 2011, it will still be almost 7.5X the optimistic sales estimate of Liberum Capital.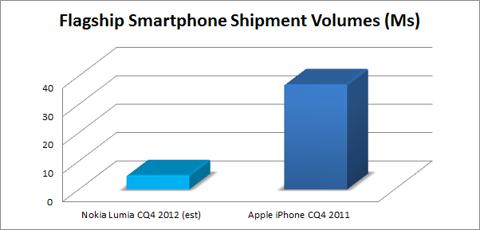 Source: Seeking Alpha and Apple's FQ1 2012 Earnings Report
In conclusion, we are still unimpressed with the launch of the Windows Phone 8 devices. However, we are less critical of Nokia now versus our prior reports. We expect Nokia to perform better than Research in Motion (RIMM) because at least it has released its spiffy new flagship phone for the holiday while RIMM is still working out the kinks for BlackBerry 10. However, we believe that Nokia and Microsoft have a long way to go in order to get their groove back with regards to its performance in the mobile phone industry. We were also displeased that Nokia's stock-outs are due to intentionally managing the supply rather than creating cutting edge products that people wait in line for hours on end in order to buy. If you invest in Nokia, this is what you are exposed to:
An marginally profitable telecom equipment company (Nokia Siemens).
A mapping technologies company (legacy Navteq) that saw a €1.

04B

goodwill impairment write-down last year and which has had flat sales performance in YTD

2012.

A has-been mobile device maker whose operating system has been compared to a burning oil platform. We still see Nokia as the meat in the mobile device marketplace sandwich and Android and Apple are eating it up.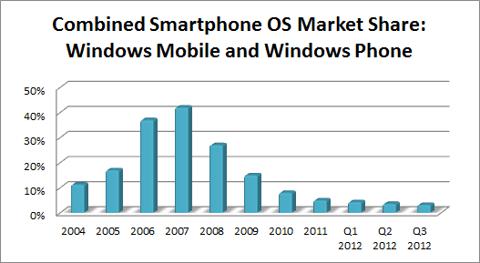 Sources: ComScore Market Share Report and ZDNet Market Share Report
Disclosure: I am long AAPL. I wrote this article myself, and it expresses my own opinions. I am not receiving compensation for it (other than from Seeking Alpha). I have no business relationship with any company whose stock is mentioned in this article.
Additional disclosure: This article was written by an analyst at Saibus Research. Saibus Research has not received compensation directly or indirectly for expressing the recommendation in this article. We have no business relationship with any company whose stock is mentioned in this article. Under no circumstances must this report be considered an offer to buy, sell, subscribe for or trade securities or other instruments.