On Monday December 17th, ARMOUR Residential REIT Inc (NYSE:ARR) had good news and bad news for investors. The bad news is that it had to cut its monthly dividend by 11% from $.09/share to $.08 per share and this will take effect in January 2013. The good news is that it attempted to soften the blow for investors by including a share repurchase authorization of $100M. This represented 5% of Armour's market cap as of December 18th but investors were displeased to see the dividend cut again and Armour's share price fell by 1% on the 18th. Despite this unfortunate event, Armour is still yielding 14.6%. Although no one would confuse ARR's performance with the sterling performance achieved by American Capital Agency (NASDAQ:AGNC) or American Capital Mortgage (NASDAQ:MTGE), we could see that it generated stronger performance than mREIT heavyweight Annaly in Q3 2012 and YTD 2012. Maybe investors are worried that ARMOUR's CPR prepayment rates in Q4 2012 have gone up so sharply that ARR no longer can say "at least we're not Annaly Capital Management (NYSE:NLY)". Armour's 14.6% annualized dividend yield is at least 200bp higher than Annaly's 12.6%.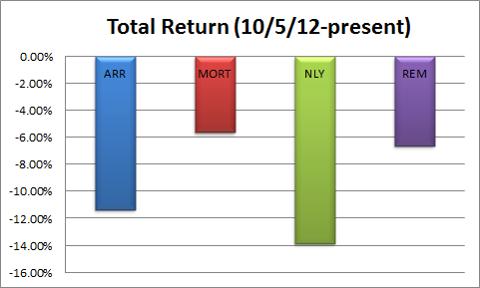 Source: Morningstar Direct
Right now, Armour Residential's MBS portfolio is invested in agency MBS Securities from Fannie Mae, Freddie Mac and Ginnie Mae. We were pleased to see that ARR was able to shift its portfolio allocation to fixed rate securities in 2012 versus 2011. In 2011, less than 50% of ARR's portfolio was in fixed rate securities and in Q1 2012 the company was able to increase this to 78.2% and it increased it another 11% during the following two quarters (89.2% as of Q3 2012). Because the amount of ARR's Adjustable Rate and Hybrid ARM securities remained at around $2.7B from Q2 2011 to Q2 2012 before dipping to $2.23B in Q3 2012, we could see that ARR has been reducing the weight of its variable rate securities in its portfolio by directing its entire new asset buys to fixed rate agency securities. The company was able to increase its Weighted Average Months to Maturity by 99 months over the last twelve months and after seeing its Constant Prepayment Rate increase from 9.3% in Q2 2012 to 19.3% in Q4 2012, ARR saw the CPR decline to 11.4% in Q1 2012 and 9.1% in Q2 2012 before it spiked up to 13% in Q3 2012. Maybe investors are concerned that they will see a repeat of Q4 2011's CPR of 19.3% or greater.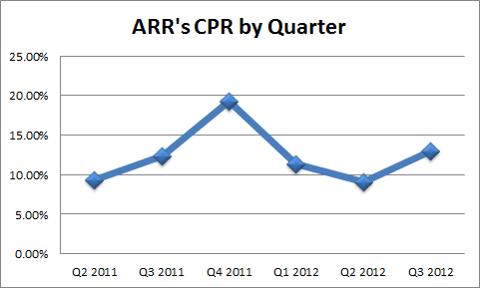 Source: Armour's Last Two 10-Q Reports
The one silver lining we see here is that ARMOUR is aware that the macroeconomic environment for mREITs is quite unfavorable thanks in part to the monetary easing programs of the Federal Reserve. We applaud ARMOUR for authorizing a small share repurchase program of $100M (5% of its market capitalization) because the company's book value as of Q3 2012 is $7.91/share and we are not expecting it to generate any significant increase or decrease as we expect that ARR's Q4 2012 net comprehensive income will be offset by dividend distributions to investors. When we consider the fact that ARMOUR's shares are trading at a 17% discount to its book value, we would have preferred that the company have authorized a larger share repurchase than $100M. We understand that ARMOUR has seen fast asset growth over the last three years however we would have preferred that the company sell overvalued and expensive MBS securities and use the proceeds to buy back its cheap and undervalued shares.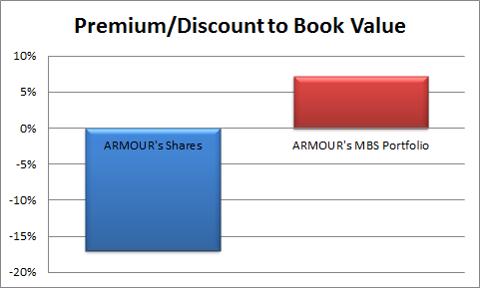 Source: Armour's Q3 2012 10-Q
In conclusion, we can see that ARMOUR deserves to be trading at a lower price/book ratio than American Capital Agency and American Capital Mortgage. On a pure price/book ratio, ARMOUR is quite undervalued as its share price is at a 17% discount to its book price. However, we believe that investors are displeased that the company's dividend payment schedule has been "death by a thousand cuts" due to ARR cutting its per share dividend four times in the last five quarters. It remains to be seen if ARMOUR can preserve its per share dividend for next year or it will be cutting it to $.07/share per month.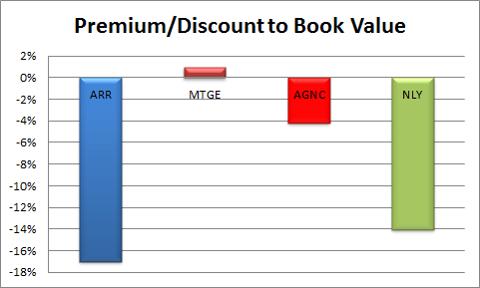 Source: Morningstar Direct
Disclosure: I have no positions in any stocks mentioned, and no plans to initiate any positions within the next 72 hours. I wrote this article myself, and it expresses my own opinions. I am not receiving compensation for it (other than from Seeking Alpha). I have no business relationship with any company whose stock is mentioned in this article.
Additional disclosure: This article was written by an analyst at Saibus Research. Saibus Research has not received compensation directly or indirectly for expressing the recommendation in this article. We have no business relationship with any company whose stock is mentioned in this article. Under no circumstances must this report be considered an offer to buy, sell, subscribe for or trade securities or other instruments.