Not every microcap chart is a complete disaster — just most.  Medical equipment company Fonar (NASDAQ:FONR), for example, just had a big bounce.  Sure, it was over $5 at the beginning of the year, and over $20 a few years back.  However, it's up over 80% from its October low of $.66 and made the break on high volume.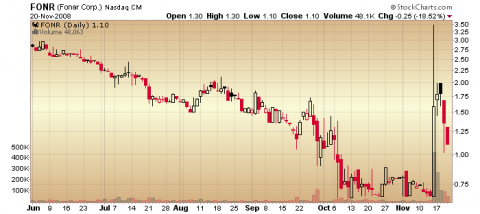 Ino.com's trend strength formula values FONR at +90 (see details below).  

The break came from news that its largest shareholder, Diversified Lending Group, offered to buy the remainder of the company for $5/share cash without any financing or due diligence contingencies: 
We believe that we are the largest shareholder of FONAR. By letter dated October 3, 2008, I submitted a proposal to acquire all of FONAR's capital stock at a significant premium of $5.00 per share and requested the courtesy of a response by October 10. To date, no response has been received. This is inexcusable. Indeed, the premium offered for the Company — in cash and without any financing or diligence contingency — is even more generous now based on the Company's closing stock price of $0.67 per share at the November l3 close.

This offer was made to build on Dr. Damadian's genius in the scientific field. Indeed, once we own all of FONAR's capital stock, we intend on infusing the Company with sufficient capital to move forward with developing its innovative MRI technology so it can be made available nationwide and, soon, worldwide.
Curiously, Fonar rejected the buyout offer without explanation.  I'm not sure Fonar's board can justify this decision. Certainly, if the offer was legitimate, shareholders would be much better off with $5 per share cash than shares currently valued at $1.10.  That's a huge gap.
I'm not playing the stock now for two reasons.  First, as with Zi Corp [ZICA], I don't think this is the environment to be an arbitrageur.  Second, I've seen a lot of bounces like these in microcaps.  If they give back 50% of the bounce, which FONR already has, they usually fill the gap.  At that point it might be worth another look.  However, like ZICA, this stock is a money loser and is interesting only as a buyout prospect.
DISCLOSURE: No position.