It is amazing to think that 2012 is almost over, but that is exactly where we are. It is mid December and it is time for savvy investors to get an early peak at auto sales. This month auto sales carry a triple threat in that we are looking at monthly sales, the quarter, as well as the year. For investors in Sirius XM (NASDAQ:SIRI) auto sales are of paramount importance because it is the method by which the company garners the most subscribers.
At the mid point of December there are some early indications that auto sales for the month will be at a Seasonally Adjusted Annualized Rate (SAAR) of over 15 million. This is in line with, albeit slightly less, than the SAAR reported for November. Even so, the likely numbers for December should be enough to impress the sector.
Edmunds analyst Jeremy Anwyl has outlined projections that would appear to see December deliver a new car sales total of 1,360,000 units. This bodes well for not only the auto sector, but Sirius XM as well. In fact, if sales are only slightly above that level the sector has potential to see total sales for 2012 at 14.5 million. This is at the high end of projections that were first contemplated only about 11 months ago. For Sirius XM investors it is above the 14 million that Sirius XM used in setting up subscriber guidance for the year. Again, good news.
December 2012 is shaping up to be second only to March when there were 1,401,000 cars sold. On a quarterly basis it appears that Q4 will be the third best quarter of the year with a decent shot at being number two. Below are the results by quarter:
Q1 2012 Auto Sales
Q2 2012 Auto Sales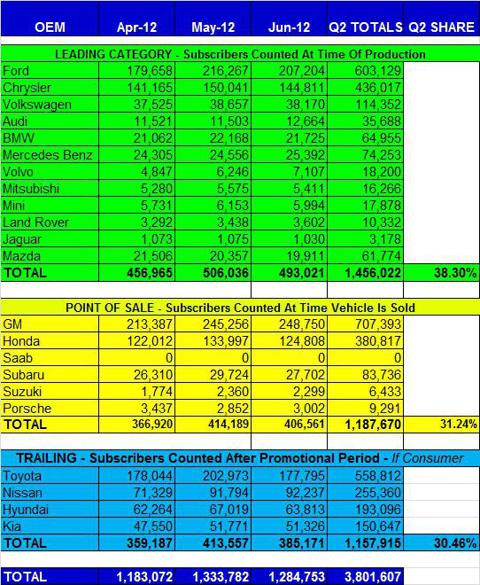 Q3 2012 Auto Sales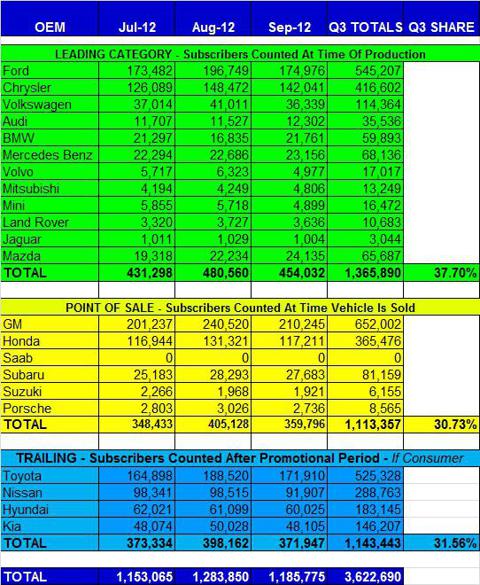 Q4 2012 Auto Sales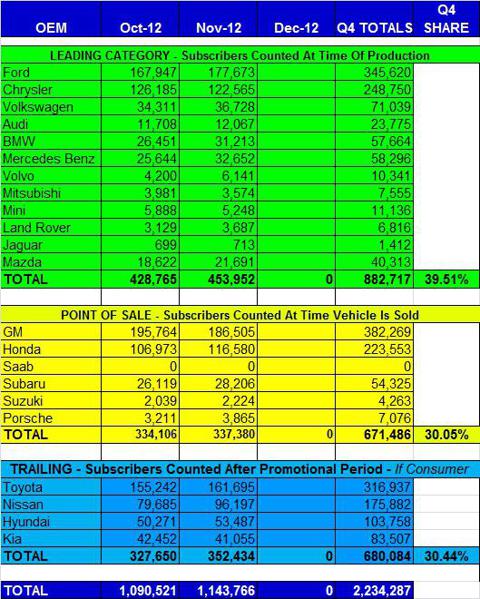 As you can see, if we assign 1.36 million in December sales the Q4 total will be about just under 3.6 million, in essence about in line with Q3. The total for the year would be just shy of 14.5 million.
Here is where Sirius XM investors need to be careful. The best quarter of the year was Q2 in terms of auto sales and subscribers. Auto sales were over 3.8 million and subscribers were at 622,000 subscribers. In Q3 auto sales were just over 3.6 million and the company added 445,000 subscribers. Q4 is shaping up to have auto sales in line with Q3. Sirius XM finished Q3 with net subscriber additions of 1,473,000. This is just 527,000 subscribers short of an impressive 2 million.
Getting to 2 million net subscriber additions in 2012 would be a big win for the company. It is not a walk in the park though. Essentially, the company needs a subscriber performance that splits the difference between Q2 and Q3. The 4th quarter is typically a strong one for Sirius XM. In addition, the used car channel is ramping up with more and more satellite radio equipped cars selling with each passing month. If the company is anywhere close to hitting 2 million I feel it will step up some retention efforts to get there. If I was placing odds on this I would say that there is a better than 75% chance that the company reports at least 540,000 subscribers during the first week in January. Even if they do have to be slightly aggressive in discounting and retention I feel that the effort will be worth while in starting off 2013 with a bang.
The bottom line is that there is very likely going to be some big news surrounding this equity in the next couple of weeks. Pay close attention because in many ways this equity is looking for a reason to make a run.
Disclosure: I am long SIRI. I wrote this article myself, and it expresses my own opinions. I am not receiving compensation for it (other than from Seeking Alpha). I have no business relationship with any company whose stock is mentioned in this article.