By Colleen Taylor

Enterprise technology giant Oracle (NASDAQ:ORCL) this afternoon announced solid financial results for the second quarter of its fiscal 2013, which ended on November 30th.
Oracle said it earned $9.1 billion in revenue during the second quarter, an increase quarter-over-quarter from its first quarter 2013 revenue of $8.2 billion and also up year-over-year from the $8.8 billion it made in Q2 2012.
At the bottom line, Oracle posted GAAP net income of $2.6 billion and non-GAAP net income of $3.1 billion. Meanwhile, GAAP earnings per share for the quarter was $0.53, and its non-GAAP EPS $0.64. Each of those metrics also showed both quarterly and year-over-year gains. Here's a handy graph from TechCrunch illustrator Bryce Durbin to help illustrate these figures: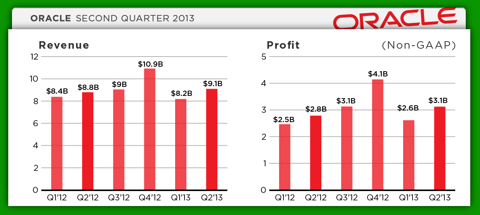 This should be good news to the investor set. According to FactSet surveys, Wall Street analysts on average estimated that the company's non-GAAP earnings would be 61 cents a share on $9 billion of revenue, so the actual results exceeded those expectations. Oracle's stock price had been climbing all day in anticipation of the release after the stock market's close, and in after-hours trading it continued to rise. Within the first ten minutes after the earnings release hit the wire, Oracle's stock was up more than 1.5% in after-hours trading.
In a statement accompanying the earnings release, Oracle president Mark Hurd trumpeted the company's strides in the software and cloud realms as helping to boost the company's financial position:
Q2 performance was strong and broad based as all geographies reported double-digit revenue growth in new software license and cloud subscriptions… Already approaching a one billion dollar run rate, our Cloud business will become much bigger over time.
On the hardware plus software side, Oracle CEO Larry Ellison minced no words in how he feels about the integration of the company's $7.4 billion acquisition of Sun Microsystems a few years back. He said:
Sun has proven to be one of the most strategic and profitable acquisitions we have ever made. Sun technology enabled Oracle to become a leader in the highly profitable engineered system segment of the hardware business. I believe that products like Exadata and the SPARC SuperCluster will not only continue to drive improved profitability in our hardware business, by the end of this fiscal year, they will also drive growth in our [software] business.