For over two years, Marvell Technology Group Ltd (NASDAQ:MRVL) has repurchased a LOT of shares.
While reporting results for the second quarter of its fiscal year (August 19, 2010), MRVL announced it had authorized a $500M share repurchase program:
Given the long-term confidence we have in our business model, we are pleased to announce the Board of Directors has authorized a share repurchase program of $500 million.
In the next earnings announcement, November 18, 2010, MRVL reported spending $60.6M under its repurchase authorization. While MRVL did not report the average price paid for the stock, it was at a price much higher than today's $8.62/share. During the fiscal quarter, MRVL traded between $13.87 and $19.42. MRVL upped the ante in the March 2011 earnings report, doubling the repurchase authorization to $1B. At the time, MRVL had over $2.9B in current cash and short-term investments burning a hole in its pockets. Over $115M had been spent repurchasing shares through February 28, 2011.
July 5, 2011, MRVL increased the repurchase authorization yet again to a total of $1.5B as the first billion was almost all spent by then. In December, the authorization went up another $500 to a total of $2.0B. By February, 2012, MRVL had spent about $1.4B purchasing about 93M shares over the life of the repurchase program (an average cost of roughly $15/share). In May of this year, MRVL added another $500M to its repurchase authorization but this time also initiated a dividend. At current prices the dividend yields a relatively healthy 2.9%. In the last earnings report, MRVL reported spending a little over $676M on share repurchases over the previous nine months, suggesting that about $2.1B had then been spent over the life of the repurchase authorizations. So, it made perfect sense that MRVL announced yesterday (December 18, 2012) yet another $500M increase to its repurchase authorization for a whopping $3.0B overall total. MRVL explained this latest increase as follows:
We continue to believe a balanced approach to capital allocation to be in the best interest of the company and consistent with the feedback from our shareholders. Combined with our strong balance sheet, we believe this increase in the share repurchase authorization also indicates confidence in our underlying business and the ability to generate cash from our operations.
Indeed, even after spending $2.1B repurchasing shares, MRVL still has $2B sitting on the balance sheet in the form of cash, cash equivalents, and short-term investments. Cash flow generation is strong. Yet, despite the company's continued generosity toward shareholders, the stock has been trading at early 2009 levels for over the past two months. The company is clearly deeply underwater on its repurchased shares and only has a greatly reduced basis for calculating earnings per share (EPS) to show for all its efforts. Even shorts are unimpressed. While short interest in MRVL is under 2% of the float, it has increased around 60% since May and is 13% away from reaching the 52-week high.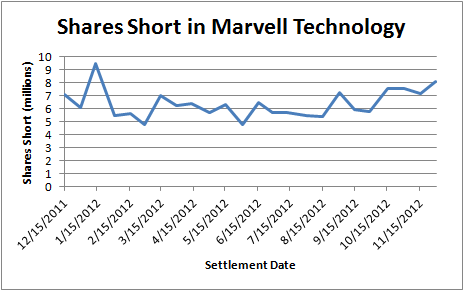 Shares Short in Marvell Technology
Source: NASDAQ.com short interest
So a natural question might be to ponder whether MRVL is just a value trap, like Hewlett Packard (NYSE:HPQ). After all, net revenue and GAAP net income are significantly down over the last nine months compared to the same period last year (-9.7% and -52%, respectively). However, as long as the business stabilizes soon and cash flows remain strong, MRVL seems like a great buy and hold at current levels. Unlike HPQ, operating cash flow to sales remain relatively robust at 22% (over the last 9 reported months). In "2 Things You Can Learn From HP About Strong Cash Flow," author Asit Sharma points out that HPQ's operating cash flow to sales is only 9% in 2012, placing it well below the blue chip companies HPQ used as comparables on an absolute basis in its last earnings call. (Coca-Cola (NYSE:KO) and Disney (NYSE:DIS) are close to MRVL's ratio). Fortunately, MRVL has also not been throwing away its cash on expensive, questionable, and ultimately wasteful acquisitions.
Finally, the stock chart in MRVL is showing some encouraging signs for the first time in a long time. Earlier this month, the stock reversed its entire loss from a disastrous reduction in guidance in October. After reporting earnings on November 15th, MRVL dipped to fresh, near 4-year lows and bounced back quickly, all on high trading volume. The stock has not looked back since. With the recent bounce off what now looks like support from the 50-day moving average (DMA), it seems MRVL has finally printed some kind of bottom.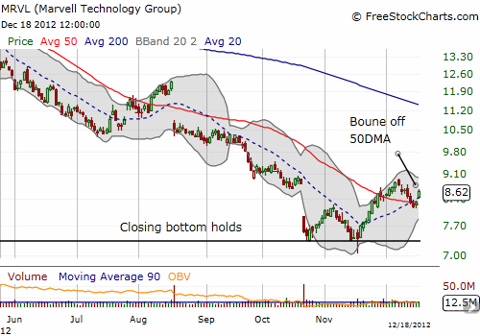 MRVL may have printed a double-bottom this year
As always, time will soon tell. But for now, MRVL looks like a good risk/reward play at current levels.
This monthly chart is a cautionary reminder of the longer-term challenges MRVL has faced with a business so heavily reliant on PCs: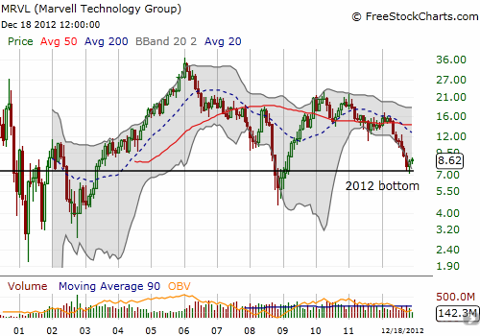 MRVL post-recession peak did not challenge pre-recession highs
Source for charts: FreeStockCharts.com
Be careful out there!
Disclosure: I am long MRVL. I wrote this article myself, and it expresses my own opinions. I am not receiving compensation for it (other than from Seeking Alpha). I have no business relationship with any company whose stock is mentioned in this article.