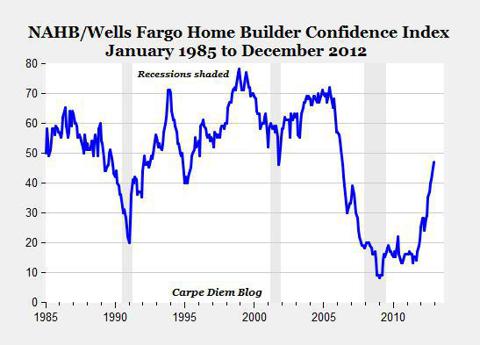 1. From yesterday's National Association of Home Builders report on builder confidence in December:
Builder confidence in the market for newly built, single-family homes rose for an eighth consecutive month in December to a level of 47 on the National Association of Home Builders/Wells Fargo Housing Market Index (see chart above). This marked a two-point gain from a slightly revised November reading, and the highest level the index has attained since April of 2006.

"Builders across the country are reporting some of the best sales conditions they've seen in more than five years, with more serious buyers coming forward and a shrinking number of vacant and foreclosed properties on the market," observed NAHB Chairman Barry Rutenberg, a home builder from Gainesville, Fla. "However, one thing that is still holding back potential home sales is the difficulty that many families are encountering in getting qualified for a mortgage due to today's overly stringent lending standards."

"While there is still much room for improvement, the consistent upward trend in builder confidence over the past year is indicative of the gradual recovery that has been taking place in housing markets nationwide and that we expect to continue in 2013," noted NAHB Chief Economist David Crowe.
Related:
2. Houston home sales increased 27.3% in November above last year, and marked the 18th consecutive month of an increase in the metro area's home sales on a year-over-year basis. The average sale price for single-family homes sold in November jumped 10.5 percent to $228,275, the highest average sales price for a November in Houston. The median sales price for homes sold in November rose 8.1 percent to $167,000, also a record high for the month of November. The total dollar volume for November homes sales was 41.2% above last year. Even the housing recovery skeptics should be impressed with the booming real estate recovery in Houston.
3. The home builder Pulte Group's (NYSE:PHM) stock has been riding the real estate recovery this year. Its stock price has almost tripled in value so far this year, and is trading today at $18.55 per share, the highest level for Pulte shares since July 2007.
Bottom Line: The ongoing positive news coming from the U.S. housing market continues unabated, and at some point even the housing bears and recovery skeptics should be convinced that the housing recovery is real and sustainable. With the previously strong growth in the manufacturing sector taking a pause, we've now got energy and housing as the two strongest sectors of the U.S. economy going into 2013.
Housing starts this year should come in at about 775,000 units, an increase of 175,000 units over last year. Forecasts are calling for another 175,000 unit increase in housing starts next year to 950,000 units for the year, before increasing by another 200,000 starts to a total of 1,150,000 units in 2014. Therefore, we can count on sustained increases in home building over the next few years, which should ease some of the declining housing inventory levels around the country. 2012 will go down as the "year of the housing recovery," and next year's housing market promises to be even better.
Disclosure: No positions