The possible beginning of a Santa Rally I mentioned Monday looked more probable yesterday. The S&P 500 closed the day with a gain of 1.15%, which follows Monday's 1.19% advance. This is only the third time in 2012 that the index has posted back-to-back one-percent-plus gains. The other pairs were June 14-15 and July 26-27. The market has risen on optimistic news snippets about Cliff negotiations, and the optimism might have more room to run. The real Santa Rally test might come the day after Santa returns to the North Pole and congress reconvenes. That's when we'll discover if the ongoing negotiations have some congressional substance.
Here is a ten-minute chart of of the week so far. Like Monday, the S&P 500 looked as if it were drifting off a mid-day high, but a rally in the final 30 minutes assured us of back-to-back one percenters.
Click to enlarge images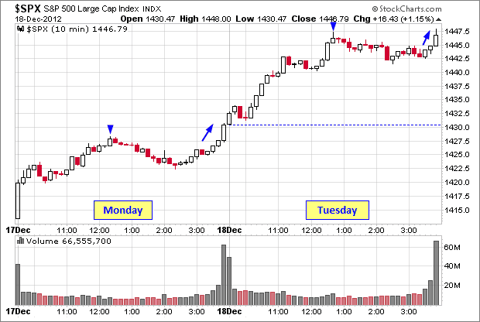 The S&P 500 is now up 15.04% for 2012 but 1.29% below the interim closing high of September 14th.
From a longer-term perspective, the index is 113.9% above the March 2009 closing low and 7.6% below the nominal all-time high of October 2007.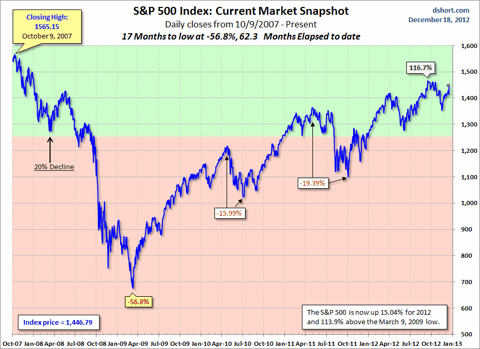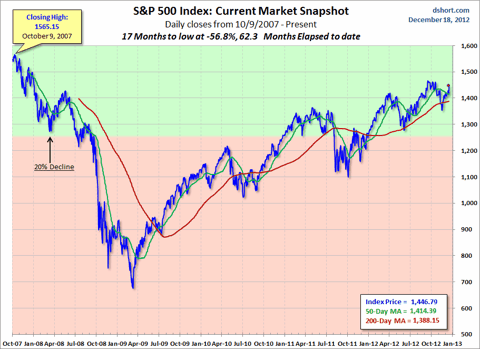 For a better sense of how these declines figure into a larger historical context, here's a long-term view of secular bull and bear markets in the S&P Composite since 1871.