Growth worries, fraud accusations and some other reasons have hammered down US-listed China stocks, leaving the China space in ruins.
The current valuations of many US-listed China companies give smart investors a chance to profit from a rebound in this specific space.
One of the companies that will benefit from renewed interested is fruit juice producer SkyPeople Fruit Juice (NASDAQ:SPU). In several agricultural magazines and not public available analyst reports this company is mentioned and considered an attractive play.
So let's have a closer look.
Organizational Structure
SkyPeople Fruit Juice, Inc., which became public via a reverse merger transaction in February 2008, is a holding company incorporated under the laws of Florida. The company has two direct wholly owned subsidiaries: Pacific Industry Holding Group Co., Ltd., ("Pacific"), a company incorporated under the laws of the Republic of Vanuatu, and Harmony MN Inc., ("Harmony"), a company organized under the laws of Delaware. The advantage is that the company doesn't operate with a VIE structure.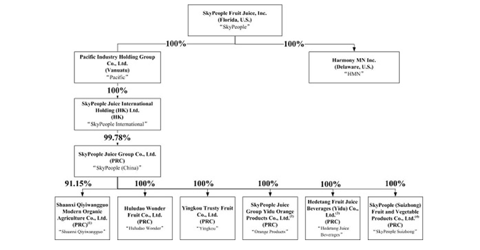 Skypeople Fruit Juice together with its operating subsidiaries in China is engaged in the production and sales of fruit juice concentrates, fruit beverages, and other fruit related products in the China and overseas markets. Its fruit juice concentrates are sold to domestic customers and exported directly or via distributors. Fruit juice concentrates are used as a basic ingredient component in the food industry. Its brands, "Hedetang" and "SkyPeople," which are registered trademarks in China, are positioned as high quality, healthy and nutritious end-use juice beverages.
For more information, check out their latest Investor Presentation on their website.
Industry analysis
The juice production industry in China has experienced substantial growth in the past decade. In 2007, both output and revenue of juice surpassed carbonated soft drinks in China, says IBISWorld. Revenue for the industry has been growing 20.1% annually over the past five years to an estimated $18.6 billion in 2012. Large volumes and varieties of readily available fruit and vegetables in China, and increasing household incomes have contributed to the rapid expansion. However, due to surging prices of raw materials, including sugar, fruit and vegetables, the industry profit margin is quite low.
In 2012, the top four companies in the juice production industry in China account for a combined market share of about 21.0%, indicating a low industry concentration level. This low level is mainly due to a large number of small and medium-sized firms in this industry and a small number of large companies. The concentration level is much higher for certain product segments. For example, major player Huiyuan dominates the pure fruit juice and 26%-to-99% concentrated fruit and vegetable juice segments. In the 25% or lower concentrated fruit juice segment, Minute Maid (produced by Coca-Cola) is the leader.
Output of fruit juices and beverages will continue growing strongly over the next five years, driven by the improved production capacity of top industry players like Coca-Cola, Huiyan, Uni-President and Master Kong. In addition, rising product prices are expected to lead to high revenue growth according to IBISWorld.
There are about 530 enterprises operating in the industry, with total employment of over 83,100. Output of fruit and vegetable juices and beverages increased rapidly from 10.8 million tons in 2007 to an estimated 21.3 million tons in 2012, representing annualized growth of 14.6%. The main drivers have been the increasing health consciousness of Chinese people; per capita income growth; higher foreign demand; and increasing consumption across particular consumer groups, such as women and children.
Major Catalysts
M&A target
Dutch based Rabobank has published a new research report titled "Survival Handbook: Strategies for Success in China's Soft Drink Revolution," forecasting increased consolidations after the alliance of Tingyi and PepsiCo. In the report Rabobank's Food & Agribusiness Research and Advisory group says there is likely to be a wave of consolidations in China's beverages market as it responds to the $5 billion alliance of Tingyi and PepsiCo. Smaller, 'second tier' beverages players will be affected most by the new alliance, as they struggle to compete with Tingyi-PepsiCo's - as well as that of fellow beverages giants Coca Cola and Wahaha - established advantages in brand equity, distribution networks, supply chains and investment capital.
Despite the dominance of Tingyi-PepsiCo, there are still solutions for smaller beverages businesses to earn profits. Rabobank expects smaller players to partner with each other to pool resources, as well as focus on specific subcategories or specific roles in the value chain.
Opportunities exist for international second-tier players to partner with Chinese beverages companies with local know-how, particularly those based in smaller, fast growing cities. An example comes from Nestle who recently bought 60 percent of Xiamen Yinlu Food, the leading producer of canned food and vegetable protein drinks, and are leveraging the distribution network of Yinlu to reach lower tier cities and penetrate other beverage subcategories such as bottled water and ready-to-drink (RTD) teas.
SkyPeople Fruit Juice (SPU) is a second-tier player with healthy profit margins and a growing business. Bigger Chinese competitors or foreign enterprises could become interested to acquire the company.
Financial Highlights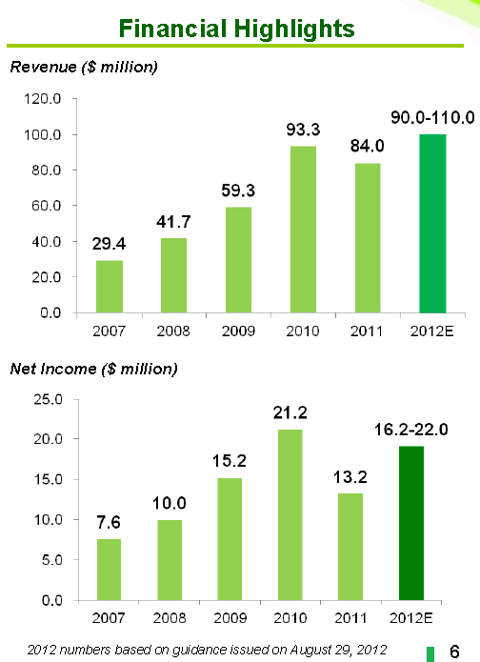 Peer Analysis Metrics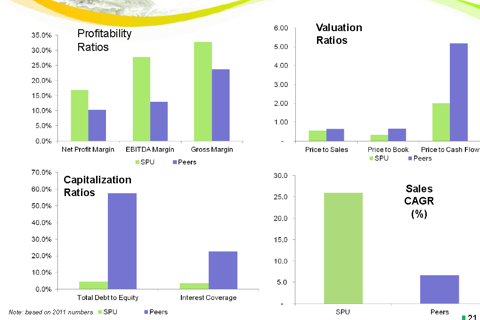 At the end of October, the company entered into an investment/service agreement with the Yidu Municipal Government in Hubei Province, China, for the construction and establishment of a zone for the manufacturing and comprehensive deep processing of concentrated orange juice, orange juice drinks and other orange-related products.
The current balance sheet supports the investments that have to be made.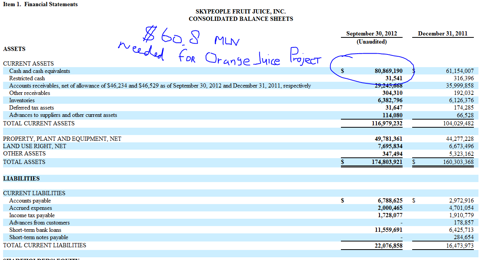 Short Sell Attack Fades Away
On June 22, SkyPeople Fruit Juice, Inc. and Absaroka Capital Management, LLC announced that they reached an out-of-court settlement of litigation in the U.S. District Court for the District of Wyoming.
The settlement includes a dismissal of all claims and counterclaims filed by the parties, with neither party admitting any wrongdoing or liability.
As part of the settlement agreement, Absaroka has agreed to remove the report from its website, undertake best efforts to remove the report from third-party sites, and refrain from issuing any further articles, public statements, or research reports concerning SkyPeople. Absaroka reaffirms that the report was based upon its views as of the original publication date, which were, accordingly, subject to change. In this regard, after an exhaustive internal investigation, SkyPeople has raised serious questions regarding the accuracy of information provided to Absaroka by Qingdao Inter-Credit, including, but not limited to, the State Administration of Industry and Commerce ("SAIC") annual inspection reports relied upon by Absaroka in preparing the report. Absaroka has agreed to remove the report from its website to avoid further litigation concerning SkyPeople's contentions concerning inaccuracies in the report.
Short interest in the stock has decreased accordingly and institutional investors are taking new positions again.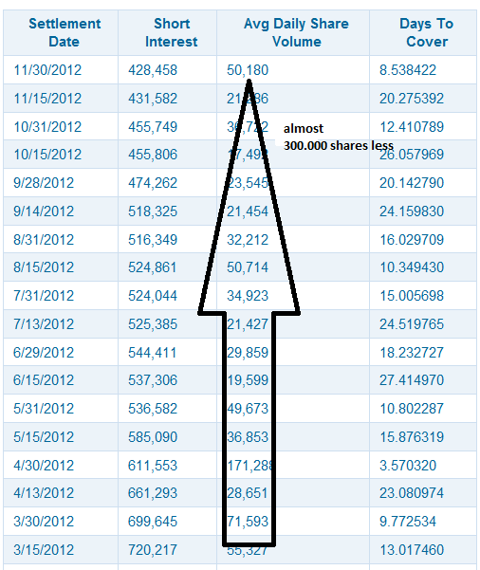 SkyPeople Fruit Juice Ready To Fly!
From a technical point of view there is strong support around $2.00 but a resistance around $2.10. The overall Barchart rating is 88% Buy.
Institutional Holdings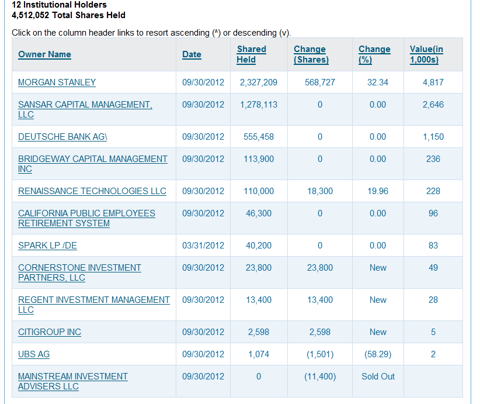 There are more institutional buyers than sellers, which is a great sign going forward.
Final Note
The current stock price doesn't reflect the underlying value of the company. The book value ($5.52) and cash value ($3.03) are much higher than the current price of $2.01. Cash flow is sufficient enough for the company's capital expenditures, so we suggest to the company to pay an annual dividend.
A going private proposal is always possible, as mentioned in my article An Exodus Of U.S.-Listed China Stocks Is Inevitable.
Another realistic scenario is an acquisition by a cash rich competitor, even Pepsico (NYSE:PEP) comes to my mind. Especially because they are focusing and expanding in China. A bigger domestic player could also place a take over bid in 2013.
We place a conservative value of $5.40 to this company.
Disclosure: I am long SPU. I wrote this article myself, and it expresses my own opinions. I am not receiving compensation for it (other than from Seeking Alpha). I have no business relationship with any company whose stock is mentioned in this article.