ArQule (NASDAQ: ARQL) engages in the research and development of cancer therapeutics directed toward molecular targets and biological processes. Its lead product candidate Tivantinib (ARQ 197) is an inhibitor of the c-Met receptor tyrosine kinase, which is in Phase 3 clinical trial for the treatment of liver cancer and colorectal cancer (NYSEMKT:CRC). The company also develops ARQ 621, an inhibitor of the Eg5 kinesin motor protein that has completed Phase I trial; ARQ 736, an inhibitor of the RAF kinases, which is in Phase I clinical trial; ARQ 761, an activator of the E2F-1 damage response/checkpoint pathway; and ARQ 087, an inhibitor of fibroblast growth factor receptor that is in pre-clinical stage. It has partnership agreement with Daiichi Sankyo Co., Ltd. and Kyowa Hakko Kirin Co., Ltd
The lead product candidate is Tivantinib (ARQ 197), an orally administered, small molecule inhibitor of the c-Met receptor tyrosine kinase. C-Met is a promising target for cancer therapy based on its multiple roles in cancerous cell proliferation, tumor spread, new blood vessel formation and resistance to certain drug therapies. Arqule and its partners, Daiichi Sankyo Co., Ltd. and Kyowa Hakko Kirin Co., Ltd, are implementing a clinical development program designed to realize the broad potential of Tivantinib as a well-tolerated single agent and in combination with other anti-cancer therapies in a number of disease indications. The company's strategy is to focus on the most promising indications within the clinical programs based upon data that is continually generated. Its leading indications include liver cancer, non-small cell lung cancer, and colorectal cancer. The company is also completing earlier-stage combination therapy trials with Tivantinib and other anti-cancer agents that may provide data to support later-stage trials in additional indications.
On October 16, 2012, the company announced a Special Protocol Assessment agreement with the FDA for the design of a pivotal Phase III trial of Tivantinib in patients with HCC. The Phase III trial will be a randomized, double-blinded study of Tivantinib as single agent therapy in previously treated patients with MET diagnostic-high inoperable HCC. The primary endpoint is overall survival in the intent-to-treat population, and the secondary endpoint is progression free survival in the same population. Approximately 300 patients are planned to be enrolled at approximately 120 centers worldwide.
ArQule has advanced into Phase III clinical with ARQ 197. C-Met is a promising target for cancer therapy, as evidence suggests that it plays multiple roles in cancerous cell proliferation, tumor spread, new blood vessel formation and drug resistance. The company believes that the inappropriate expression of c-Met in many cancers and its involvement in multiple signal transduction pathways affecting tumor growth and metastasis render it a compelling target for cancer therapy.
Oncology research and development activities are increasingly focused on kinases, which play pivotal roles in modulating diverse cellular activities and have been implicated as important mediators of certain forms of cancer and other diseases. The success of kinase inhibitors such as Gleevec and Nexavar has focused attention on the kinase field, resulting in the increased development of next-generation inhibitors that target cancers and other diseases such as inflammation. The current market for protein kinase inhibitors is estimated to exceed $7 billion, and by 2020, small-molecule kinase inhibitors are projected to generate collectively annual revenues greater than $25 billion.
ArQule has extensively studied the mechanism by which ARQ 197 selectively inhibits its target c-Met receptor kinase. These studies have revealed the molecular and structural basis by which ARQ 197 targets c-Met. ARQ 197 inhibits c-Met autophosphorylation and is selective for the inactive or unphosphorylated form of c-Met. Elucidation of this novel mode of inhibition of c-Met has opened up the opportunity for the design and development of similar selective inhibitors for other kinases.
Drug discovery at ArQule utilizes a proven innovative and efficient drug discovery engine which employs a proprietary structure-based drug design technology known as the ArQule Kinase Inhibitor Platform(AKIP™). This platform targets inactive forms of kinases that have pivotal roles in cancer and other diseases. AKIP integrates in silico drug design, parallel robotic chemistry, and novel assay development expertise to create non-ATP competitive inhibitors that interact with these kinases in novel binding modes. Inhibitors identified through AKIP are optimized into drug candidates having the appropriate efficacy and selectivity for their target with minimal side effects.
Most kinases act on both serine and threonine, the tyrosine kinases act on tyrosine, and a number (dual-specificity kinases) act on all three. There are also protein kinases that phosphorylate other amino acids, including histidine kinases that phosphorylate histidine residues.
They can interfere with the repair of DNA double-strand breaks.
Kinase inhibitors such as dasatinib are often used in the treatment of cancer and inflammation. The novel kinase inhibitor PLX5568 is currently in clinical trials for treatment of polycystic kidney disease as well as pain.
Some of the kinase inhibitors used in treating cancer are inhibitors of tyrosine kinases. The effectiveness of kinase inhibitors on various cancers can vary from patient to patient.
Other examples of companies developing and/or marketing Kinase Inhibitors are:
Ariad Pharma's (NASDAQ:ARIA) Iclusig, which was developed under the name ponatinib, was approved for use this past Friday by the FDA for the treatment against treatment-resistant chronic myeloid leukemia and for patients with acute lymphoblastic leukemia with a type of chromosome abnormality.
Iclusig is a targeted tyrosine kinase inhibitor (TKI) designed to inhibit BCR-ABL, including drug-resistant mutants that arise during treatment. Iclusig idemonstrates activity against the T315I gatekeeper mutation of BCR-ABL, the most common mutation occurring in approximately ten percent of patients with drug resistance.
Gefitinib (Iressa), marketed by AstraZeneca (NYSE:AZN) and Teva (NYSE:TEVA) is a drug used for certain breast, lung and other cancers. Gefitinib is an EGFR inhibitor, like erlotinib, which interrupts signaling through the epidermal growth factor receptor (EGFR) in target cells. Therefore, it is only effective in cancers with mutated and overactive EGFR.
Gefitinib is the first selective inhibitor of epidermal growth factor receptor's (EGFR) tyrosine kinase domain.
Imatinib (Imatinib Mesylate), marketed by Novartis (NYSE:NVS) as Gleevec, is a tyrosine-kinase inhibitor used in the treatment of multiple cancers, most notably of which includes Philadelphia Chromosome positive (Ph+) Chronic Myelogenous Leukemia (NYSE:CML). Like all tyrosine-kinase inhibitors, Imatinib works by blocking a central tyrosine kinase enzyme, in this case, BCR-ABL from phosphorylating subsequent proteins and initiating the signalling cascade necessary for cancer development.
The company believes it has within this platform the capability to rationally design novel kinase inhibitors that encompass new chemical spaces and allow for an expanding intellectual property estate. It anticipates that these novel kinase inhibitors, when targeted against selected therapeutically relevant kinases, will have utility in a broad range of human diseases in addition to cancer.
The company is seeking to expand the applications of this proprietary drug discovery platform through collaborative research programs as well as through our own internal discovery and development activities in multiple therapeutic areas.
ArQule has a collaboration/partnership with Daiichi Sankyo Co., Ltd. to apply its AKIP technology in the discovery of therapeutic compounds that selectively inhibit certain kinases in the field of oncology.
It is also independently applying AKIP to the discovery of inhibitors of fibroblast growth factor receptor (FGFR). Progress to date has resulted in a series of small molecule inhibitors of FGFR that are not ATP-competitive and show potent anti-tumor activity in FGFR-driven human and animal cancer models.
Daiichi Sankyo (NYSE:DS) paid ArQule $60M upfront, with another $560M due for potential milestones and tiered double-digit royalties. The most recent milestone was a $25M payment for the initiation of the MARQUEE Phase III trial. DS retains all ex-Asia commercial rights, with ArQule retaining the US co-commercialization rights. There has been some speculation that DS is considering acquiring ArQule, but I have yet to hear from a real source on this front regarding this.
Balance Sheet

Total Cash (mrq):

120M (estimated)

Total Cash Per Share (mrq):

1.33

Total Debt (mrq):

1.70M

Total Debt/Equity (mrq):

1.99

Current Ratio (mrq):

2.11

Book Value Per Share (mrq):

1.37
Cash Flow Statement

Operating Cash Flow (NYSE:TTM):

-41.54M (Yearly)

Levered Free Cash Flow :

-16.95M
Right off the bat, it seems to me that ArQule is very undervalued speculation wise, with its current market cap of $178.30M.
Potential catalyst trade:
Phase II top-line data covering CRC is due out by the end of this year/early next year for ARQ 197. The data release will estimate the difference in progression-free survival (NYSE:PFS) between the study and control arms in subjects with CRC with wild-type KRAS who have received front-line therapy. Positive data here would likely gap the stock up considerably, so traders should keep an eye out for this.
Wi an Eg5 Inhibitor, a BRAF Inhibitor, an FGFR Inhibitor, and an AKT Inhibitor - a deep pipeline along with the near term catalyst event of top line Phase II data, makes the company's $178.30M market cap undervalued for a mid-stage Oncology biotech in my opinion, and also makes for a good catalyst trade opportunity.
Net Institutional Purchases - Prior Qtr to Latest Qtr

 

Shares

 
 

Net Shares Purchased

5,640,490

 
 

% Change in Institutional Shares Held

10.48%

 
 
Institutions have increased their stake by over 10% in the company lately, a good sign that they believe ArQule has good longer term potential.
Also of note, Edison Investment Research values ArQule at $5.40 a share, which equates to a market cap of about $376M, more than double the company's current market cap.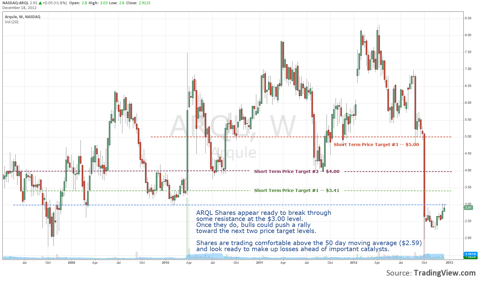 From the chart above, we can see the stock is close to breaking through the $3 level. I think once it does, $3.50 - $4 will quickly come into play here. There is a large upwards gap to fill, so a move higher than 4 is certainly possible if the stock sees
My short term price target opinion is $4 a share, and a 1 year target over $10 if the company's platform proves successful in 2013.
Disclosure: I am long ARQL. I wrote this article myself, and it expresses my own opinions. I am not receiving compensation for it. I have no business relationship with any company whose stock is mentioned in this article.
Additional disclosure: Disclaimer: This article is intended for informational and entertainment use only, and should not be construed as professional investment advice. They are my opinions only. Trading stocks is risky -- always be sure to know and understand your risk tolerance. You can incur substantial financial losses in any trade or investment. Always do your own due diligence before buying and selling any stock, and/or consult with a licensed financial adviser.