Bank of America (NYSE:BAC) 3rd quarter earnings, and the Federal Reserve's Quantitative Easing program, provide ample comfort to a leveraged way to own Bank of America shares. This analysis is not so we can buy Bank of America shares. The purpose is to establish a way to buy Bank of America via a leveraged trade with Bank of America warrants. I own the Bank of America Warrants (BAC-WTA). If I want to purchase the warrants, I must have conviction that BAC shares will trade north of $13.30. This article focuses upon buying Bank of America shares at a discount via the warrants.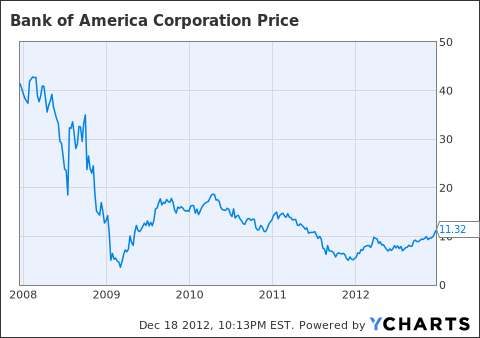 Bank of America Warrants Revisited: (Jan 16, 2019 Expiration; $13.30 Strike Price)
In January 2009, Bank of America issued Class A warrants to the Federal Government as part of its TARP bailout where it received loans from the US Treasury Department (Treasury). As the bank started paying back its loans, the Treasury either sold these options back to the bank or auctioned them off to public buyers. As a result, these warrants are now available for public investors.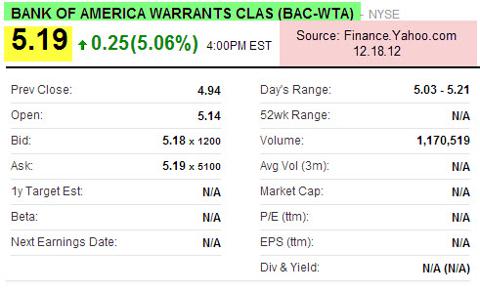 Warrant Features:
These warrants can be converted into shares when Bank of America's stock price hits $13.30 or more, any time before January 16, 2019, after which date these warrants expire worthless.
Logically, a warrant holder will only exercise this conversion right if Bank of America shares trade above $13.30. At prices lower than $13.30, it would be cheaper to buy Bank of America stock directly from the market.
Think of this warrant as a long term call option on Bank of America shares with a strike price of $13.30 and a January 2019 expiry date.
When negotiating this warrant, the U.S. government also included a clause that would reduce the $13.30 strike price by any dividend amount in excess of 1 cent per share. So if, say, Bank of America issues a dividend of 3 cents per share - 2 cents more than the 1 cent limit - the warrant strike price will drop to $13.28. This feature gives Bank of America the freedom to issue dividends - distribute cash to its shareholders - but prevents such dividend distributions from reducing the value of the warrants when they exceed 1 cent per share.
Warrant Math:
These warrants traded at close to $5.19 (as of December 18, 2012). So if you buy these warrants, your cost is $5.19 (barring trading commissions). When you exercise these warrants, you pay $13.30 (the strike price). So your total cost per share is $5.19 + $13.30 = $18.49. You, therefore, only make money when Bank of America shares rise above $18.49, your breakeven price on these warrants (as the table and graph below show).
Bank of America Shares:
An investment in these warrants only makes sense if you expect BAC shares to rise above $18.49.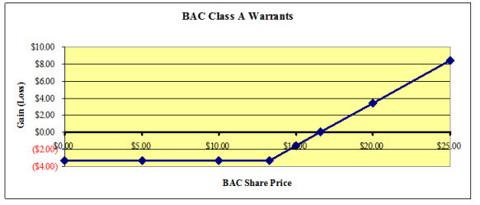 Warrant Summary
The below data indicates Bank of America is cleaning up a messy financial balance sheet. We have 6 years - if we purchase the warrants.
I bought a position based upon the following issues:
1. Bank of America is "too big to fail."
2. The bank is actively throwing out everything but the kitchen sink. The below financial statement (3rd quarter, 2012) analysis highlights the complicated financial data: write-downs, taking losses, disposing assets.
3. The government (read: public) has paid for Bank of America's survival from 2009.
4. I believe the bank can focus upon "real banking" with risk/reward business activities that banks historically have provided.
5. My position is less than 1% of my portfolio. I am not in a hurry, but own the warrants for the potential upside.
Revenue and Earnings
For its third quarter ended September 30, 2012, Bank of America reported total revenue of $20.4 billion, down 28.2% from $28.5 billion in the year-ago quarter. The company reported a net loss of $33 million versus a net profit of $5.9 billion in the year-ago quarter.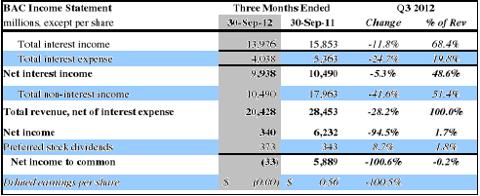 The company's revenue comes from interest income and non-interest items. BAC receives interest income from loans and leases, debt securities, Fed funds sold, securities borrowed, trading accounts and other sources.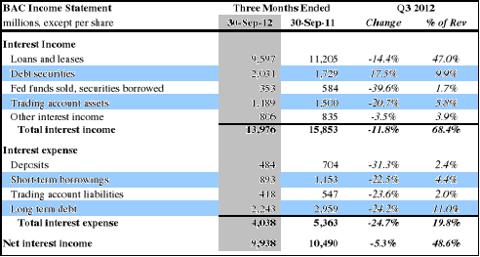 In the quarter, total interest income was down 11.8% to $14 billion, driven by a 14.4% drop in interest from loans and leases and a 20.7% drop from trading account assets, partially offset by a 17.5% gain in interest from debt securities.
Loans and leases made up 47% of total revenue in the quarter and interest income as a whole contributed 68.4% to revenue.
Interest income was offset by interest expense paid by the bank on deposits, short-term borrowings, trading account liabilities and long-term debt. Total interest expense was $4 billion, down 24.7% compared to the year-ago quarter.
As a result, Bank of America's net interest income was $9.94 billion, down 5.3% from $10.5 billion a year ago.
BAC's non-interest income comes from cards, service charges, investment brokerage, investment banking, equity investments, trading, mortgage banking and related sources. In the quarter, non-interest income totaled $10.5 billion, down 41.6% from $18 billion in the year-ago quarter. Non-interest income contributed 51.4% to total revenue.
Income Per Share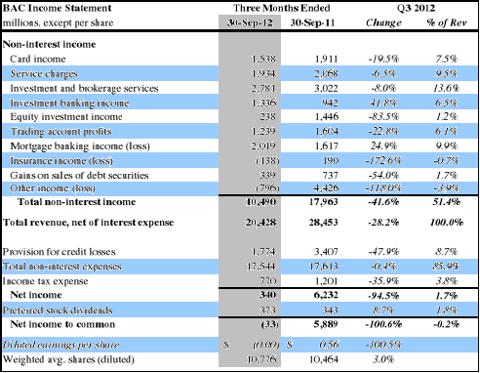 Relative to the 3rd quarter 2011, the bank saw improved credit quality, higher revenue from sales and trading, and higher investment banking and mortgage income. Deposits and first-lien mortgages were higher; assets at its global wealth & investment management division were up 27%. Global investment banking fees increased 42% and its investment bank was ranked #2 worldwide.
As a result, total revenue was $20.5 billion, down 28.2% from $28.5 billion in the year-ago quarter, driven largely by a 41.6% drop in non-interest income and to a lesser extent by a drop in net interest income.
The sharp drop in non-interest income was from double-digit declines in card income, equity investments, trading account profits, insurance income, gains from debt securities and other income items. In dollar terms, other income was down from a profit of $4.4 billion last year to a loss of $796 million this quarter.
After credit losses, other expenses and taxes, net income was $340 million, down substantially from $6.2 billion in the year-ago quarter.
The bank paid out $373 million in preferred stock dividends, 8.7% more than the $343 million paid in the 3rd quarter, 2011.
After preferred dividends, the bank incurred a net loss of $33 million, down from a net profit of $5.9 billion in the year-ago quarter. Diluted earnings per share were down to $0.00 from $0.56 in the year-ago quarter.
Earnings in the quarter continued to be negatively impacted by previously announced events such as debit valuation adjustments, ongoing litigation expenses, settlement of a class action lawsuit against its Merrill Lynch subsidiary, and reductions in deferred tax assets due to revisions in U.K. corporate tax rates.
Dividends/Shares Review
Since January 2009, Bank of America has paid a quarterly dividend of 1 cent per share (4 cents annualized). With shares at $11.36 as of December 18, 2012, Bank of America has a yield of 0.4%, a price-to-earnings ratio of 30x, and a market capitalization of $122 billion. Shares are currently in the 52 week range of $4.92 to $11.36.
Balance Sheet
From a balance sheet perspective, the bank continues to improve its capital ratio while driving down long-term debt.
At the end of 3rd quarter 2012, cash and cash equivalents were $106.4 billion, up 28.4% from $82.9 billion a year ago. Bank of America's other assets include $345.8 billion in debt securities, $866.8 billion in loans and leases, and other assets. At quarter end, the bank had total assets of $2.16 trillion, down 2.4% from last year. By assets, Bank of America is the second largest U.S. bank.
Among liabilities, total deposits were up marginally by 2.1% to $1.06 trillion. Long-term debt was down 28.2% from $399 billion last year to $286.5 billion at quarter end. All told, the bank's liabilities were down 3.1% to $1.93 trillion. Total shareholders' equity was $238.6 billion, up 3.6% over the past year.
Because of significantly reduced debt over the past year, its debt-to-assets ratio was 13.2%, down from 18% a year ago, and debt-to-equity was 120.1%, down from 173.3% last year.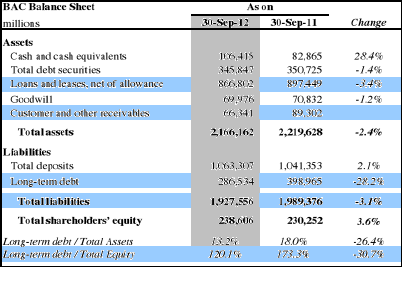 Segment Information
Consumer and business banking brought in $7.1 billion and accounted for 34% of total revenue, followed by global wealth & investment management at $4.3 billion and 21% of revenue, global banking at $4.1 billion and 20% of revenue, consumer real estate services at $3.1 billion and 15% of revenue, and global markets also at $3.1 billion and 15% of revenue.

However, revenue from consumer and business banking was down 13% and revenue from global markets was down 6% while revenue gained 10% on the bank's consumer real estate services and 5% in global banking. As mentioned earlier, revenue from its other businesses was down substantially and contributed sizably to the overall drop in revenue.

Consumer & business banking, global banking and global wealth & investment management were the only contributors to net income. The bank lost money on consumer real estate services, global markets and other businesses.
Summary
Bank of America is trading at about 55% of book value. The shares are trading at about 30x earnings - however, earnings continue to be impacted by ongoing litigation and settlement expenses, which will reduce over time. The bank's tangible book value per share was $13.48 at quarter end.
It appears to have enough wind under its wings to grow its various businesses from here on, and is swiftly reducing portfolio risk while increasing liquidity and strengthening its balance sheet. While dividends are negligible, shares offer compelling value for long-term investors.
Disclosure: I am long BAC. I wrote this article myself, and it expresses my own opinions. I am not receiving compensation for it (other than from Seeking Alpha). I have no business relationship with any company whose stock is mentioned in this article.
Additional disclosure: I own the Bank of America Warrants (BAC-WTA) and Bank of America shares.