Amidst all of the market turmoil with fiscal cliff problems looming, one thing remains steady, Ford Motor Company (NYSE:F) is performing terrifically at the moment. Ford has been trending upwards ever since July when it hit a 52 week low of $8.82. Ford is currently trading at $11.67 per share and looks to be continuing higher for the time being.
Early on this month, Ford saw its 50 day moving average cross the 200 day line. This is generally an extremely bullish indicator of a short term uptrend. Ford's United State sales have been the strongest in 5 years and if it was not for Europe holding this company back, Ford would probably be well over $15 per share.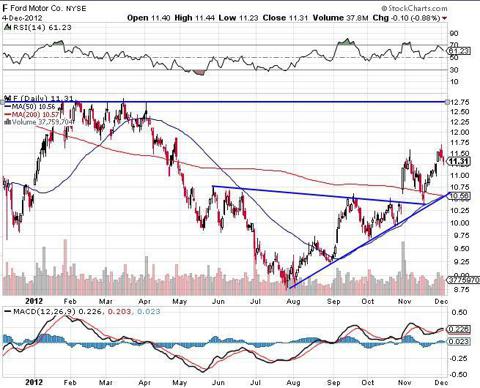 Ford lost a gross total of $404 million in Europe this past quarter. Alan Mulally did not waste any time and acted to cut down on production in Europe for the time being. Until the European economy picks up steam, Ford and other car companies such as General Motors (NYSE:GM). Tesla Motors (NASDAQ:TSLA), and Toyota Motors (NYSE:TM) really have no place over there. It will be crucial for all Ford stock owners or potential stock owners to tune into the next conference call for Ford to see if Alan Mulally's new European strategy has helped Ford's profitability in Europe. Hopefully, this conference call will show that the debt has been slashed significantly.
If Ford shows that it is reducing its debt over seas, this would be an extremely bullish indicator for the company's stock. Ford is not far off from pushing into the $12 range. Any bullish catalyst could help the stock push forward past its current resistance level around $11.60-$11.70. If Ford fails to straighten out its European debt situation though, the stock would most likely pull back into the $10-11 range and not rise above that range. I think the majority of this current bullish run is optimistically banking on Ford reporting an improving European picture.
Ford's stock only sells for about seven times projected earnings, which is nearly half of what the market average is. Ford is expected to double its dividend by 2015 too, which is already yielding about 1.7% annually at current levels. The company was also recently restored to investment grade this year, after slashing previous debt remaining from the troubling situation they faced 6 years ago. Increasing Lincoln sales in China are a priority for Ford right now, as they look for alternative markets to attack while Europe sits stagnant for the time being.
Investors should look to pick up shares of Ford around the $11 range or below. If anything, those looking for a short term gain can swing Ford shares frequently for a 5-10% gain because the stocks been fairly volatile and predictable. Investors can also hold onto Ford long term too, because you will profit from it eventually, and until then collect a decent dividend. I believe 100% in Ford's current management, and think this company is top notch right now. There are too many positives to ignore Ford's current uptrend. Buy Ford, you will not regret it.
Disclosure: I am long F. I wrote this article myself, and it expresses my own opinions. I am not receiving compensation for it (other than from Seeking Alpha). I have no business relationship with any company whose stock is mentioned in this article.