Regular readers of my columns know by now that a good portion of my income portfolio is in energy MLPs as I think they have several advantages right now over traditional dividend stocks like utilities. I also like to look at IPOs when they get close to having a year old record as a public company especially if they are trading near or under their IPO price. One MLP that meets both criteria right now and looks attractive based on its growth prospects, valuation and over 7% yield is Atlas Resource Partners (NYSE:ARP).
Atlas Resource Partners, L.P. develops and produces natural gas and oil in the Appalachian Basin, Illinois Basin and the Rocky Mountain region. The company had interests in approximately 8,500 producing natural gas and oil wells in the states of Kentucky, Maryland, New York, Ohio, Pennsylvania, Virginia, West Virginia and Tennessee.
7 reasons to put ARP in your income portfolio at $22 a share:
Unlike most IPOs where you see a lot of insider selling in the first year as a public company, insiders have bought a total of 250,000 shares since coming public in February.
Based on its last quarterly payment, ARP is yielding 7.6%. It also has had two payout increases in its 10 months as a publicly traded entity. Management also projects it will pay $2.35 to $2.50 a unit in 2013.
DividendChannel has ARP as a top ranked dividend play and came out last month stating the units are oversold. In addition, Robert W Baird just initiated the shares as an "outperform" with a price target of $37 a share. The other analyst firm that covers the shares has a $32 a share price target on ARP. Look for more initiations on the shares as the company continues to grow.
Earnings estimates for FY2013 have moved up more than 15% in the last month and stands at just over $1.50 share. The majority of the company's natural gas production is hedged through FY2014.
The company should more than double its revenue in FY2013 thanks in part to a $255mm transaction that netted the firm over 250 wells and 88,000 net acres in North Texas. This DTE acquisition was financed with over 80% equity, preserving the company's conservative capital structure. The acquisition was also complementary to their existing Barnett shale position. The acquisition will be immediately accretive to earnings.
After two quarters of negative operating cash flow (OCF), OCF turned positive for the first time as a public company on its last reported quarter.
ARP is

close

to where it debuted in February and has bounced off this level twice no

w (see chart).
(click to enlarge)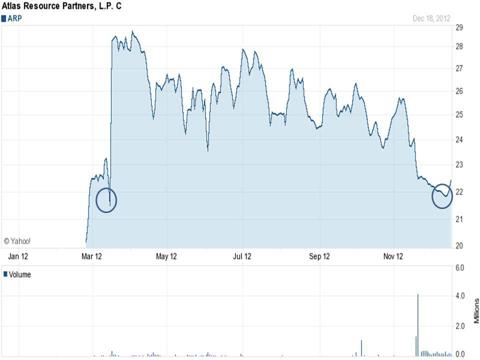 Click to enlarge
Disclosure: I am long ARP. I wrote this article myself, and it expresses my own opinions. I am not receiving compensation for it (other than from Seeking Alpha). I have no business relationship with any company whose stock is mentioned in this article.