Francesca's Holdings (NASDAQ:FRAN) continued to deliver nice gains in the most recent quarter. Sales increased 44% to $72 million, with comparable boutique sales growth of 16.7%. Adjusted EPS was $0.24, which represents an increase of 71% year-over-year.
In the fourth quarter, the company expects $0.27 to $0.28 adjusted EPS, which would be an increase of 35 to 40% over a year ago period and sales in $82.5 to $83.5 million range, which would be a 34% to 35% year-over-year increase. For the full year, sales are expected to be $292.2 to $293.2 million, an increase of 43% to 44% and EPS are expected in the range of $1 to $1.01, an increase of 72% to 74%.
Francesca's has showed high EPS and sales growth rate in prior 5 years, 32% and 47% respectively (according to www.finviz.com). It has a current PE ratio of 28.50, and a forward PE of 20.75 with the PEG ratio of 0.86.
The company successfully executed the plan to open 77 stores this year, and that will be the approximate target for years to come, eventually reaching 900 stores in 5-7 year's time. Current store count is 360.
The company is proud of its ability to chase fashion trends. CEO John De Merrit said in the first quarter conference call that they are "fast followers". As fast followers, they identify mainstream trends versus emerging trends, and then source those trends and deliver it to boutiques in a relatively short time frame. They also buy merchandise for delivery no more than 90 days out, which gives the company an unique ability to source merchandise on a real-time basis. Another trait is that the company buys very limited quantities for each boutique, and that allows it to turn the merchandise quickly and that mitigates fashion risk, because of limited depth in any style. This type of strategy creates an urgency to buy because the merchandise quickly moves and changes, and at the same time encourages return visits because of constant newness. This also generates high margins since the sell through at full price.
E-commerce is at a very low single-digit penetration rate, and conversion rates of online traffic are below industry average, although the growth rates are quite high. The management is initiating efforts to enhance online experience. The website is going to be refreshed in the first quarter of 2013.
The stock price got hit two times this year on management changes. In May, the price dropped 30% and news that the CFO was fired because of leaking of financial results in social media. The price was hit again, falling as much as 40%, after second quarter earnings announcement, where it was said that the CEO John De Merrit is leaving the company at year's end. The new CEO, Neill Davis, is 5 years with the company, and I believe he was prepared very well for the transition.
Technically, the stock is in a downtrend since early September, and has corrected as much as 40%. It has rallied over the past few days, but is about to hit resistance at the 50 day moving average (at least at the time of writing, 18th December after close), and there is not much conviction in volume on the upside. On the other hand, the stock is building a potential double-bottom base.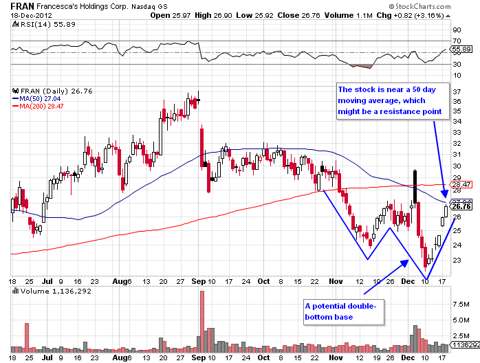 Click to enlarge
Another thing to note is a high short interest, which might fuel a powerful short squeeze rally, but also keeps the stock quite volatile. Short interest is 32.70% as of November 30th, according to Yahoo Finance, and the short ratio is 13.10, which would assume 13 trading days to cover all the shorts.
Summation
The company has still much room to grow in the coming years, from current 360 stores to 900 stores in 5-7 year's time. The stock got hit two times after management changes, but there were no significant consequences for the company itself, as it continues to execute very well. Their "fast followers" fashion strategy is allowing it to have very healthy profit margins, and stay ahead of the competition. The key valuation metrics are quite attractive at these prices, and will improve significantly as the company progresses. And finally, a very high short interest of 32.70% gives it potential for a short squeeze rally.
Disclosure: I have no positions in any stocks mentioned, and no plans to initiate any positions within the next 72 hours. I wrote this article myself, and it expresses my own opinions. I am not receiving compensation for it (other than from Seeking Alpha). I have no business relationship with any company whose stock is mentioned in this article.