In my never-ending search for the best dividend stocks, I stumbled across Windstream Corp (NASDAQ:WIN), which may be one of my favorite high-yielders I have found to date. Generally, when I find a stock with as high of a yield as Windstream has (11.4%, as of this writing), I automatically assume there is something fundamentally wrong with the company, or the dividend is not sustainable. Upon further investigation, I was pleasantly surprised with my results.
First, a little background on the company. Windstream was formed in 2006 by the spinoff of Alltel's wired operations combining with Valor communications. As of June 2012, the company had 3.1 million access lines and 1.36 million broadband customers. The company primarily operates in rural markets in the southern U.S. Since its formation, Windstream has been very active with acquisitions; most notably, the company acquired Iowa Telecom Services in 2010 for $1.1 billion and in 2011 acquired PAETEC Holding for $2.3 billion. There have been many more smaller acquisitions, and the company's general strategy is to increase earnings by increasing efficiency through consolidating operations as well as expanding on its products and services.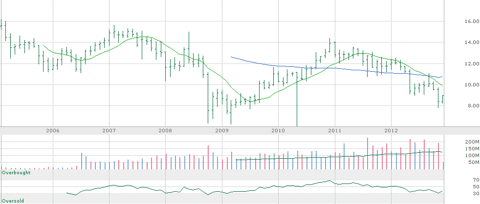 Click to enlarge
Windstream currently trades at 15.7 times 2012 earnings, which is a significant premium to peers. However, it is expected to earn 67 cents per share in 2013, a 19.6% increase from 2012. This translates to 13.1 times forward earnings, not a bad multiple for this type of earnings growth.
One potential red flag is the company's high debt load, brought on mainly by their numerous acquisitions. Windstream currently has an 87.89% debt-to-capital ratio, as opposed to the industry average of only 39.11%. Interest coverage is 1.59x, meaning that the company's cash flow is enough to pay the interest on the debt, but not by as much as investors would like to see. However, WIN is making very good progress in its debt reduction plan, and the company expects to use all of its free cash flow after dividends to reduce its outstanding debt. Analysts also expect spending to decline significantly in 2013, which should free up even more cash to pay down debt.
Now, what about that massive dividend? Windstream has consistently paid out $1.00 per share annually since 2007, at times producing a yield upwards of 16%. For this reason, Investors have been concerned for some time that WIN will be unable to pay its dividend, however I believe the dividend to be secure for the foreseeable future. In fact, for 2012 and 2013, the current dividend is only a 70% free cash flow payout. The 2013 benefits from their recent acquisitions, combined with cost saving measures should leave plenty of cash to continue the dividend.
In conclusion, even though Windstream carries higher debt than most, their business is rock-solid, and the company is moving in the right direction to increase the stability of their operations. In fact, the average 1-year price target on the company is $12 a share, representing a potential 36.8% upside from current levels. It is not very often that you come across a viable dividend over 11%, so I feel very confident adding Windstream to my "buy" list.
Disclosure: I have no positions in any stocks mentioned, and no plans to initiate any positions within the next 72 hours. I wrote this article myself, and it expresses my own opinions. I am not receiving compensation for it (other than from Seeking Alpha). I have no business relationship with any company whose stock is mentioned in this article.