When looking for high-yielding stocks for a dividend portfolio, you need to ask a few basic questions. First, is the company growing or is there significant potential for growth? Second, is the company fairly valued, i.e., do I think the share price could rise in the next few years. Finally, is the dividend sustainable and practical for the company to continue at current levels (and ideally increase regularly)?
When looking for companies that met these criteria, I came across R.R. Donnelley and Sons Co (NASDAQ:RRD). R.R. Donnelley is the largest printing company in North America, specializing in the production of catalogs, inserts, magazines, books, directories, and financial and computer documentation. The company operates through two segments, the U.S. Print and Related Services segment (74% of revenues) and the International segment (26% of revenues).
The printing industry has struggled to adapt over the past 15 years or so. Technological changes, such as the electronic transmission of documents and data, online hosting of media content, advances in digital printing, and internet technologies all impact demand for RRD's services. The company also does not expect any growth in book volumes due to the boom in e-reading over the past several years.
RRD's general strategy is to lower its cost structure and try to improve the quality of its products to stand out in its industry, and so far it is succeeding. Another part of the company's strategy is to enhance its products and services through strategic acquisitions, having made 9 since 2010.
Aside from its enormous dividend yield (more on that in a second), the most attractive thing about RRD is its insanely cheap valuation. Although RRD had a rough patch from 2007-2011 due to consolidation in the industry, the company's business model is beginning to turn nice profits once again. In fact, analysts estimate 2012 earnings per share of $1.87, with the stock trading around $9.00 as of this writing. This equates to an EPS multiple of 4.9 times 2012 earnings. In addition, earnings are projected to grow at a modest rate of 5% annually for the next three years. While this is certainly not the most exciting growth rate in the market, a 4.9 multiple for a growing company is simply unheard of.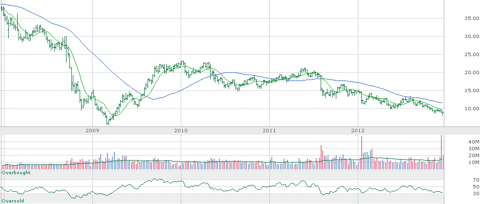 So why is this stock so cheap? As the chart above shows you, RRD has fallen from the mid-20's to its current levels over the past few years. Part of this is due to the previously mentioned losses that RRD incurred as a result of restructuring its business to keep up with the changing times for the sector. From 2007-2011, RRD had a positive EPS only one year.
However, I feel that the deep discount in the stock is a result of general pessimism about the printing industry in general. Anything involving printed material is generally seen as a dying industry in the eyes of investors, and the population as a whole for that matter. To further back up this claim, consider that RRD is one of the most frequently shorted stocks in the market, with a staggering 28.09% short interest. However, RRD is expanding by capitalizing on the exit from the market of smaller, weaker competitors. As RRD acquires smaller printing firms and expands, the company will gain market share as it leverages its geographic and product breadth in its favor. Operating margins in 2012 and 2013 will be helped by increased productivity and cost synergies from its recent acquisitions, and its revenues will rise slowly but surely.
Now, the big question on investors' minds: Is the dividend sustainable? It certainly is if the analysts are correct about the forward earnings. RRD has paid out $1.04 a share annually every year since 2004. Analysts are projecting earnings of $1.87 this year, $2.00 next year, and 5% growth from there, so do the math. For this reason, analysts have an average 1-year price target of $13.25 on the company, which is 6.7 times projected 2013, well below RRD's historic valuation levels. This represents a 45.8% upside potential over current levels, and I believe this target to be very conservative. If RRD meets analyst expectations and turns in a few more positive quarters, I think the stock will gravitate toward the lower end of its historic EPS multiple, around 8.5 times earnings. Based on projected 2013 earnings, this translates to a target of $17.
In the meantime, however, bear in mind that you are paid over 11.4% to wait and see.
Disclosure: I have no positions in any stocks mentioned, and no plans to initiate any positions within the next 72 hours. I wrote this article myself, and it expresses my own opinions. I am not receiving compensation for it (other than from Seeking Alpha). I have no business relationship with any company whose stock is mentioned in this article.