Look at the gold price on the run in December 2012. Certainly, a -2% decline in gold (NYSEARCA:GLD) is not an outcome one would normally expect in the four trading days following an announcement by the U.S. Federal Reserve that it intends to print another half a trillion dollars of the global reserve currency in the coming year, but such is the dreamlike market environment we are living in today. Of course, the Fed is not set to begin outright Treasury purchases until the New Year, so perhaps gold will lie in waiting in the meantime. Nonetheless, the recent pullback is presenting another particularly attractive entry point to get long the "barbarous relic".
The fundamental case for owning gold remains sound. Put simply, as long as competitive currency devaluations are in vogue and global central banks remain intent on trying to print their way out of the debt crisis, gold will represent an attractive hard asset store of value to protect against the negative spillover effect associated with these efforts. And the performance of gold versus stocks (NYSEARCA:SPY) demonstrates the advantage of owning the yellow metal in recent years.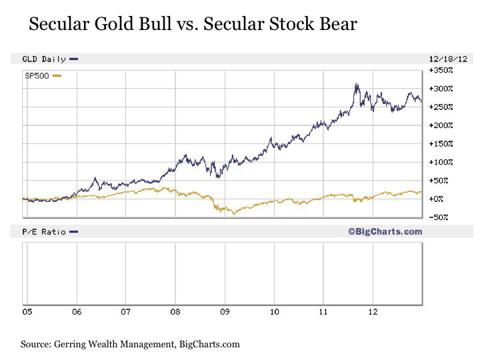 The secular bull market in gold will eventually end and the time will come to finally step down from the gold trade. This will most likely occur when policy makers start to embrace fiscal restraint and tightening monetary policy is tightening, then will likely be the time to finally step down from the gold trade. But we are vast distances from such an environment at anytime in the foreseeable future.
The technical case for owning gold is also becoming increasingly attractive, particularly following its setback in recent days. First, gold is currently trading just above the critical support levels of the 150-day and 200-day moving averages. It is worth noting that the 150-day M.A. just crossed back above the 200-day M.A. last Monday for the first time since April 2012. Gold is also trading just above the upward sloping trendline that has been in place since May. Moreover, it is currently trading just below its lower Bollinger band, suggesting that the recent move lower may be well overdone at this point and a bounce higher may be imminent. Gold also currently has a Relative Strength Index (RSI) reading essentially in oversold territory. On the six past occasions over the last two years when gold approached or reached a comparable oversold reading, it marked the beginning of a sharp bounce higher. Furthermore, momentum behind the gold price has also been steadily building over the past year.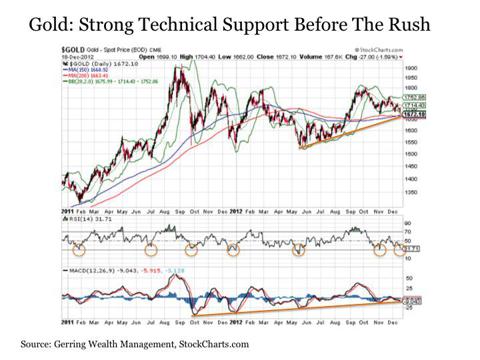 Looking ahead, it should be mentioned that the path for gold might prove unpredictable at times. Most significantly, gold has notably deviated from what would otherwise be normal trading patterns at times in recent years for reasons that are open to rational debate. As a result, any positions should be held with the understanding that periodic volatility and unexpected daily swings may occur along the way. But despite these short-term considerations, the long-term outlook for gold continues to shine brightly.
Thus, I am positive on the outlook for gold for a variety of fundamental and technical reasons. As for allocating to gold in investment portfolios as part of a diversified investment strategy, both the Central GoldTrust (NYSEMKT:GTU) and the Sprott Physical Gold Trust (NYSEARCA:PHYS) are ideal selections.
This post is for information purposes only. There are risks involved with investing including loss of principal. Gerring Wealth Management (GWM) makes no explicit or implicit guarantee with respect to performance or the outcome of any investment or projections made by GWM. There is no guarantee that the goals of the strategies discussed by GWM will be met.
Disclosure: I am long GTU. I wrote this article myself, and it expresses my own opinions. I am not receiving compensation for it (other than from Seeking Alpha). I have no business relationship with any company whose stock is mentioned in this article.