Recently I did an article on Quality Distribution (NASDAQ:QLTY) as I thought it was an undervalued stock in the logistics/transport space. My portfolio has been under allocated to the transport sector for quite some time as I thought high fuel prices and tepid economic growth would provide significant headwinds to this space. I still believe we will have slower economic growth than is usual at this point in the economic cycle, but if we can get past the fiscal cliff halfway decent growth could be in the offing.
More importantly, some of these stocks are cheap based on historical valuations and are trading at 20% to 30% of where they were prior to the financial crisis. One of these is Pacer International (NASDAQ:PACR), which has had a nice 30% run over the last month. It is still cheap compared to what it has traded for in the past and had some positive catalysts recently.
Key recent catalysts:
A half dozen insiders picked up over 90,000 shares in late November.
Consensus earnings estimates for both FY2012 and FY2013 have ticked up in the last month
Trade is booming between Mexico and the United States. Pacer has a multiyear contract with Union Pacific (NYSE:UNP) to manage and provide transport in Mexico. Union Pacific owns 26% of Ferromex, a Mexican railroad company. Union Pacific's carload traffic is up 6% in the first nine months of the year after being up 9% for all of 2011.
Pacer International, Inc provides asset-light transportation and logistics services primarily in North America, Asia, Europe, Australia, South America, and Africa. It operates in two segments, Intermodal and Logistics.
4 additional reasons to buy this $4 stock:
The stock is cheap at 10% of annual revenues and just 17% over book value.
Pacer has a solid balance sheet with almost 10% of its current market capitalization in net cash.
The six analysts that cover the stock have a median price target of $5.50 a share, some 35% above its current stock price even after the stock's recent run.
The stock is selling near the bottom of its five year valuation range based on P/S, P/B and P/CF. It is also important to remember that PACR routinely traded north of $20 a share prior to the financial crisis. If we ever get some higher economic growth (3% to 4% GDP growth), the shares could soar. (See Chart).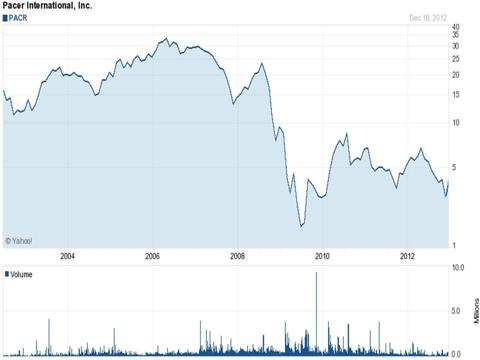 Disclosure: I am long QLTY, PACR. I wrote this article myself, and it expresses my own opinions. I am not receiving compensation for it (other than from Seeking Alpha). I have no business relationship with any company whose stock is mentioned in this article.