Oracle Corporation (NASDAQ:ORCL) is a provider of enterprise software and computer hardware products and services, including databases, middleware and applications. Software license and product support is the most profitable segment of ORCL's operation and accounts for about 67% of total revenue. ORCL has spent $38 billion on acquisitions since 2005 and an active acquisition program contributes to the fundamental component of ORCL's overall strategy. The long-term outlook for Oracle is promising as it had successfully anticipated the threat of cloud computing and will continue to supply and support its customers with technology and service upgrades.
Q2, 2013 Earnings Report
After the market closed on December 18, ORCL released its Q2, 2013 earnings report. The Q2, 2013 total revenue was up 3% to $9.1 billion. New software licenses and cloud software subscriptions revenue was up 17% to $2.4 billion. Software license updates and product support revenue was up 7% to $4.3 billion. Hardware systems products revenue was $734 million. GAAP operating income was up 12% to $3.5 billion, and GAAP operating margin was 38%. GAAP net income was up 18% to $2.6 billion, and GAAP EPS was $0.53, up 24% compared with last year, whereas GAAP operating cash flow was $13.5 billion, ttm. The non-GAAP operating income was $4.3 billion, and non-GAAP net income was $3.1 billion. The non-GAAP EPS was $0.64.
The result beat the analysts' earnings estimate of $0.61 and revenue estimate of $9.03B. As said by Oracle President and CFO, Safra Catz, "New software license sales and cloud subscriptions grew 18% in constant currency. Strong organic growth in our software business coupled with a focus on the highly profitable engineered systems segment of our hardware business enabled a Q2 non-GAAP operating margin of 47%." With such positive numbers, more upgrades from analysts could be expected. The Q2, 2013 earnings call transcript for Oracle management discussion can be read here.
On the side note, Oracle's sales growth was held down once again by its hardware business, which declined more than the company predicted. Hardware systems product sales fell 23 percent from a year earlier to $734 million. Oracle had forecast that hardware sales would drop between 8 percent and 18 percent. However, Larry Ellison, CEO of Oracle, said hardware is making a substantial contribution to Oracle's record level of profitability and hardware will be "turning the corner" and revenue should grow in the fiscal fourth quarter, as reported by MarketWatch.
Key Stats and Valuation
By using the data obtained from Morningstar, ORCL's key stats will be compared with its peers in the software (infrastructure) industry including Microsoft Corporation (NASDAQ:MSFT), Sap AG (NYSE:SAP), and International Business Machines Corp (NYSE:IBM). For 3-year average, ORCL has higher revenue growth of 16.9 and EPS growth of 21.6, as compared with the industry average of 8.2 and 13.4. ORCL also achieved higher operating margin of 37.7%, ttm, and net margin of 27.6%, ttm, compared with the averages of 31.3% and 23.1%, ttm, respectively. ORCL generated stronger ROE of 24.2, compared with the average of 24.0, and has a much lower debt-to-equity of 0.3, compared with the averages of 8.8.
ORCL currently has a P/E of 16.0, P/B of 3.6, and P/S of 4.4. ORCL has a lower P/E compared with the industry average of 16.5 ORCL's current P/E is also below its 5-year average of 20.0. ORCL has a forward price/earnings ratio of 10.9 with a PEG ratio of 1.0.
Technical Analysis
ORCL closed at $32.88 with 1.73% gain on Tuesday. The volume of 37.78M was 84.56% higher than the 30-day average volume of 20.47M. In the after-hours market, ORCL closed at $33.30, which was higher than the 52-week high of $33.29. The MACD (12, 26, 9) indicator had been showing a bullish sign since November 23, and the MACD difference continued to diverge again in past 2 trading days. The momentum indicator, RSI (14), is showing an increasing buying momentum at 68.84. ORCL is currently trading above its 50-day MA of $31.02 and 200-day MA of $29.77 and approaching its R1 resistance pivot point at $32.92, as seen from the chart below. The next resistance will be $33.84, its R2 pivot point.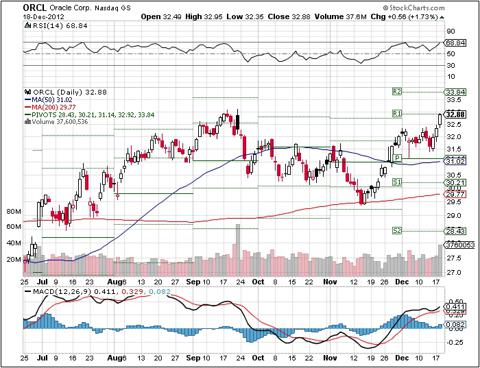 Source: StockCharts.com
Options Play
ORCL's long-term optimistic outlook was supported by its surprising, positive, Q2, 2013 earnings report. With the continuing growth, strong margin, consistent cash flow, ORCL is solid growth investment. In the short-term, ORCL is bullish, technically, and is approaching over-bought territory, where RSI (14) above 70 is considered as over-bought. A credit put spread will be reviewed for investors who would like to acquire ORCL stock at a lower price while gaining some upside potential.
Short 1x March 16, 2013 put at the strike price of $30.00 for the credit of $0.50
Buy 1x March 16, 2013 put at the strike price of $28.00 for the cost of $0.31
The maximum profit is $0.19, and the maximum risk is $1.81 ($2 loss - $0.19 credit received). If ORCL closes above $30.00, 10.5% return on margin will be gained. If ORCL falls below $30.00 upon options expiration, ORCL stock will be acquired at $29.81, which is 9.34% lower than the current price of $32.88. For more patient, conservative investors, it will not hurt to wait for ORCL to pull back around $31.00 to establish the long-term position to achieve a higher gain or acquire the stock at an even lower price via credit put spread.
Note: All the prices are quoted from the closing of December 18, 2012, and all calculations are before fees and expenses. It's recommended investors and traders do their own due diligence and research before making any trading/investing decisions.
Disclosure: I have no positions in any stocks mentioned, and no plans to initiate any positions within the next 72 hours. I wrote this article myself, and it expresses my own opinions. I am not receiving compensation for it (other than from Seeking Alpha). I have no business relationship with any company whose stock is mentioned in this article.