The tepid response of commodities following the latest FOMC release can be viewed as bearish for the general complex. Federal Reserve easing has usually precipitated greater positive action in the commodities complex. This time, it might be different. Commodities have dropped below their post-August FOMC highs, and without macro data to suggest that global demand will accelerate in the coming months, it appears unlikely that positive momentum will be generated going into the new year.
The conventional wisdom of opening positions in commodities as a hedge against the U.S. Dollar ((NYSEARCA:USD)) has recently been ineffective to a large degree. The decline in the Japanese Yen (JPY) and the ongoing Euro Zone crisis have buffered the Dollar against further decline. General entry into long commodity positions, with certain exceptions, might be premature at this time.
Broad Commodities Basket - DBC

Examining the more liquid commodity ETFs, there is little to suggest near-term strength. The Power Shares DB Commodities Tracking Index Fund (NYSEARCA:DBC), a broad basket fund of metals, energy, grains and sugar, has already erased its gains following the August 22 FOMC statement. High energy inventories and creeping crop yields have weighed heavily on the index. With slight volume, it has been trending steadily lower for two weeks. A DBC close below 27.10 would likely invite further selling.
Where's The Beef?
(Since August FOMC)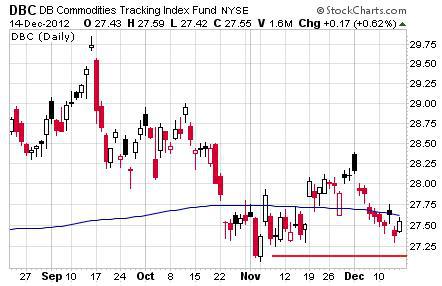 Agriculture - DBA
On a similar track, Power Shares DB Agriculture (NYSEARCA:DBA), a basket ETF comprised of corn, wheat, soy beans and sugar futures, appears to be in danger of losing its near-term support. Talk of dryness in the plains hasn't translated into higher prices. With a marked decline in volume since September, this fund has eased from the drought-induced highs over the summer and reverted to its 200DMA. Year-to-date, it has underperformed compared to the broader DBC. Unexpected natural events not withstanding, DBA should continue its ease into the new year.
Disappointment
(Since August FOMC)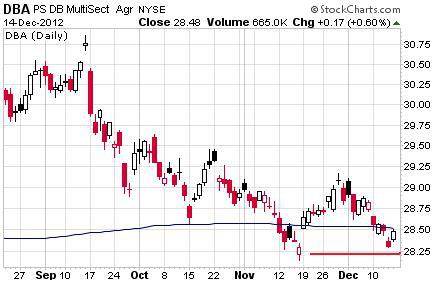 Precious Metals - GLD, SLV, IAU
After soaring on account of the Federal Reserve's actions in August, the popular precious metal ETFs are showing signs of moderation. The FOMC's latest releases and Fed Chairman Ben Bernanke's press conference have so far had a less-than-flattering effect on SPDR's GLD and iShares' SLV and IAU. Prices have coiled since August and are presently trending down. The surprising lack of interest in metals post-FOMC lends little to the immediate bullish scenario. The longer-term trend for precious metals remains bullish and they represent a superior hedge against inflation. But though precious metal ETFs have outperformed the broad DBC index in 2012, fading volume and year-end profit taking might signal a break to the downside and a reversion to their 200DMAs. Entry into long precious metals positions will likely be found at more favorable levels in coming months.
To Where Will The Coil Unwind?
(Since August FOMC)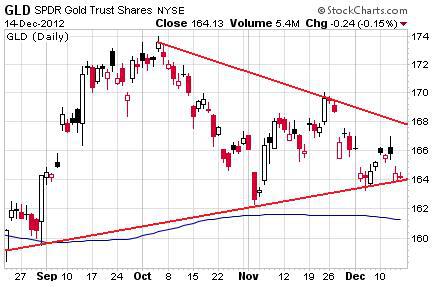 Natural Gas - UNG
Energy ETFs have been this year's under-performers within the commodity sectors. Static oil and gas inventories show few signs of abating. UNG's 4-week slide has now broken below its 200DMA on account of high inventories and warmer-than-expected weather. December and January typically are the highest-priced months for natural gas. On a longer time line, natural gas is incredibly cheap and would present an attractive long-term hold, but if last winter was any indication, then we might not see a bottom in UNG until next spring. Unforeseen natural events not withstanding, last April's lows of 14.25 could be approached if UNG's slide continues.
Look Out Below!
(Since August FOMC)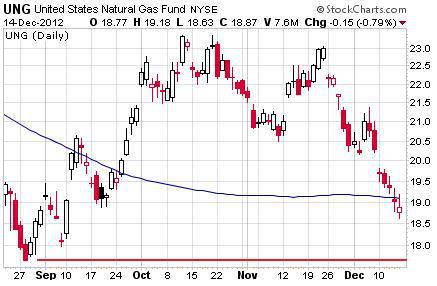 Crude Oil - USO
Crude oil has been a disappointment for bulls for most of the year. Low volume, high inventories and less-than-stellar macro data from emerging economies have plagued USO. Despite this, USO has found strong near-term support at around $31.20. It is not likely that macro data will improve enough in the near future to stimulate bids on oil, but there remains oil's sensitivity to geopolitical events. Conflict in Syria shows signs of escalation and a constitutional crisis exists in Egypt. The Israel-Palestine situation is rarely far from the boil and concerns over Iran's nuclear program won't recede soon. It can be argued that USO's new-found support is derived from these events, and it is for this reason, of all the widely traded commodity ETFs, USO would appear the least bearish of the bunch. But, for now, that's not saying much.
USO's New-Found Support
(Since August FOMC)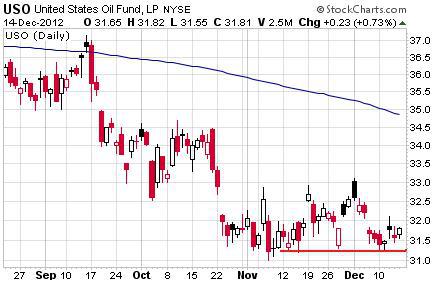 Summary
As a conventional hedge against inflationary pressures, commodities can be rewarding investments. But, so far, the post-FOMC reaction of the complex is a red flag which should not be ignored. The burdens of sluggish macro data, high inventories and forex volatility should signal caution when considering entry into long commodity positions.
Disclosure: I have no positions in any stocks mentioned, but may initiate a long position in USO over the next 72 hours. I wrote this article myself, and it expresses my own opinions. I am not receiving compensation for it (other than from Seeking Alpha). I have no business relationship with any company whose stock is mentioned in this article.